Posted by GhostStop on Nov 21st 2022
As a species, we are fascinated by the paranormal. Whether it's ghosts, unidentified flying objects, or cryptozoology, we can't seem to get enough of stories about the strange and unexplained.
For some people, this fascination leads to a lifelong passion for exploring the unknown. If that describes you, then it's vital to arm yourself with the best ghost hunting tools if you're going to explore it seriously.
That's why the paranormal experts at GhostStop put together this list of the best ghost hunting equipment of 2022. Discover the best-rated paranormal investigation tools for your next ghost hunt below.
The Best Rated Ghost Hunting Equipment of 2022
Each of these tools has been carefully selected based on its ability to help you investigate the paranormal safely and effectively. Are you a beginner just starting out in the world of ghost hunting, or an experienced investigator looking for an edge over the competition?
Either way, here is the ghost hunting tech that empowers you to take your investigations to a new level: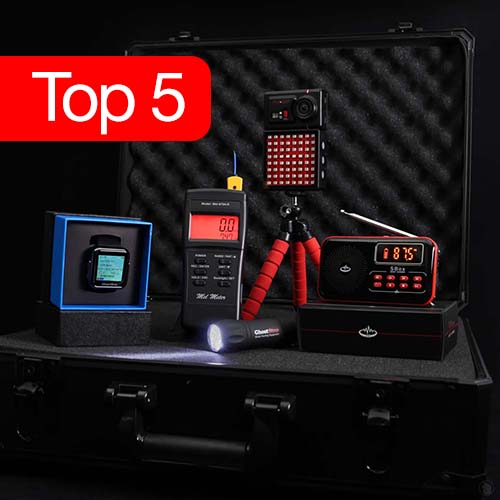 Some of this is new paranormal equipment, while some will be very familiar to veteran ghost hunters. Read on to learn why each tool earned its spot on our list!
1. Onvoy Ghost Box Communicator
If you're serious about ghost hunting, then you need to have a reliable means of communication. The Onvoy Ghost Box Communicator is one of the most effective pieces of paranormal equipment on the market.
This powerful device allows you to ask questions and receive answers that could originate from the other side. This gives you an unprecedented level of insight into your investigations.
No ghost hunt is complete without a good quality camera, and the Phasm Night Vision Video Camera is one of the best on the market. This powerful piece of equipment gives you the ability to capture footage in any lighting condition, perfect for capturing those elusive pieces of evidence.
The package also includes the Phasm Light, which is designed to attach to the Phasm Cam to improve visibility in a range of lighting conditions.
The SBox Ghost Scanner is vital for any ghost hunter. This handy little device allows you to scan for potential paranormal energy that could interfere with radio waves. You can then record the disturbance for later review.
The Rook EMF Meter enables you to monitor ambient electromagnetic fields. If it detects any changes in energy, the meter alerts you to proximity with sound and light.
The GS2 Laser Grid System is the perfect way to enhance the effectiveness of your video footage. This system projects a grid of laser beams onto a surface, highlighting anomalies that may be movement.
Buy Paranormal Equipment for Your Ghost Hunts at GhostStop
If you've found yourself asking, "where can I buy paranormal equipment?," then you've also found yourself in the perfect place. To find the best paranormal detection devices for your next ghost hunt, reach out to our team today.