Full Spectrum POV Video Kit
The most feature-packed night vision video camera package.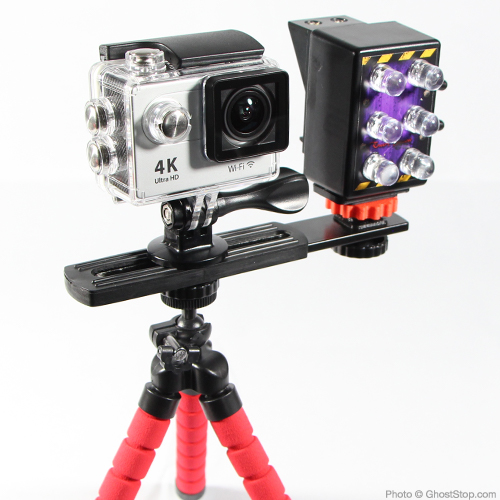 The full spectrum point-of-view (POV) video kit features our high quality full spectrum video 4K HD camcorder with high power, dual-mode full spectrum and infrared, night vision light and bracket. Attach the light to the camcorder with the included bracket and you get compact, mobile night vision for paranormal investigations.
This kit includes the following items:
* See item links for specs and details of each item and actual model may vary from what is shown in the photo based on availability.
7 Reviews
Amazing camera and accessories !!!!! I will be purchasing more soon...Ghoststop is the only place I purchase my equipment I highly recommend all there products....

The camera is good. If you get this package I highly recommend getting the wide angle IR light as well. The dual IR/full spectrum light it comes with doesn't light up the entire picture on the camera, but when I got the wide angle light and put it on the bracket it definitely lit up a lot more of the room.

Great piece of equiptment!

We have used ours on multiple investigations now. Crystal clear photos and videos. Audio is pretty good as well. We added a second IR light to ours. This is definitely worth purchasing!

This was an impromptu test I did 2 nights ago in my basement/garage. I used one strapped on my head at OSPH last month with the free 2 bulb IR. After seeing this, I highly suggest (and will do it myself at a 2 night investigation this weekend) to buy the Wide Angle IR light and mount it on top of the POV cam. I don't care what it looks like to others, its all about results. Using the free 2 bulb is ok, but nothing compared to this! This literally is so smooth I don't see graininess at all. Look for yourself as I compared 3 settings (one was 4K). This is my 2nd purchase of this same cam.

I was hesitant to buy this camera but I sure am glad I did. It has exceeded my expectations. The lighting is very bright and the camera footage is amazing. This should be your go-to for a POV cam!

when i decided to take on the paranormal i knew i was going to need a lot of equipment.....me i always go overboard. this video camera is amazing, exceeds all expectations!!!!

I received my camcorder about two weeks ago and got to use it on an investigation between then and now. it the bracket that comes with it and the light. this package produces an incredibly clear image. in case your not expecting it be aware that the full spectrum light includes LEDs on the visible light spectrum so there will be a bit of light coming from your set up. WORKS AWESOME!