USB Power Pack 2

New Model: DOUBLE Battery Life. Same size.
Extend the battery life on your gear without having to be tied down to an outlet. This battery pack has a high capacity battery that you can use to charge or power any USB device.


Massive power for your investigation gear
20,000 mAh high capacity USB battery pack
Charge and use 2 devices simultaneously
Charging status indicator lights
More power on investigations.

Tired of your cameras and other devices dying mid-investigation and having to find a power outlet to bring it back to life? Tired of interrupting your investigation to swap out a battery? No problem. Just plug right into one of the two USB slots on this pack and you'll get a quick charge for hours of extra battery life. Some devices will even be able to record while it's charging on this battery pack. This means you can extend the cameras battery life for HOURS of nonstop recording.
Adds HOURS of battery life.
EXAMPLE battery life tests we've conducted:
Using our SBox Ghost Scanner

SBox running its own battery: 5 hours (depending on settings)
SBox with this Power Pack 2: 125 hours (depending on settings)

Using our Full Spectrum POV camcorder

Camera running on its own battery: 1-2 hours (depending on settings)
Camera with this Power Pack 2: 16-20 hours (depending on settings)
20,000 mAh high capacity USB power bank
4 status LEDs to indicate remaining battery capacity
Super-fast charge output through dual USB ports allows for simultaneous charging of two USB devices such as cameras, recorders, USB-powered ghost hunting gear, even phones, tablets and more
Intelligent power management to protect from overcharging and short circuit protection
Input: 5V/2.0A
USB Outputs (2x): 5V/2.1A
Type-C Input: 5V/2.0A
Capacity: 20,000mAh
Includes 1 Micro USB charger cable
Weight: 0.9 lbs
Size: 2.6"w x 5.5"h x 1"d
Directions
For optimal use, charge the Power Pack for 10-12 hours using the included USB cable or any Micro USB cable to any USB outlet or AC outlet using a USB adapter. You can charge through a computer via USB though some might take longer than others.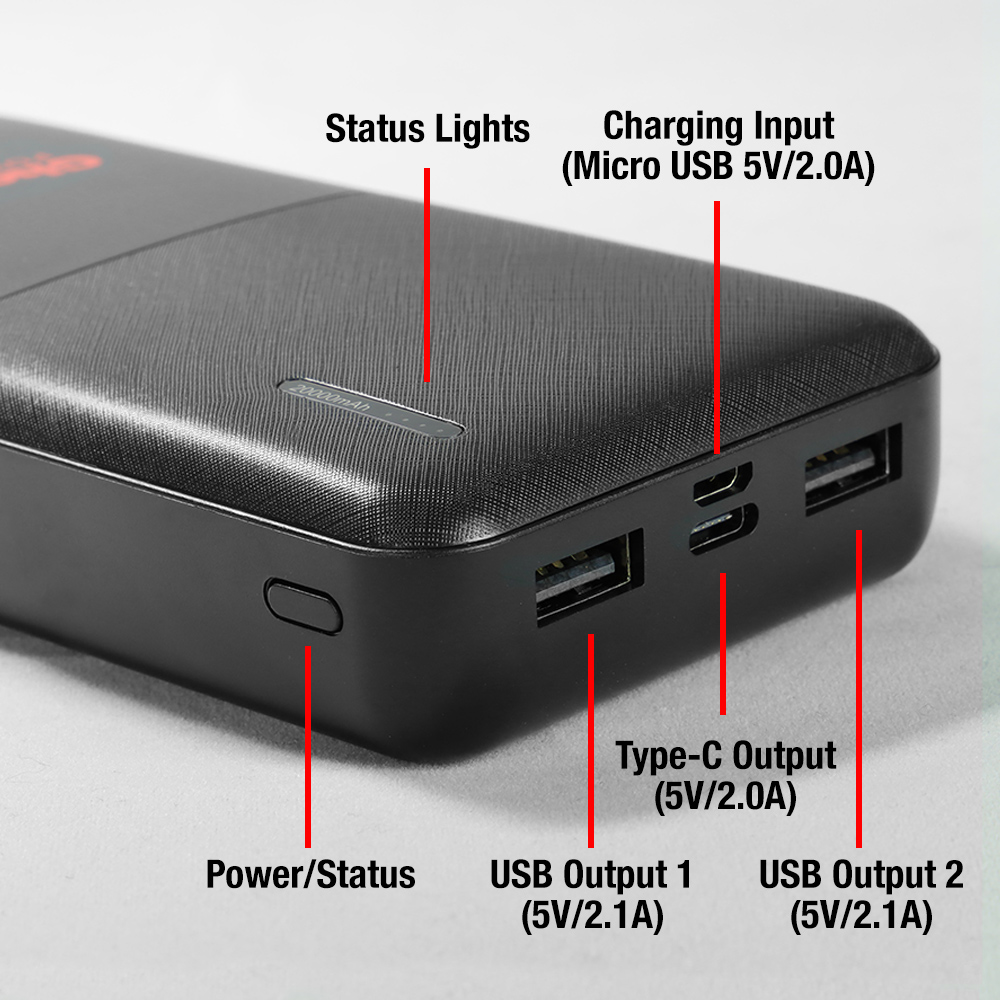 Press the Power/Status button once to check the remaining power. Status lights will illuminate to indicate how much power is left in the battery.
1 light indicates low power: under 25%
2 lights: 25-50%
3 lights: 50-75%
4 lights: 75-100%
Double-press the Power/Status button to turn off. Battery will turn itself off when not in use after a short period to conserve battery life.
11 Reviews
Charge it, keep in your kit bag and you'll have back up power for your Cameras and Smartphone for hours! Stays charged for weeks, just before investigation too it off, good to go!

Now here is genius level the power pack is small enough but yet still strong enough to use for my equipment from Ghoststop. If you're going to buy any gadget from these guys please buy the power pack

A must have! Nothing worse than running out of battery power in the middle of an investigation and you miss capturing evidence. This is a must have in your bag of tools.

Amazing but heavy power bank

Bought this cuz my cameras kept dying and I got tired of changing the batteries. With just one power pack, both cameras lasted for many hours. It's really worth it!

Works great. Heavy duty.

I liked this for outdoor photography, i am learning nature photography, as well as I do study the Sasquatch peoples, and this comes in very handy to ReCharge my camera's batteries, and my Canon bigger batteries. So i bought a 2nd one to add to the ability of recharging in the wilds. I do have solar chargers as well, but this speeds things up vs the slower small solar chargers about the same size.

This power pack is a powerhouse. I have had my camera and its IR light on for like 11 hours so far and its still running and recording, I am wondering if it will last longer than my micro SD card can record and that would just mean I need a bigger Micro SD card lol

It Claims What It's Said To Be With Full Charging.

I bought this unit along with my S Ghost Box and other Accessories from Ghost Stop. It charges pretty well with the Power Pack even so it does feel kind of heavy when I hold it on my hand. Most power packs do feel heaver due to the size and weight. I don't feel too disappointed but I'm completely satisfied with my purchase of this product.

Tested and highly recommended

I bought this in 2020 for no power locations got a few investigations in but I do highly recommend this for cameras or phones or whatever you need to charge also plan on getting another one here in the future so I can have more power Banks 4 for no Power locations

This little pack extends our recording time by hours on our cam! We just ordered another one for the tablet part of our SLS cam. Definitely worth buying.

This Camera Power Pack Is One Of The Best Purchases I Have Made. If you need to recharge your Camera just plug right in and in seconds the smart power pack goes to work. With built in smart technology not only does it charge but when the battery is at full level the pack automaticly shuts off to prevent overcharging and ruining of batterys. Even beyond paranormal gear in this day and age just about everything can be charged by a USB port and with this power pack you can charge your cell phones, smart gear, headphones, or anything for easy everyday purposes and for me the power pack lasts for days of charging at a time. This is trully a must have! I will be buying more and not only will buy have recommended this to friends! Thanks GhostStop!