Phasm Full Spectrum Light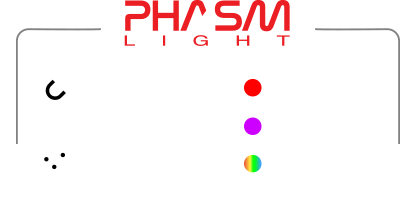 Night vision + full spectrum + total control
This is not your average camera light. As paranormal investigators, we wanted to create a light that solves more of our needs at once. Phasm is the first and only light to offer so many lighting options in one compact device. Whether you need infrared for night vision, ultraviolet, various colors or all of those at the same time for one stunning blanket of light, this device does it all. Controls on the back provide the ability to easily adjust which lights to use and adjust brightness. Its unique mounting system allows you attach the light to a standard tripod or bracket but also magnetize to anything metal for awesome flexibility. You can even snap multiple Phasm lights together to create a beastly stack of illumination and name it, 'MegaLight'.
Night vision plus...
Full spectrum light

Infrared night vision, ultraviolet and visible color

Full control over light selection, brightness and color

Wide angle spread for ultimate light coverage

Unique magnetic and tripod mounting system

Rechargeable battery and plug for unlimited power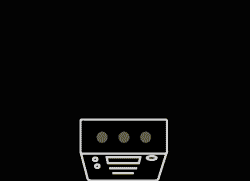 Stunning light and options in a compact package.
You'll be amazed by the brightness this light can project from a device that fits in the palm of your hand. Phasm is packed with 65 high power light emitting diodes (LED) that throw a powerful punch of infrared (IR), ultraviolet (UV) and visible color (RGB) light.

The Phasm light utilizes ultra wide angle LEDs in order to cover the entire camera area with no problem. This means no more 'spot' effect and even brightness from edge to edge of your picture.


How does Phasm compare against other lights?
Many light combinations. One awesome package.
You are in control.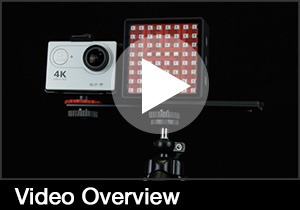 Phasm gives you full control with one light that does it all. Sometimes you just want to use infrared for night vision. Maybe you want to blanket the room with color. Other times you may want to take full advantage of full spectrum. Now you can do it all with one light.
Back Controls
Infrared on/off switch

Ultraviolet on/off switch

Brightness slider

Color selector switch

Power button
Settings Display Screen
Infrared light status

Ultraviolet

light status

Brightness percentage (0-100%)

Color selection display

Battery status and charging indicator
Magnetic mounting beyond the tripod.
Firstly, yes you can mount this light to a standard tripod or bracket. We have included a standard metal threaded mount on the bottom for securely attaching to a typical tripod or threaded bracket. But that's where 'standard' ends.

Phasm utilizes an array of powerful magnets on each side, top and bottom for ultimate mounting flexibility. This magnetic system allows you to secure multiple lights together if you want supreme multi-light power. Built-in powerful magnets snap Phasm lights together for a secure grip with no hassle. You can mount the light to any magnetic surface like a refrigerator, window frame, air vent, car door or one of those magnetic phone mounts. This proves handy in cases where you don't have a tripod available or the flexibility of using tape to mount things on location. Just find a metal surface, zap Phasm into place and go.


Rechargeable power.
Camera lights are one of the biggest battery eaters, especially for ghost hunters. As investigators, we use lights for hours on end and infrared light is a huge drain on power. Phasm is out to change that. This light utilizes technology to intelligently access the most light power possible with light management, battery life indication and simple recharging. Since Phasm utilizes a standard USB port for charging, you can plug it into any USB for a quick charge. It will even work while plugged into an outlet or USB battery pack for unlimited use.
Mounting & Accessories
Phasm has a built-in metal tripod mount. This makes it easy to mount directly onto a tripod or bracket with standard threads. We recommend the accessory bracket listed below for flexibility in mounting this with a camera. We also have a shoe adapter to allow mounting to a camera or bracket with a hot shoe or cold shoe mount. See below for these and other helpful accessories.




This product is made right here at GhostStop.



*NOTE: The infrared (IR) light on this product are virtually invisible to the naked eye. To take advantage of night vision capabilities, you must have a full spectrum or night vision camera. See the 'Directions' tab above for details.
Size: 2.6"h x 2.6"w x 1.6"d
Weight: 3.2oz
Battery: Built-in rechargeable battery
Charge and continuous power uses a USB-C cable
Battery Recharge Time: from empty about 2 hours
Battery Life: about 1-28 hours depending on settings (see Directions Tab for battery life estimates based on settings) Infrared frequency: 850nm
Ultraviolet frequency: 395-410nm
Distance: IR reaches over 75 feet depending on camera settings (we're still testing this based off of initial test results with our POV cam)
Includes
Phasm light
USB charger cable
Printed 'Quick Start' manual
QUICK START GUIDE
Charge before use. (see charging instructions below)
Turn device on by pressing and holding the Power Button (6) for 2 seconds.
Choose your desired light settings using the controls on the back. See below for details on controls.
Turn device off by pressing and holding the Power Button (6) for 2 seconds.

Troubleshooting Tip
If your Phasm will not turn on and plugging in the charging cable will not show the charging icon, it's okay. This happens when the battery is so low that it doesn't have enough power to run the display. But it IS charging. Make sure the cable is pushed in securely. Give it a good push! Let it charge for at least 30 minutes. Then UNPLUG the unit and try to turn it on. It sometimes takes 2-3 tries to wake it back up from a completely dead battery (this is something we're working on fixing in future adjustments). Phasm should start up and show the display with a charge. If after this process, the Phasm still will not turn on, please give us a call. We may need to supply you with a new charging cable.

TIP: For best results with your camera
For night vision and low light situations, Phasm pairs best with a full spectrum or night vision camera with the EXPOSURE setting as high as possible. This will maximize the amount of light the camera allows into the lens. Here's how you do it with our our
Full Spectrum POV Cam
:
Press MODE 4 times until you see the wrench icon.
Press OK/SHUTTER.
Press DOWN arrow 3 times until you have selected 'Exposure'.
Press OK/SHUTTER.
Press UP or DOWN in the options to select '+2.0'.
Press OK/SHUTTER and the exposure is now set.
To exit settings, press UP 4 times to select the 'X' then press OK/SHUTTER to get back to taking photos or video.
DIRECTIONS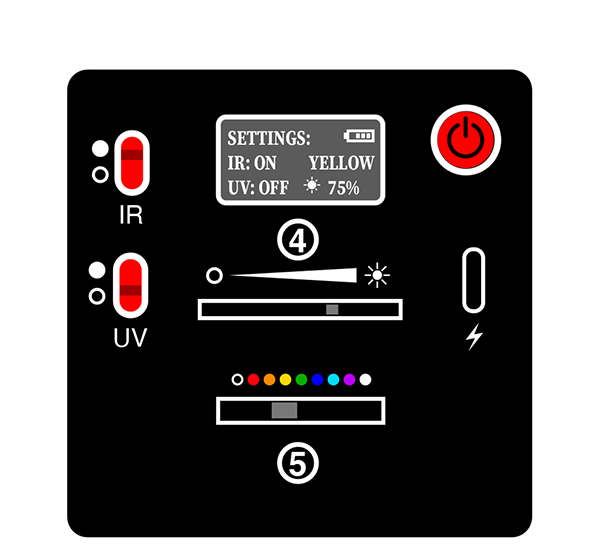 1 IR Switch
2 UV Switch
3 Settings Display Screen
4 Brightness Slider
5 Visible Light Color Switch
6 Power Button
7 USB-C Charging Port
POWER & CHARGING
Phasm is powered by a rechargeable battery. To charge the device use the provided USB-C charging cable to connect to a USB power source. This could be a computer with a USB power, USB power strip or USB battery pack for quick mobile power. When charging the battery icon on the back display will flash one bar. The device is full charging when the battery icon is full bars and solid. To plug the device into a AC power outlet, you will need to use a USB to AC power adapter (not provided).
Battery life on Phasm depends greatly on the settings - brightness most of all. To save battery life, adjust the brightness level to what you need for the scene. There will be few cases where you need full 100% to get a good shot. In most residential cases, 20% will likely do just fine and get the most life possible. See the chart below for sample times we have tested to gauge how much life you can get on various settings.
Battery Life Tests (in hours)*
| | | | | |
| --- | --- | --- | --- | --- |
| | 20% | 50% | 80% | 100% |
| IR Only | 16h | 7h | 6h | 1.5h |
| Color Only | 28h | 13.5h | 8.5h | 6.5h |
| IR + UV | 17h | 6.5h | 2.25h | 1.5h |
| IR + Color | 17h | 6.5h | 2.25h | 1.5h |
| IR + UV + Color | 15h | 3h | 2.25h | 1h |
*These estimates are based off of initial tests in an office environment. Actual operation time may vary depending on various conditions including temperature and age of unit.
LIGHTING
Phasm utilizes an array of 64 high powered lights including 56 infrared (IR) LEDs, 4 visible color (RGBW) LEDs and 4 ultraviolet (UV).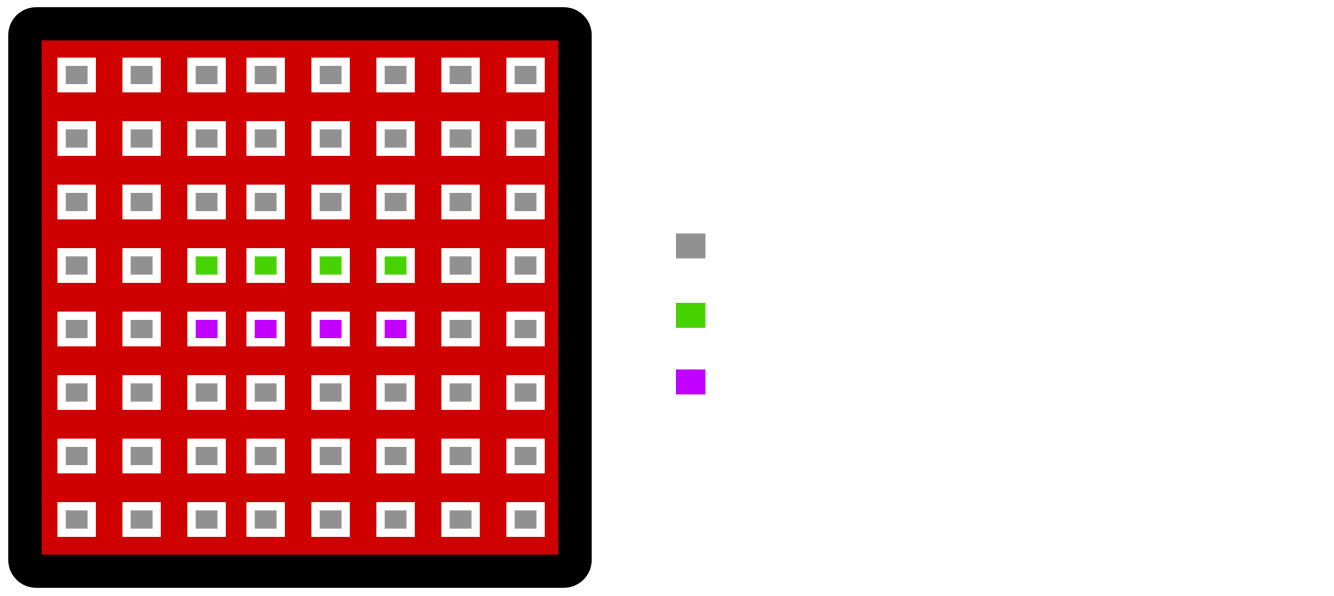 NOTE: Infrared light is invisible to humans.
The infrared (IR) LED lights on this unit emit virtually no visible light. The human eye cannot see infrared light but a proper camera can. You must have a full spectrum or night vision camera that can see infrared light to take advantage of night vision capabilities. For non-IR capable cameras you can use the visible color lighting functions of Phasm Light.
CONTROLS
Controls on the back of the device allow independent control over your light to suit the scene.
IR Switch: Independent control of infrared light on and off.
UV Switch: Independent control of ultraviolet light on and off.
Brightness Slider: Allows control of the overall brightness for all light. Slide this bar left to dim or right to brighten.
Visible Light Color Switch: Allows selection of the visible light color from a selection of 8 colors. Move this switch full left to turn off visible light.
Power Button: Turn on and off the device by pressing and holding the Power Button for 2 seconds.
DISPLAY SCREEN
A lighted display on the back of the device allow you to see all of your settings at a glance, even in the dark. After 2 minutes of no changes the display will go to sleep to preserve battery life. To wake up the display just tap the power button.
Battery Life: Battery icon will visually indicated the life of the battery with how many 'bars' are charged.
Charging Status: While charging one of the bars in the battery icon will blink. Once solid and all bars are full the device is fully charged.
IR Mode: Displays if the IR lights are on or off.
UV Mode: Displays if the UV lights are on or off.
Visible Color: Displays the visible light color if in use. If visible color is not selected the display will show 'OFF'.
Brightness: Displays overall light brightness selected with a percentage value of 0% - 100%.
66 Reviews
Best ir light out

This is by far the best IR light on the market! Don't be scammed by cheaper Amazon lights that just can't compare to this light. The battery life is by far the best feature on this unit. It lasts a very long time while in use. The charge time is fast as well. The unit is built like a tank and will give you years of use. It's a good feeling when you get a product and you are not paranoid of dropping and breaking it. The IR spread on this light is great! It will not give you that irritating middle hotspot that most of the cheap IR lights give.

Phasm Full Spectrum Night Vision Camera Light PHASM LIGHT

definitely worth the buy, videos significantly better and clearer

Unbelievably bright! Very happy with it.

So many options, great adjustable brightness. IVE EVEN SEEN THESE USED IN GHOST ADVENTURES!!!!!!

Works great

Ridiculously powerful light

I bought several Phasm cams but never had a Phasm light until now. It arrived on the investigation night, so I got to try it out right away. One word: AMAZING It packs a lot of different lights in one small package that fits in your pocket, which is just ridiculous, but it works well! The IR and UV lights are bright enough to light up the big rooms. But the colorful lights aren't that powerful, but you can get more Phasm lights and put them together to make an even more powerful light. I definitely will order more.

The light works great at filling the area evenly.

Great little light to go with the camera, it fills the area evenly with your choice of IR, Ultra Violet or both even has other colors, red, blue & few others and unlike old bulb type lights you dont have that center bright spot that they have it fills area evenly and also has brightness control. This light doesn't have a removable battery so if time is a problem you gotta buy a USB power brick and problem solved.

This is a amazing light works perfectly and goes above and beyond what i expected.

Beyond just great for investigations, these lights helped me out on countless film shoots as well! Magnetic and modular, portable and powerful, they are a dream to use - I wish I had these back during my SCARED! days.

A must buy with the camera 100% worth it

Love this light I have three and they never fault on me

An Amazing Versatile Light!

This light is incredible. The amount of infrared light this thing puts out is insane. The visible light is fairly bright as well for only consisting of a few LEDs. I have not had a chance to use in full-spectrum yet but I'm sure it would be great. Like always GhostStop, you have knocked it out of the park!

Used for the first time Saturday night and is by far the best light I have used! Illuminates any dark space like it's daylight on your camera and the combo of IR/full spectrum makes sure you won't miss anything that is in front of you. Highly recommend and will be buying another.

I was skeptical at first, but this light did not disappoint and exceeded expectations in all areas! This is a MUST HAVE for any paranormal investigator!

I really love this light ! The only issue i have is getting it to charge . When i plug the light in the battery charging symbols doesnt show up unless I unplug it a few times .

Great product, lights a medium to large room nicely.

A great accessory for the Phasm Cam. The IR lights work great at lighting up a room. I like the ability to control the light output. The magnetic connections work great, very strong. The UV and color led's are nice extras making it a great accessory.

100% effective! If you are going to record in night vision this is a must. To be this size the lighting is powerful and a GOTTA HAVE for those night shots.

Really great product!! So good that I bought another.

I bought this with the Phasm Cam and it works amazingly. The actual camera has good IR but this enhances it to the point where you can see perfectly in a pitch dark room! Definitely will be using it on my paranormal investigations soon!! Thanks again Ghost Stop :)

this may be small but it gives all that extra lighting you need and more. I love every piece of equipment I've bought so far and can't wait to get more

Wow very bright lights good design being able to add more lights to it aswell

So easy to use 3 lights in one which makes it very convenient and compact.

Attaches easily and holds well with magnetic mount. Very easy to use, light area close to you pretty good. Only center lights are on when using the non IR/UV lights which really help to not blind everyone in a dark room if you need to switch on some regular white lighting

This is hands down the best light ever with the combo of IR and UV provides a great full spectrum. Provides such a clear vision with the phase camera I have caught great evidence so far

No matter if you're inside or out, this light illuminates it all! Fantastic product.

Crazy how good this camera with the light is. I've spent so much money on other lights and cameras and non of them have worked more that a 6 to 12 inches from my face. Anyone looking for night time shooting this setup is a must. My gopro is nothing compared to this camera and with the light it doesn't pick up night shooting like the camera here does. I recommend everyone get both the camera and the light and you won't ever need another setup.

This awesome little lite does its thing. Having infrared plus all the other functions. Have yet to use it, as I am currently still building my ghost hunting equipment. So as a amateur this company been great, and I look forward to acquiring more gear from them as well a mentioning once I start my new channel up. Haunting of Vancouver Island.

Excellent light rugged build quality

This is the best light hands down. Evenly spreads lighting out and has great distance. Build quality is rugged and great for the road. Battery life is very long lasting. You can use the magnets to mount in creative ways to get the best angle. You can fine tune the amount of light to get the perfect picture wether or not its a small room or medium to large room. Works perfect with the Phasm camera

This turned out to a solid investment.

I ordered a giant package from ghoststop, and the Phasm Light turned out to be my favorite equipment of them all. Such excellent light and possibilites.

Works as expected. Shipping was fast.

Alternative Use: IR light source for VR

I've been looking for a portable IR light source and stumbled on the Phasm LIght. Most IR light sources I was considering are bulky, and corded, so stumbling on this light was such a relief! I have a 18x11 ft room, and at 100% level this light completely saturated the room. It's amazing! I'm using a Quest 2, after some testing, I found the headset operated perfectly fine at the 30% level within the room, and I was about 10-12 feet away from the light. The magnets are really handy for maximizing placement of the light as well.

This is a pretty good little light. Very power IR source! This also is the perfect complement to the Phasm camera.

This is a fantastic pair up with any camera needing an IR boost

After I discovered GhostStop's POV camera's IR emitter limitations with bigger spaces, I picked up a PHASM after seeing my partner's footage. This device is an incredible IR emitter and for anyone using the GhostStop's (now discontinued) POV camera, this is a perfect pairing with it. I can only imagine how well this works with the PHASM CAM as this light both illuminated completely dark rooms for my IR camera but also cleaned up the image signal when using the wifi feature of the POV camera. (More light = better image, yup!) This is a fantastic investment and a must have for any investigator.

A nice light enabling you to take good pictures in a dark area

All in on great buy.

Excellent multifunctional light, a must have item for any ghost hunter, investigator and/,or researcher. Excellent value for money item.

Best light I have bought yet! When coupled with the battery back up you will have light for your entire investigation. About to order 3 more of these!

This light is fantastic .my Handycam went from a very dim ir light in the center to dark outer edge. To lighting up the whole room. Make sure enough read the online instructions when you first charge The light. Awesome product well worth the money.

Just like everyone else on here, Ghoststop has knocked it out of the park. I wish I would have bought this earlier. The Creepy hollow lights are great but the Phasm is the best. Excellent coverage, adjustability and you can plug it into your Ghoststop USB power pak. Totally cool !

Excellent ! This light is top shelf ! Compact & capable ! Works well in every mode, illuminating IR and full spectrum with my camera very well… nice work guys! Thumbs up.

GhostStop hit this out of the park. The flexibility of this light, ease of use and output make this the best IR light on the market..period! I've run this through quite a few tests over the last 24 hours and I have to say I have zero regrets. Stellar design, with the mounting magnets and tripod threads. Paired perfect with the 4k mini camera. Well worth the loot folks..

This light is bad a** the display screen is clear and the ir, uv and the led is bright when the dimmer switch is turned all the way to 100 but 50 percent is good for me I use this light with my ghost stop camera and my Cleveland paranormal camera. Highly recommended and I will by another in the future.

This Light is powerful, versatile and stackable! Both IR & Full spectrum works amazing! But that's not all! It also provides standard lighting in a rainbow of colors!! It can also be used for ambient lighting when recording! I could go on, just get one or two maybe three! You're welcome!