Spirit Box SB7
New 2020 Model (SB7T - Rev 5)

The SB7T Spirit Box is a great compact tool for attempting communication with paranormal entities. It uses radio frequency sweeps to generate white noise which theories suggest give some entities the energy they need to be heard. When this occurs you will sometimes hear voices or sounds coming through the static in an attempt to communicate.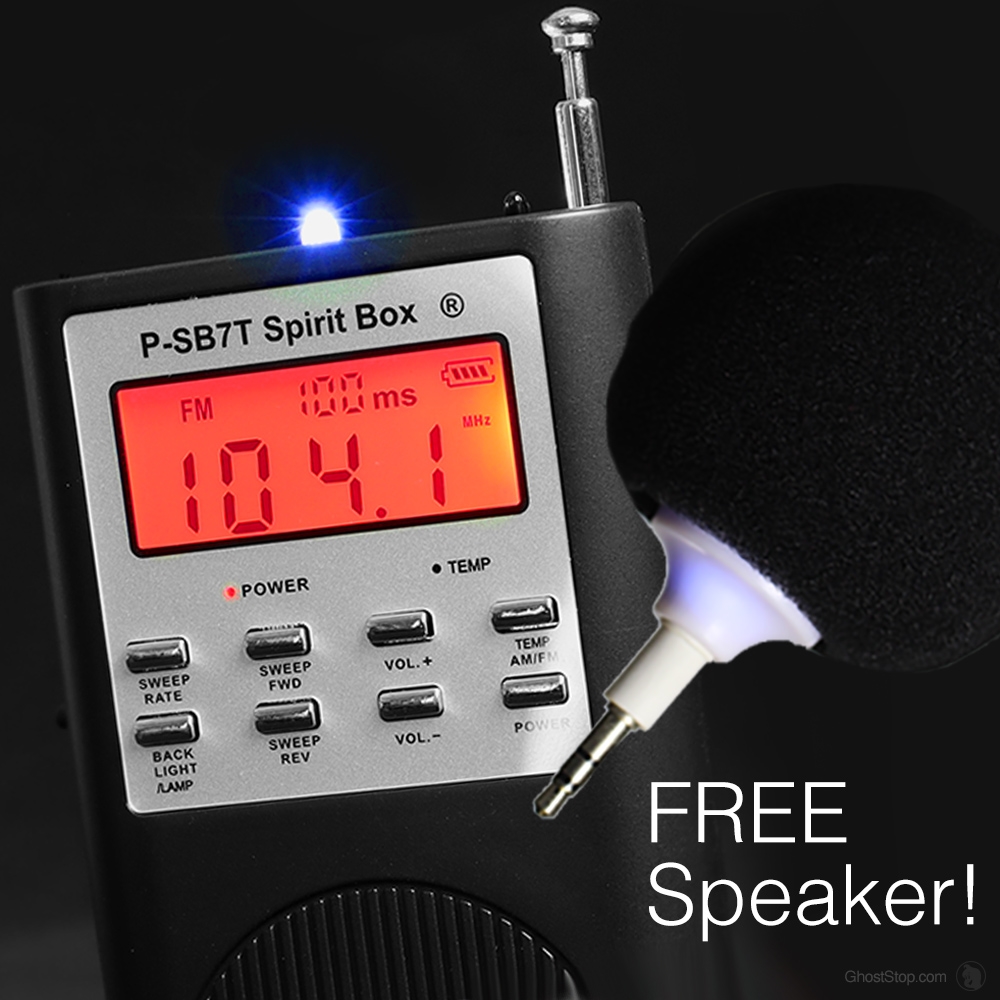 Includes FREE Speaker for a Limited Time

The SB7 allows for both FM and AM sweep modes focusing on a set of frequency ranges within which investigators have found best results. With balanced frequency power, amplification and noise reduction you can expected cleaner results and greater clarity while sweeping.

This unit utilizes a milli-second adjustable Forward or Reverse frequency "sweep" technique coupled with a proprietary high frequency synthetic noise or "white noise" distributed between frequency steps. There are two discreet audio outputs; (1) earphone or external speaker, and (2) internal speaker. It also features a LED back light display with manual ON/OFF select ideal for viewing in the dark.

For louder audio, an optional speaker is recommended which using the 3.5mm headphone jack of this ghost box or any other device with audio out.


What's new with the SB7T
Red backlight
AM boost (faster speeds but less speed options) while FM remains the same
Temperature spike detection (ATDD built in)
Flashlight built in
Improved volume (though an additional speaker is quite helpful)
Wrist strap
Faraday Pouch (optional add-on)
The Faraday cage pouch is a great way to filter out much noise. For more details click here.


Customers also viewed:
SBox Ghost Scanner + Recorder The newest spirit box with recorder built in and many handy features for investigators.
Helpful Accessories
Protective Gear Pouch - padded nylon case with velcro, carabiner and belt loop for carrying ease.
Faraday Pouch

- place SBox or SB7 inside this pouch to remove any outside FM/AM broadcast.
Takes 3 AAA batteries
FM scan range: 88.0 - 108.0
Selectable AM/FM Forward and Reverse
Sweep Rates (same for AM and FM): 100ms, 150ms, 200ms, 250ms, 300ms, 350ms
ATDD: +/- 5 Degree Hot and Cold Spot Detection with Audible & Visual Indication
250mW Speaker Output
15mW Earphone Output
Mini Built-in Flashlight
Red Backlight LCD with Manual ON/OFF Control
Directions
Press the Power button for 2 seconds to turn on the PSB-7
Select the band by pressing the AM/FM button
Select the sweep rate by pressing the "Sweep Rate" button to cycle through the rates (Rates displayed at the top of the LCD Screen)
Select the sweep direction and start the sweep function by pressing the "Sweep fwd" or Sweep Rev" button for 3 seconds
Includes
SB7 Spirit Boxxzz
Batteries
Manual
48 Reviews
A great addition to any paranormal investigation kit, this Spirit Box is a classic, and work amazingly. There is a lot of functions so you can experiment a lot. When I ordered it, they offered a free speaker add-on, but the speaker on the spirit box has greatly improved since the first model, and I personally think that it works perfectly fine without any speaker add-on. An awesome product!

This is good spirit box

This is a good spirit box

It's the best spirit box ever

its awsome tech

This is a great investigators tool, just used it last week and was in contact with a spirit who was giving intelligent responses. You will need to use an external speaker or headphones.

I love this. I recorded voices from day 1. I didn't hear it till I listened later but at trans Allegheny my gf and I recorded many voices saying child, preston, I don't wanna jump, devil, I'm dead, me and wanna drink . Awesome

I've gotten to speak with spirits in my house from getting their name to other sinister stuff but If you're looking for a easy to use SB this is the one

This Spirit box is amazing. We got so much evidence using this. I would highly suggest ordering this. And the added speaker was extremely loud and I was impressed.

Purchased for my wife for Christmas. After using it a few times, the free speaker stopped working. Tried it with another device and it no longer works either. As for the Spirit Box, it's working great so far.

Very nice me and my daughter are both learning to do you paranormal EVP's . But I have had many great responses very clear exactly what we were looking for and we use the Sbox as well which is a very great EVP recorder

I want to take the time to thank ghost stop for sending me the Psb-7 Spiritbox it works great and I have some awesome sessions with this so far. Thank you again I will diffently recommend you guys for sure!!!! Stevo from S&K Paranormal

My team loves the SB7! Its so small and convenient to just throw in a pocket and have with us for random sessions, or structured investigations. We like to use the added speaker to hear it better, but it's amazing either way! Definitely recommend this for both solo investigators and teams.

This device does everything that it is supposed to do and does it well. I particularly like being able to change the sweep rate. However, two of my friends have the box as well and the box itself is not made to last. After two weeks, the backlight malfunctioned. It later turned back on, but is blank. That is, you cannot see your sweep rate settings, or the digital data on the blank screen. My box has a fuzzy sound as it sweeps, hindering any voice that may come through. I donated it to a friend who works on electronics. No luck fixing. I liked the box so much that I ordered two more. Problems with the display again, and out of all of the ones that I've purchased, the volume is stuck on a certain level on two of them. We cannot adjust it. It's a brilliant device, but it's worthless if I can't use it. Unfortunately, these appear to be the only ones on the market. I'm going back to my Shack Hack. It has held up for over a year.

Ok, the first unit I received was non-functional right out of the box. It would not scan at all and would rarely even change a channel. However the Ball Game came in crystal clear. After emailing them a copy of my Ghost Stop receipt they immediately put a new unit in the mail, emailed me the tracking number and asked when I have time to please send the non working unit back. Most people would say when we get the non working item we will send out the new. They sent it out first. Very Happy with their customer service and the service from GhostStop. The new unit works great.

I have tried this device probably a dozen times, all it picks up is distant radio stations in AM or FM. On T.V. they never seem to have that problem....

Loved it Still love it Will never stop loving it Great equipment!

Love the results we get on this product.

What a wonderful high quality product! Thank you!

I have been able to pick up on so much communication with this! And I love the speaker that came with it!!

Definitely worth the money! Love my spirit box!

Love it. Spirits love talking through it. One time I turned it off and when I reviewed my recording, I got a class A EVO saying "Put me back on the radio".

Crucial piece of equipment to have. Excellent device, works beyond expectations and is a must for those who really love the paranormal!!!

I'm satisfied that's all I can say really! I get great results with the P-SB7 and P-SB11!

I'm over for a visit to see my family. These are crazy!!! Expensive in Australia. I haven't had one for a couple years now. Received it yesterday my dad a non believer said he has been having crazy dreams about my grandmother and to pass a recipe on. In turned it out had reverse sweep at 100mms and he asked and clear as day my little sisters name came through and it's a very hard name 5 syllables long. Was amazing. Can't wait to get it out to try and get it back home and have it with my investigative team as I wanted my own personal one. To add was a quick delivery and staff are soooooo helpful!!

Awesome! Spirit Box SB7 is a effective device to communicate with spirits and get great results!

Hello Scott again from Spirit veil Southwest- So glad I got the SB-7 for a x-mass gift !! The FREE speaker was a welcomed bonus .I also bought TWO of the plug in external speakers to go with both this and my SB-11 .The external speakers really do boost the things coming from the boxes and help .Thanks Ghost Stop !

I wasn't sure about spending more money on the top of the line spirit box. The people at Ghost Stop spent time chatting with me on the phone and were so helpful! I ended up buying the SB7 to be sure I wanted to use one (there really was no question though!) and I am not very technologically savvy. This let me start with a very easy to operate/adjust piece of equipment that I highly recommend! It's been a very successful tool in my box. Thank you Ghost Stop!!

Daniel of Bessemer Hill Side Paranormal

I own a P-SB7 the old one.. I do like the way this one is modified too tone down the loudness nice and clear for me I've already got a great response from it and i just got it So if you don't own one yet if your thinking of buying one its well worth the purchase

Scott - CR Paranormal Investigations, Iowa

The SB7 spirit box is absolutely legit as a paranormal communication tool. I've received countless great responses in personal and investigation sessions. I've had good success either with or without the Faraday pouch. Often they speak clearly in the background white noise!!

Glad it now comes with a speaker

I purchased this ghost box when it was newly for sale, and a speaker was highly recommended, though not for sale here. I'm very pleased to see such a fine product now has the vital speaker product included. I do wish this particular speaker pictured would be made available on this site. (Yes, I still need one.)

At first like many I was skeptical, but after a few uses I started to get direct responses to all the questions that i was asking the spirit box. I was given names and answers as if the spirit was in my room, its fantastic! I would definitely recommend this to those that want to dabble onto the other side. Its a great beginner device too.

I purchased this item about a year and a half ago for ghost hunting. It has become one of the most important tools I own when it comes to spirit hunting. It seems to make it easier for them to use to communicate. I have had a lot of activity with this. I highly recommend this product for anyone looking to seriously research the paranormal

The BEST EVP communication device!

I bought a P-SB7 a few months ago, and I must say I have become a faithful listener to the spirits through electronic devices. I use digital recorders, and now the P-SB7. I bought a Faraday pouch because I live in a major city, so I wanted to silence the radio stations. However, after a while I decided to NOT use it because if the vocal transmissions are being used in order to communicate with us, then why would I want to filter out their only way of talking with us? I would be hindering the means in which they speak! Some others may feel different, but it is something to consider! You WILL know what is radio and what is spirit. Buy the P-SB7 today and see for yourself. This is serious stuff.

I use this with an external speaker system and plug in a digital recorder for recording. Great for analyzation and hearing in real time. Great unit.

Great but a couple questions

I found this to be great, but does anyone have any advice on to get to less of the music radio stations to come in? It can make it difficult to depict which is which

First id like to add this is my favorite site to purchase equipment because of the unique and large selection of items and very reasonable prices......Second, This is one of my favorite tools to use on an investigation now. Worth every penny. I would suggest buying a speaker to attach so you can hear even the faintest responses. I am amazed at the intelligent responses we have been getting in our investigations Every single time we use it...

First time use, great results!

Just got this unit in the mail today while I was at work. My wife and I tried our first session around midnight. We began with the opening request for protection that is conveniently provided with the instructions. We got answers to various questions ranging from names and how long each spirit has been here to specific questions like our names, our children's names, and even what kind of plant we were growing in the room. At one point, I even asked if any of the spirits present met my mother, and I told them her name, if they could tell her she is missed and loved, and to our surprise, clearly as day we were greeted with the response "Of course". Thanks a lot for this device, it is incredible.

Amazing results-even to my skeptic husband

I live in an area surrounded by mountains where I don't pick-up but one or two static radio stations, I wasn't sure how it would work here, let me tell you I am so pleased with what I have been receiving! I have a lot of relatives and friends who have passed at a young age and they have been coming through using their names and always saying my name to validate. They give me messages to pass onto a loved one who is struggling with their death and it helps them tremendously. My husband can't even deny what I have been receiving and he is my biggest skeptic. I noticed the more I use the device the stronger these spirits are at coming through. A huge thank you to who ever developed this device.

Nice piece of equip. for the $$

I highly recommend this box for the beginner-to-intermediate investigator. It's very easy to use and I've had numerous experiences with it already after owning it for a only month and a half. The only negative is it's great ability to pick up radio stations VERY easily, which in turn can potentially cause you to make false positives. I suggest spending the extra $15.90 on the Faraday Cage Pouch. Personally, It's yielding some terrific results. I give it a 9.3/10

This is an awesome piece of equipment - even though its my first one i have to say it is everything i thought it would be .. I look forward to be being a long time Ghost Stop shopper ...

My first session I started hearing names and answers to my questions within 2 min. I don't know if being born kind of sensitive helped but this things works. Even though on FM it can sweep 100ms, 150 to 200ms is easier for them. Slower and you start getting bleed over from channels. My second session I was hearing some voices clear as day, even one laughed; so I know one of them enjoyed the conversation. I asked if they could hear our thoughts and they said yes. So if you have a critical mind, you may not get the reaction you want. So keep calm and non judgmental, literately!

I just recieve this product as a international order to the last country at the south pole...Thank you very much GhostStop. This product its simply amazing. I'm just starting to do investigations. First I was recording directly voices and with this device as soon i opened and powered on...i start to receive voices, hellos...and even a thank you for buying this device..really recommended if you are like me starting on this. Merry xmas to all and happy hunting. PS: thanks for the FREE flashlight I'm adding it on my night investigations.

i purchased 2 of these and i found that removing the antena produces a much clearer session, a whole lot less un-wanted noise while sweeping Fm band and still good white moise level.thanks

I have purchased 5 of these. The first 3 have amplified AM/FM. The last 2 have only amplified FM. I have had remarkable success with the later version on AM in reverse at 250 sweep rate. I connect to the Altec Lansing Speaker. Because these newer units do not amplify AM we do not get any white noise feedback. When a spirit decides to chat we get just the spirit coming through. Amazing! This has become a gamechanger for our operation.

Has brought my quality and quantity of EVP's during investigations to a whole new level.I find the maximum sweep setting,in reverse mode yields the best results.Would also suggest NOT extending the external antena as you can tend to pick up bits of radio noise(not the desired white noise).Just an observation but it seems spirits are drawn to this device.I actually got an EVP of two spirits communicating with one another about the device and in an attempt to turn it off knocked over my min-camcorder which was right next to the SpiritBox.I would like to give the B-PSB7 4.5 stars,not 5 due to it does tend to pick up bits of radio voices at lower sweep rates.That certainly doesnt detract from the fact that this is one heck of a device and I wouldnt do an investigation without it.