Spirit Box SB7
New 2020 Model (SB7T - Rev 5)

The SB7T Spirit Box is a great compact tool for attempting communication with paranormal entities. It uses radio frequency sweeps to generate white noise which theories suggest give some entities the energy they need to be heard. When this occurs you will sometimes hear voices or sounds coming through the static in an attempt to communicate.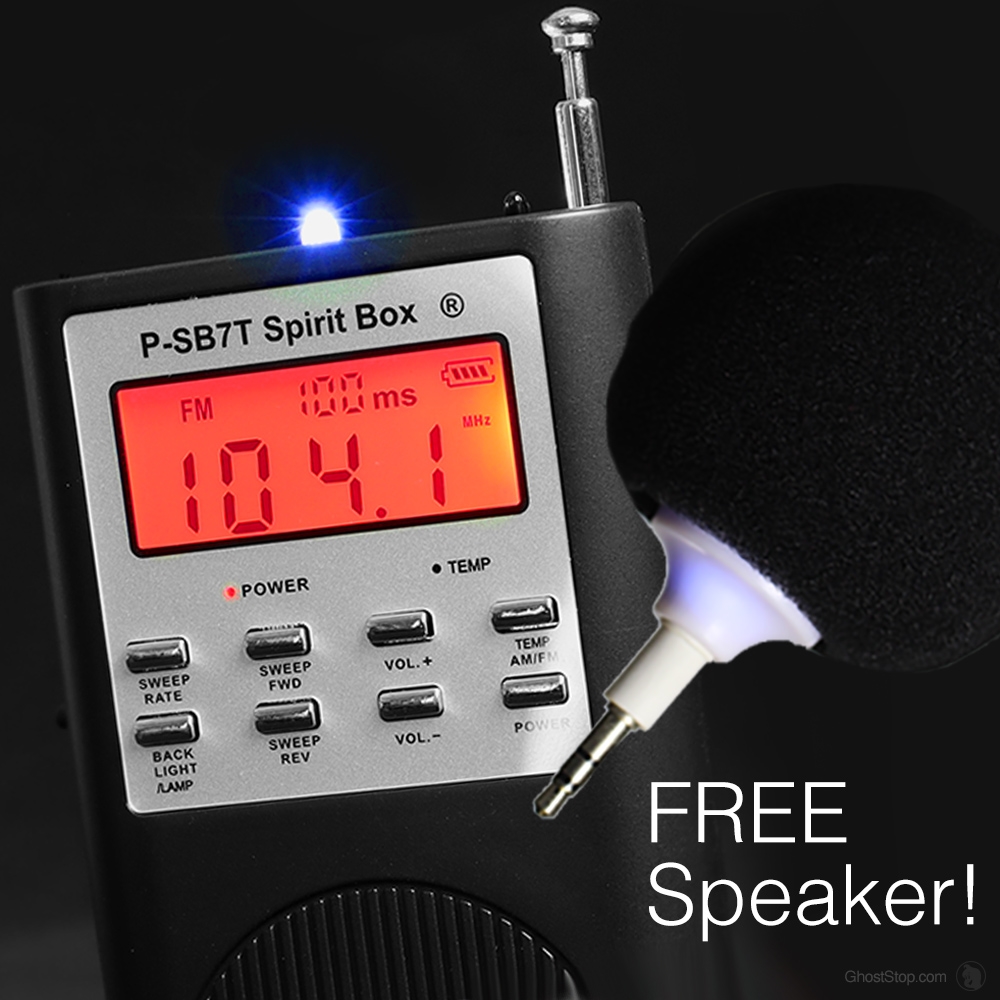 Includes FREE Speaker for a Limited Time

The SB7 allows for both FM and AM sweep modes focusing on a set of frequency ranges within which investigators have found best results. With balanced frequency power, amplification and noise reduction you can expected cleaner results and greater clarity while sweeping.

This unit utilizes a milli-second adjustable Forward or Reverse frequency "sweep" technique coupled with a proprietary high frequency synthetic noise or "white noise" distributed between frequency steps. There are two discreet audio outputs; (1) earphone or external speaker, and (2) internal speaker. It also features a LED back light display with manual ON/OFF select ideal for viewing in the dark.

For louder audio, an optional speaker is recommended which using the 3.5mm headphone jack of this ghost box or any other device with audio out.


What's new with the SB7T
Red backlight
AM boost (faster speeds but less speed options) while FM remains the same
Temperature spike detection (ATDD built in)
Flashlight built in
Improved volume (though an additional speaker is quite helpful)
Wrist strap
Faraday Pouch (optional add-on)
The Faraday cage pouch is a great way to filter out much noise. For more details click here.


Customers also viewed:
SBox Ghost Scanner + Recorder The newest spirit box with recorder built in and many handy features for investigators.
Helpful Accessories
Protective Gear Pouch - padded nylon case with velcro, carabiner and belt loop for carrying ease.
Faraday Pouch

- place SBox or SB7 inside this pouch to remove any outside FM/AM broadcast.
Takes 3 AAA batteries
FM scan range: 88.0 - 108.0
Selectable AM/FM Forward and Reverse
Sweep Rates (same for AM and FM): 100ms, 150ms, 200ms, 250ms, 300ms, 350ms
ATDD: +/- 5 Degree Hot and Cold Spot Detection with Audible & Visual Indication
250mW Speaker Output
15mW Earphone Output
Mini Built-in Flashlight
Red Backlight LCD with Manual ON/OFF Control
Directions
Press the Power button for 2 seconds to turn on the PSB-7
Select the band by pressing the AM/FM button
Select the sweep rate by pressing the "Sweep Rate" button to cycle through the rates (Rates displayed at the top of the LCD Screen)
Select the sweep direction and start the sweep function by pressing the "Sweep fwd" or Sweep Rev" button for 3 seconds
Includes
SB7 Spirit Boxxzz
Batteries
Manual