Spirit Box SB7 (previous model)
Model SB7 Rev 4 (prior to the SB7T)
focuses on frequency ranges found to produce the best results plus all of the great features introduced in Rev 3 including:
Noise reduction for high quality, clean results

Now with FM and AM with equally-balanced power
Improved overall product quality and audio
Comes with

FREE external speaker
The B-PSB7 (Rev 4) Spirit Box is a great compact tool for attempting communication with paranormal entities. It uses radio frequency sweeps to generate white noise which theories suggest give some entities the energy they need to be heard. When this occurs you will sometimes hear voices or sounds coming through the static in an attempt to communicate.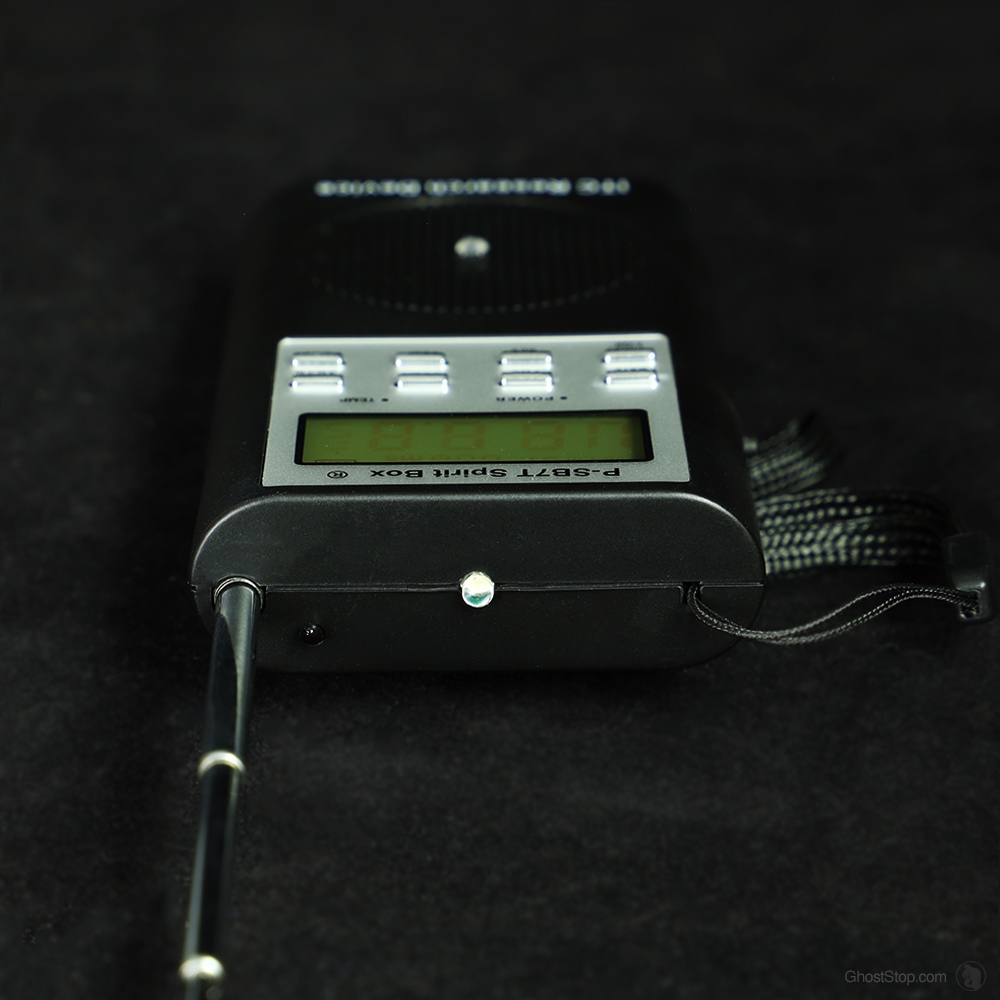 This new model allows for both
FM and AM sweep modes
focusing on a set of frequency ranges within which investigators have found best results. Now with balanced frequency power, amplification and noise reduction you can expected cleaner results and greater clarity while sweeping.
This unit utilizes a milli-second adjustable Forward or Reverse frequency "sweep" technique coupled with a proprietary high frequency synthetic noise or "white noise" distributed between frequency steps. There are two discreet audio outputs; (1) earphone or external speaker, and (2) internal speaker. It also features a bright LED back light display with manual ON/OFF select ideal for viewing in the dark.
For louder audio, an optional speaker is recommended which using the 3.5mm headphone jack of this ghost box or any other device with audio out.
* SPEAKER note: model of speaker may vary from photos depending on manufacturer availability.
Faraday Pouch (optional add-on)
The Faraday cage pouch is a great way to filter out much noise. For more details
click here
.
Customers also viewed:
SBox Ghost Scanner + Recorder
The newest spirit box with recorder built in and many handy features for investigators.
Helpful Accessories
Protective Gear Pouch - padded nylon case with velcro, carabiner and belt loop for carrying ease.
Faraday Pouch

- place SBox or SB7 inside this pouch to remove any outside FM/AM broadcast.
CONDITION:
NEW condition (never been used) with original packaging, accessories and instructions. We just have a few left we kept on-hand prior to the new model coming out.

Includes SB7 unit and ball speaker including all new packaging and accessories.
Compact Spirit Box for Communication Listen to LIVE responses with the internal speaker, external speaker or headphones Scans FM and AM frequencies Compact size like a typical MP3 player