New Model!
Dual-Mode Full Spectrum & Night Vision Video Camera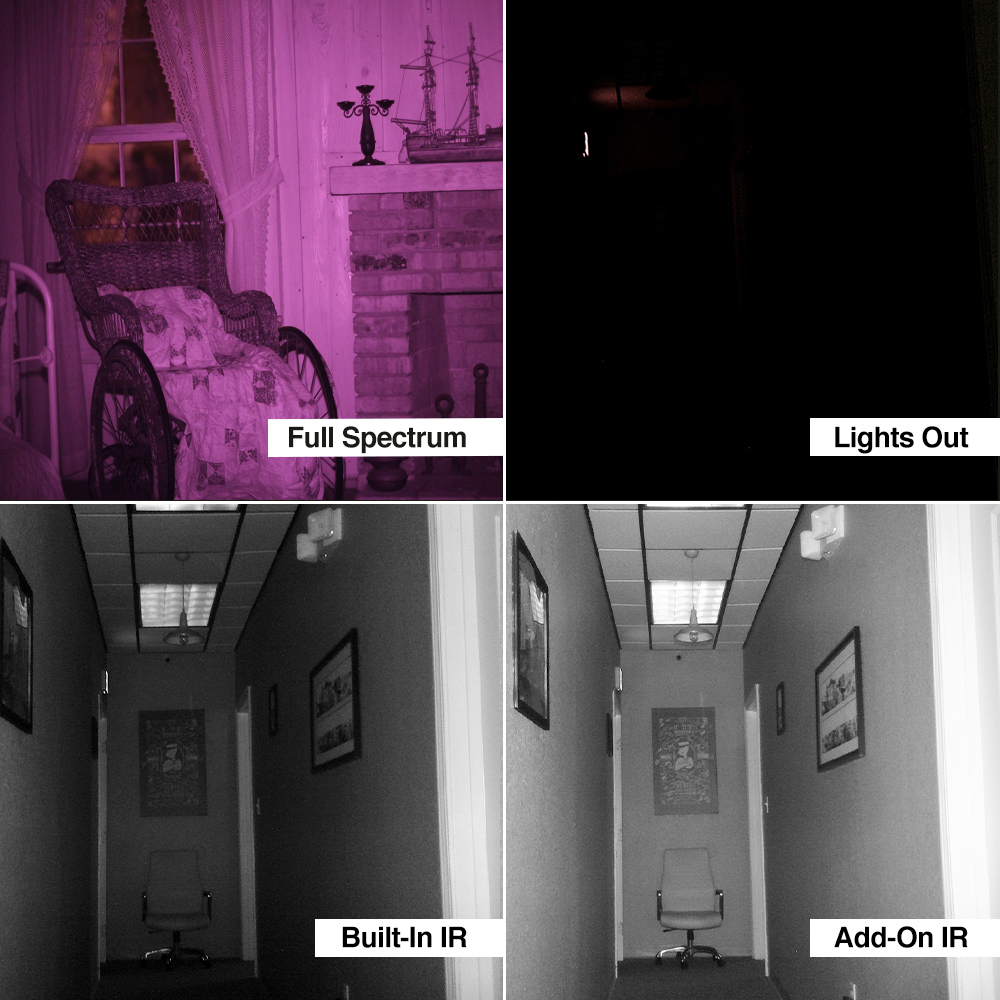 A ghost hunting camcorder like no other. This HD video camera allows you the ability to film in full spectrum or infrared night vision with the same camcorder. It even has a built-in IR light when in night vision mode. It's like having two video cameras in one plus a light. This compact camcorder features 1080p High Definition video and still photos with some handy features you'll find helpful on investigations. Night vision video and photos are in black and white.
Features
Video and Photo

modes
Full Spectrum and Infrared Night Vision modes

Built-in IR light

+ hotshoe mount for additional lights
16x powerful zoom
Motion detection, face detection and slow motion
Color display folds away and swivels
Rechargeable battery records while charging for unlimited use

NOTE: We highly recommend additional lighting for this camcorder to take full advantage of the Full Spectrum Mode for a higher quality picture and greater distance. See the ACCESSORIES listed below for suggested lights we have tested to work well with this camcorder. This camcorder may not be suitable for everyday use such as family gathering and sporting events as the hardware modifications to the unit make the picture constantly a 'pinkish' hue in the default full spectrum mode in the daylight or black and white in night vision mode.
1080p full HD video output
Video Resolution: 1080p (1920x1080) and 720p (1280x720)
Photo Resolution: 36MP (6720x3780)
Image Sensor: 8MP CMOS
Digital Zoom: 16X
3.0" display screen
File formats: JPEG and AVI
Focal Distance: f = 7.36mm (fixed)
Aperture: f = 3.2
Tripod mountable
Microphone input
SD card slot takes up to 128GB cards (class 10 recommended)
Built-in infrared night vision turns on when in Night Vision mode only (additional lights are recommended)
Full Spectrum Mode is the default Mode - additional lighting may be required to take advantage of full spectrum capabilities
Motion detection
Slow motion playback
Face detection
Remote control for various functions remotely
Hotshoe mount on the top of the camera allows for mounting additional lights and accessories
Rechargeable Battery Pack
Records while also charging battery for extended use
HDMI video output for use with a monitor or streaming/webcam
Directions
1. Insert the battery into the camera charge the battery using the included USB cable and turn on
2. Insert a Micro SD card for recording video
3. Press the record button to start recording video

The default filming mode is Full Spectrum Mode. Additional lighting is highly suggested to take full advantage of this full spectrum camera. The on-board IR light only turns on when in Night Vision mode.
Includes
Protective Camera Pouch
Lithium-Ion Battery
HDMI Cable
A/V Output Cable
Power Adapter
USB Cable
ArcSoft Imaging Software
User's Manual Quick Guide
13 Reviews
Everything I have bought from the phasam camera to the IR lights to the camcorders have exceeded my expectations and I am more than happy with all the products I have received

It's a decent camera for sure, for the price. A little disappointed with the quality but it was a great starter camera for me. Definitely recommend an IR light for sure like it states, it'll make all the difference.

This camera has so many good features to use and the picture is sharp. I can say for advice to add an extra battery and pick an extra full spectrum light. you can't go wrong. I will be buying a few more of these for sure. My order shipped same day and I also got it next day. UPS from FL to FL is one day. Great customer service tops this review off.

Good camera but wish I could adjust the brightness on the LCD screen. It's far too bright especially considering it's to be used with IR and Full Spectrum. It's blinding if you're using it dark areas which what it's for. Good for a static camera.

This is a awesome camera both in full spectrum and night vision,great video quality aswell. Perfect for ghost hunting.

First camera, favorite camera

For my first ghost hunting camera I'm never going to complain about this! Great build, easy control, and the video quality is just amazing! Definitely need an IR light to go with it but best purchase ever!

I've captured orbs with this cam recorder. When looking in slow motion in computer these orbs are some sort of spirit energy seen as orbs. These orbs travel with lightening speed in front of the camera. You might feel that its an insect or some other fly or dust. But believe me its not. I've used laptop to capture images from video. It's an unbelievable phenomenon. The IR dual light (or Phasm) is a must. Benefit of making a video is that you will never miss it in your recording. This cam and IR Dual light is definitely worth every dollar you spent. Also FYI it is always handy to have a spare battery with the cam.

Buy this video cam if you need a great HD Full Spectrum/night vision unit. This camera is a great value for ghost hunting with just the features we need.

First of all, I was super impressed with the quick processing and shipping of my order. Most places I have ordered from take about two weeks to get your order to you when you choose the basic shipping option, but you guys had my camera here in just 4 days! Also love that a signature was required for delivery. I haven't worked with a camera or done any investigating in a long time, so I may be a little out of the loop when it comes to equipment, but I'm pretty impressed with this little camera so far. It's simple and user friendly, small/light and portable, has all the features I was looking for built into it, and has a great picture quality. (I'm actually laughing at all the camera gear we would drag around ten years ago to do what this little guy does on its own, while fitting in the palm of my hand.) Also, for the price this camera was a steal! Great job guys! I will definitely be a return customer.

A very good camera. Love the way this records.

I'm speaking for not only this camera but for every order I've placed with Ghost Stop over the years. Hands down, my go-to for my groups inventory. Always top notch, professional, and quick with the shipping! Thanks guys! If you haven't already figured it out, you're stuck with me as a dedicated customer!! Also, the camera is great. It's clear and doesn't run through batteries too quickly. We add a bracket and a couple more IR lights for extra "lighting" at night and I couldn't ask for a better product. For both the camera and the IR lights.

Camera, full spectrum night vision

This camera is amazing!!! It does everything I need it to do and then some. I also use it just to video my family. It has an awesome picture to it.

received my full spectrum, normal light camcorder

After picking up this camcorder, the build quality is amazing, and the built in night vision light lights up small rooms all by itself, adding some creepy hollow lights really makes this one shine, great product, always happy with ghost stop products and service