BooBuddy Ghost Hunters Mobile App LITE
Mobile APP for iPhone and iPad.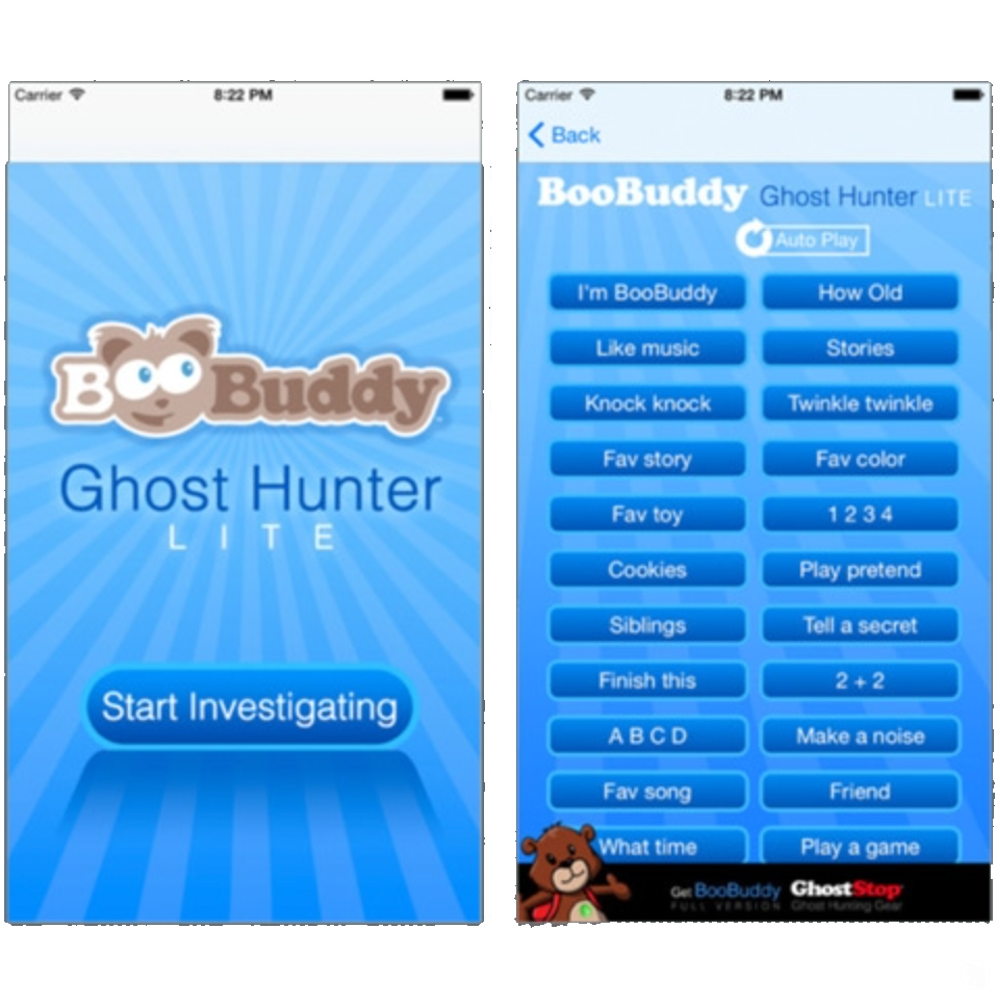 BooBuddy is the ghost hunting bear that helps you communicate and connect with the beyond like no other.


Mobile App when you're on the go.
This version of BooBuddy Ghost Hunter LITE is a 'light' version of the physical BooBuddy Interactive Ghost Hunting Bear. This app will help you conduct EVP questions by automatically speaking phrases and EVP questions to help encourage a positive response from the beyond. This app DOES NOT have all of the full features of the full bear product.
BooBuddy talks.
That's right. BooBuddy is a big help on ghost hunts promoting a positive response by asking questions, singing a song, telling a joke and guiding a listener to interact. BooBuddy's mission is to aid fellow ghost hunters by prompting an intelligent reaction you can experience and document as evidence. BooBuddy speaks in a cute, friendly voice that is approachable and helpful on investigations - especially with a child involved.
Let BooBuddy do the EVP work.
Just set it down and the BooBuddy app will go to work asking EVP questions and directing potential entities to respond in various ways. Be sure to set a recorder down next to your device to record any responses as audio evidence. What evidence will BooBuddy help you get?
Choose what BooBuddy says.
You can touch any audio button to control what BooBuddy says. There are 22 verbal queues you can play. Just touch a button to play the one you want.

Auto-Play feature. For extended use just hit the Auto-Play button to have BooBuddy speak continuously. BooBuddy will first introduce itself with, "Hi. I'm BooBuddy. What's your name?" BooBuddy will then pause and go right into asking questions and attempting to carry on a conversation with a pause in between each to allow for a response.
Example phrases:
"Do you want to be my friend?"
"Do you want to sing with me? Twinkle, Twinkle little star…"
"I like music. What music do you like?"
"Can you make a noise for me?"
Download
To purchase the app you must visit the Apple App Store using your iPhone or iPad via the link below or by searching 'BooBuddy'. Purchase via the cart on this page WILL NOT work.


See the FULL VERSION of BooBuddy Interactive Bear



This product is made right here at GhostStop.



Requires iOS 8.1 or later
Compatible with iPhone 5 or later or iPad
Open app and either set the app on auto play OR press the saying button you wan the app to play.
3 Reviews
This is fantastic for any investigator!! Although the real EMF Teddy is a must have ! When your in different locations and need Trigger objects in different areas this App is a must have, The cool part about this is you can use a recorder. I suspect this App will be a game changer and will update & will connect with the Boo buddy EMF and voice teddy

I've owned this app for awhile now and it is a great app and a great way to get responses without paying a lot of $$$$ for the real boo buddy but keep in mind, it's not BOO BUDDY so its limited but great for beginners and novices like me.

We field tested the App this week & it worked great. We got several replies to the questions. Great idea for an App. We'll definitely be using it on upcoming investigations.