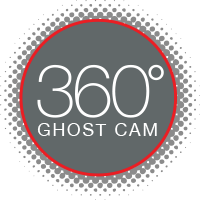 New - seen on TLC's Paranormal Lockdown
360° Ghost Cam
The NEW generation of ghost hunting.

Have you ever had activity happen on an investigation just out of camera view? Have you ever spent precious investigation time running cables with multiple cameras trying to cover the entire room? That can all be frustrating. Not anymore.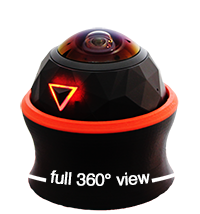 The first interactive ghost hunting cam that catches it all.


360° video with one lens and no stitching
Stunning 4K HD video quality
Full spectrum / night vision
Use with the 360 IR Puck for night vision
Interactively, virtual reality video
WiFi stream to phone or tablet
Upload 360° online to share it all
Easy to use, one-touch recording
Attaches to 360 Puck modules
Rechargeable battery or plug in power for extended use
16MP photos and POV front-facing video mode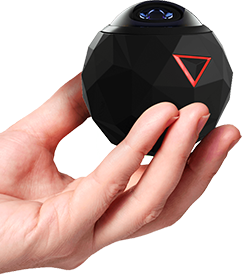 Interactive 360° VR Video
The moment you turn on your 360 Ghost Cam it is watching everything around it. You can watch the video LIVE remotely while recording. You can even interactively pan around the video as if you were right there with the cam. Using a free app for phones and tablets you can touch to pan around the video or simply tilt your phone around the environment. You can even use virtual reality goggles to step right into the activity.
Full Spectrum / Night Vision
Record it all in stunning full spectrum 4K HD video. GhostStop has professionally modified the 360 lens to accept infrared, ultraviolet and visible light for superior night vision capability. This camcorder comes with a custom-designed charging base so you can attach it to our 360 Puck IR Light or any other 360 Puck modules. There's no more need to setup various lights/cameras and figure out which angle works best. Just set this camera in the center of the room and hit record. As with all cameras a proper light source is required for effective night vision. Combine with 360 Puck Modules
This 360 Ghost Cam can be used on its own or locked into other 360 Puck modules. Together these modules become a central investigation system to capture quality evidence without missing a thing. They attach together using a simple snap-and-turn lock. You can stack as many modules as you like. Each module has a metal tripod mount at the bottom so you can put the entire rig or just a single unit wherever you need it in whatever combination you feel will get the job done well.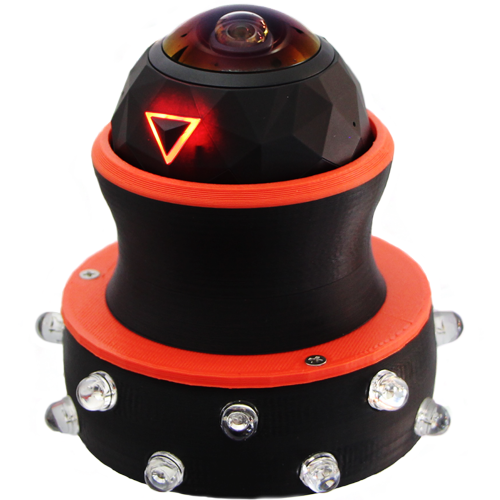 Note: 360 IR Puck is highly suggested for ghost hunting. Add it to your cart above.
Already have one? This cam with the provided mount will lock onto the top of your existing 360 IR Puck or 360 Laser Grid.

> Add the 360 IR Puck to your cart above if you don't have one.
> 360 IR Puck info
> 360 Laser Grid info


Apps for Mobile and Desktop
Using the awesome 360fly mobile app turns your smartphone into your camera's viewfinder giving you the power to view and share 360° and standard POV video directly. The desktop Director version gives you even more power right on your computer.



One Lens. No Stitching.
The Ghost Cam utilizes the amazing technology of 360fly that sees it all with one lens. This means no complicated software is involved to create stiching and seems which can cause false evidence. What this means for your investigation the assurance of pure visual evidence.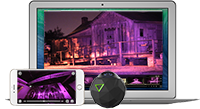 Key Features

One button for easy and quick operation
Use mobile app for remote control, settings and viewing
Stereo audio recording
Built in 64gb storage for 4-5 hours of 4K video
Unlimited power during recording while using base
Rechargeable battery lasts 14 hours in standby and 1.5 hours recording
App supports iPhone and most Android (iOS 9+, Android 4.4+)
Desktop app supports Mac OS 10.8+ and Windows 7+

This product is made or modified right here at GhostStop.

*NOTE* This camcorder may not be suitable for everyday use such as family gathering and sporting events as the hardware modifications to the unit make the picture constantly a 'pinkish' hue during use in daylight. Proper lighting is required for low light environments. Due to our full spectrum modification the unit is no longer waterproof.

Got questions?
VIDEOS and more info coming soon. Since this is a new product at GhostStop we look to your questions to see what information should add. We are currently working on video samples for posting from our many investigations and testing. Feel free to email us your questions and we will help best we can and keep adding more details per your suggestions and questions. Thanks!

Our 360 Ghost Cam is a MODIFIED 360fly 4K camera in combination with our 360 Puck mounting kit.
360 IR Puck light is sold separately.
---------
FEATURES
Field of View: 360° around, 240° floor to ceiling
Adjustable Exposure for more light as needed (via app)
Keys: One Operation Key (Power ON/OFF, Recording Start/Stop)
LED indicator: 3 Color LED
Vibration Motor: For device feedback when out of view
Microphone: Built-in Dual Omni-Directional Microphones
Sensors: Accelerometer, E-Compass, Non-Assisted GPS, Gyroscope
Storage: Internal 64GB
Wi-Fi: 2.4GHz & 5GHz 802.11 b/g/n
Bluetooth: Bluetooth™ Smart Device (BT LE)
USB: USB 2.0
Remote Control: Viewfinder, control, edit & sharing via smartphone app
Supported Mobile O/S: iOS 9+, Android 4.4+
PC Software: 10.8 or later / Windows 7
Supported PC O/S: Mac OS X, Windows
RECORDING
Video Format: H.264
Video Mode (Resolution): 2880 x 2880 @ 30FPS Max
Video Recording Rate: 50 Mbps
Audio Format: Stereo AAC 48KHz 96Kbps
OPTICS/LENS
Lens Type: 8 Element Glass Ultra Fisheye Lens
Aperture: F2.5
Effective Focal Length: 0.88mm
Minimum Focus Distance: 30cm
ENVIRONMENTAL
Water-Resistant: NOT waterproof due to our full spectrum and audio modifications
Dust-Resistant: IP6X
Shock-Resistant: Up to 1.5 M
Operating Temperature: -20° to 40° C / -4° to 104° F
Storage Temperature: -20° to 60° C / -4° to 140° F
POWER
Power Source: Built-In Li-Polymer battery (1780mAh)
Charging Method: Through Cradle using bundled USB cable
Full Charging Time: Approx. 2.5 hours with 1.5A charger
Battery Life: Recording time up to 1.5 hours
Standby time up to 14 hours
SIZE AND WEIGHT
Dimensions: 360fly 4K camera (61mm sphere)
PowerCradle (46mm x 12mm)
Weight: ~172g
1) Download the 360fly app. Search "360fly" in the App Store or Google Play and download it to your mobile device.
Launch the app to set up your camera and build a 360fly profile. Remember, the app allows your mobile device to serve as your camera's remote and viewfinder, giving you the power to edit and share clips on the fly.

2) Remove camera from the packaging and Tilt Mount. NOTE: DO NOT THROW AWAY the Tilt Mount.

3) Charge your camera for at least 30 minutes by placing it on its magnetic Power Cradle while it's plugged into a power source.

4) Remove camera from its Power Cradle and turn it on by holding the OnePush button down for 4 seconds.

5) Connect your mobile device and camera by tapping the "camera" icon in the app. Now tap the camera drop down arrow to add or select a camera.

6) Follow the in-app directions to name your camera, create a profile and complete the setup. NOTE: For iOS, exit the app, go to your device's "Settings" and connect to your camera's wifi.

In The Box
360fly 4K Camera (MODIFIED by GhostStop for full spectrum)
360 Puck Mounting Cradle
USB 2.0 Data/Charging Cable
Power/Charging Base
Padded Carrying Pouch
Quickstart Guide
App Info
App is free to download via Apple and Android stores. Search '360 Fly' and follow the app instructions to install and setup your camera.