SBox Ghost Scanner + Recorder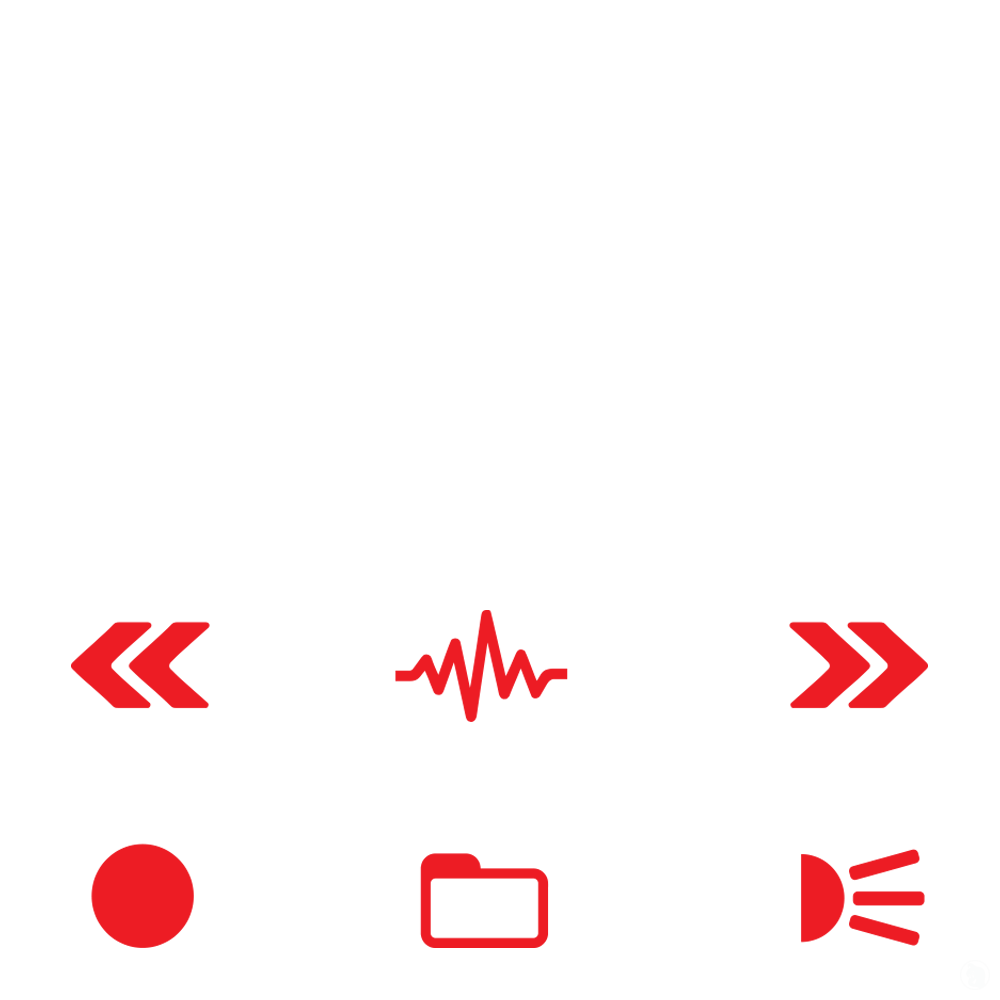 The SBox Ghost Scanner is a spirit box radio frequency sweep scanner and recorder for paranormal research. SBox includes many other features to aid in making your investigations easier while providing quality evidence documentation.
FEATURES
Automatic FM/AM Radio Sweep + Spike Detect

Record

& Playback Radio Sweep and EVP Audio
Adjustable Sweep

Speed Control

Great for use with the Estes Method

Rechargeable Battery

and Long Life
SD Card Port for Recording (32GB Max)
Forward or Reverse Sweep Direction

Loud, Amplified Speaker

(10x power) and Headphone Port
Backlit Display and Built-in Flashlight
Bluetooth Connection for Use as a Wireless Speaker

SBox is a NEW spirit box built specifically for paranormal investigations with features we need. It's a compact and easy to use tool for communication with paranormal entities. SBox utilizes radio frequency sweeps to generate white noise from existing FM and AM bands which theories suggest may provide an entity the energy they need to be heard. When this occurs you may hear voices or sounds coming through the static in their attempt to communicate.

VIDEO: Sbox Ghost Scanner Review and Overview of Features
Radio Sweep with Spike Detect
SBox allows you to use FM or AM band sweeps for potential communication with an entity. You can now control the speed of the sweep and direction at any time, forward and backward. As an additional features, SBox will detect if something is attempting to come through during the sweep and will pause on that frequency for a moment more to allow more time for getting a message through. This allows you the opportunity to hear more than one syllable to capture multiple words and maybe even a full sentence.
Record and Playback
Record your ghost box sessions through a direct line and play back using the loud built-in speaker. You can also choose to record normal EVP audio without the radio sweep if you choose. Either option records directly to an SD card (available as an add-on). You can playback right on the device or take the SD card to your computer or any other SD card reading device.

NOTE: a Micro SD card is REQUIRED for record and playback. These are available as an add-on above. Maximum size for the SD card is 32GB which will get you through many hours and several investigations.
Rechargeable Long-Life battery
The built in battery lasts up to 6 hours of continuous use on a single charge. It can be recharged using any USB charger including a mobile USB battery pack for a quick boost. Carry it with a battery pack or plug it into a wall outlet for unlimited use. It's easy, quick and saves money on batteries. Note: some functions eat up battery life. See specs for details.
Loud, Amplified Speaker and Headphone Port
There's no need to an external speaker with this device. It includes a large, amplified built-in speaker made to be heard well even in a large room. If you really want it louder, there is an audio output jack which you can attach to another audio device including headphones. Grab a set of headphones when you want a more discreet session without interrupting other investigators. SBox can also be used as a Bluetooth speaker when connected to another Bluetooth-enabled device.
Backlight and Flashlight
SBox has a red LCD lighted display. We prefer to use red when possible to help maintain the investigator's night vision. The display indicates battery life and status of the device which varies for each mode. There is also a built-in white LED flashlight for when you need to shed a little light on the situation.
SBox Evolves
The SBox was built to EVOLVE. As we learn, grow and adapt as investigators, so can the SBox. We built it with the ability to make software changes that you can download and update yourself based on preferences you feel work best for you. This also allows us to add and adjust features without purchasing a new unit. We are working on these based on YOUR FEEDBACK. As these become available, we can provide you with a file for download with instruction on how to easily update your SBox.

This product is made right here at GhostStop.



Rechargeable and replaceable long life lithium ion battery
3-Watt (3,000mW) amplified speaker built in (over 10x the power in popular spirit boxes)
FM scan range: 87.5 - 108.0 / AM scan range: 522 - 1710
Adjustable sweep speed control - 4 different speeds +1 bonus speed while recording with firmware version 1.3 or higher (Speed 1 = ~100ms | Speed 2 = ~200ms | Speed 3 = ~300ms | Speed 4 = ~400ms | Bonus Speed 1 while recording = ~500ms)
Red LCD display to preserve night vision
Scratch resistant coating
Precision volume control wheel
Micro SD card slot for recording and playback (32GB max)
Onboard white LED flashlight
Headphone port USB data port for file transfer/sharing
USB charging port
Antenna extends to 15" and folds back into place (4" when retracted)
Wrist strap with connected stand
USB data and charging cables included
Battery Life
The built in battery lasts up to 6 hours of continuous use on a single charge. It can be recharged using any USB charger including a mobile USB battery pack for a quick boost. Carry it with a battery pack or plug it into a wall outlet for unlimited use. It's easy, quick and saves money on batteries. Recording function and speaker volume does drain battery depending on settings: louder drains more power.
NOTE: We suggest taking the battery out of the SBox when storing. Since the flashlight is always in a 'standby mode' even when the unit is off, it does drain the battery very slightly over time. So, if SBox is stored for some time in a case, even with a full charge, it will come out with a drained battery.
Battery Tests:
6 hours in standby (no scanning) 6 hours scanning using headphones 4.5 hours scanning with speaker at volume 15 3.75 hours scanning and recording with speaker at volume 15 3.75 hours scanning with speaker volume at 25
Includes
SBox
USB charger cable (white)
USB data cable (black)
Wrist strap with stand
Printed manual
DIRECTIONS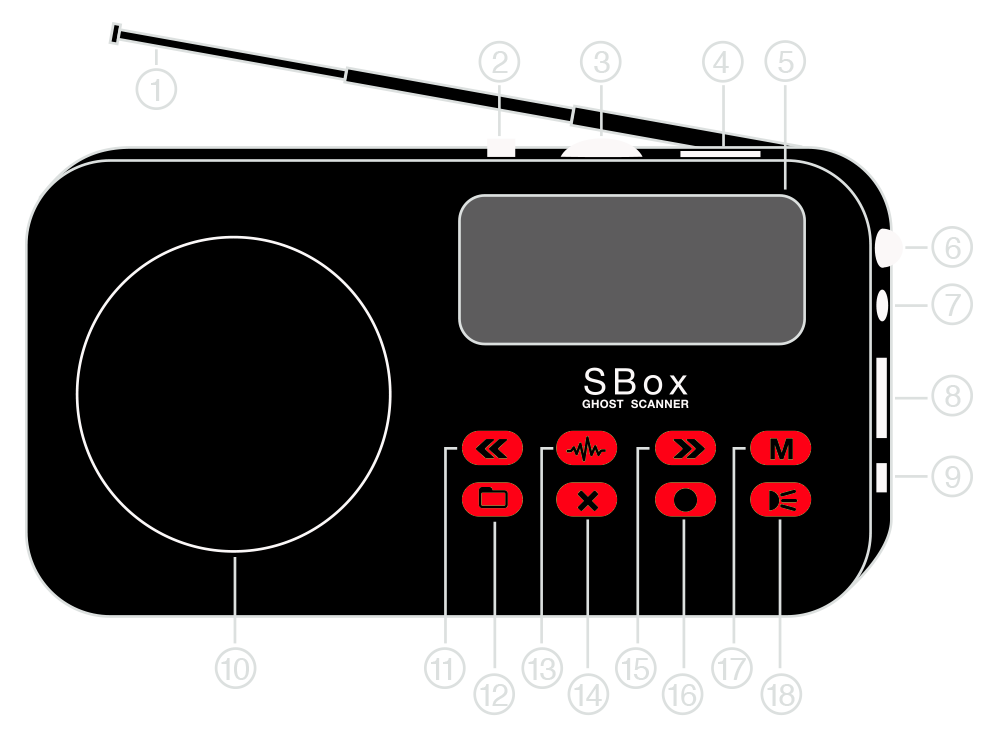 1 Antenna
2 On/Off
3 Volume
4 Micro SD Card Slot (32GB max)
5 Display
6 Flashlight
7 Headphone Port
8 USB Port
9 Charging/Aux Input Port
10 Speaker
11 Scan Reverse or Scan Slower
12 Version / Loop / Play All
13 Scan
14 Delete File
15 Scan Forward or Scan Faster
16 Record
17 Modes
18 Flashlight
QUICK START GUIDE
Charge before use. (see charging instructions)
Turn device on using ON/OFF slider button (2).
Press SCAN (13) to begin FM Scan Forward.
Press RECORD (16) to record (requires SD card). Press RECORD (16) again to stop recording.
Turn device off using ON/OFF slider button (2).
POWER & CHARGING
NOTE: This product includes a safety tab on the battery that is sticking out of the battery compartment. Pull this tab off the the battery connectors to activate the battery. This tab is to ensure the battery does not make connection or drain during shipment and storage.
SBox is powered by a rechargeable battery. To charge the device use the provided USB charging cable (WHITE) to connect to a USB power source. This could be a computer with a USB power, USB power strip or USB battery pack for quick mobile power. When charging the flashlight LED will show red and will turn off once complete. To plug the device into a AC power outlet, you will need to use a USB to AC power adapter (not provided). When SBox is powered on you will see a battery icon to the left of the display indicating battery life.
NOTE: We suggest taking the battery out of the SBox when storing. Since the flashlight is always in a 'standby mode' even when the unit is off, it does drain the battery very slightly over time. Given that, if SBox is stored away with a full charge for some time it will come out with a drained battery.
MODES
To change modes press the MODE button (17). When switching modes you will hear a verbal queue to indicate each mode as follows. It may take a moment to switch modes.
SCANNING FM
This mode is used for conducting spirit box sweep sessions using the FM band.
SCANNING AM
This mode is used for conducting spirit box sweep sessions using the AM band.
LINE IN
This mode allows you to plug in an audio device to use the SBox as an external wired speaker. Use the provided 3.5 audio-to-microUSB cable to connect another compatible audio device.
BLUETOOTH
This mode allows you to connect a bluetooth audio device to use the SBox as an external wireless speaker.
PLAYBACK
This mode allows you to play recorded spirit box sessions and other audio files on the memory card or from a USB drive.
SCANNING
Press SCAN (13) to start and stop the sweep.
To change sweep direction: while the scan is stopped hold REVERSE (11) for 2 seconds to sweep in the reverse direction or hold FORWARD (15) to sweep forward. If a sweep is already active you must press SCAN (13) again to stop the current sweep and resume in the desired direction.
To change sweep speed (available only on firmware V1.3): press FORWARD (15) to make the scan faster or REVERSE (11) to make the scan slower. You will see a number display quickly on the screen "1-4". This indicates the speed where 1 is the slowest and 4 is the fastest. You can do this while sweeping or even when it's paused.
Press RECORD (16) to record sweep audio.
RECORD
To record sweep or EVP audio you must first insert a micro SD card into the port at the top of the device (4). Make sure to face it in the proper direction to insert properly. It will click into place.
NOTE: Maximum size for the SD card is 32GB.
Anything larger and it likely will not record.
To record radio sweep audio, first start the sweep in the direction you prefer. Once the sweep has begun press RECORD (16). A 'SD' icon will appear on the screen to indicate it is recording to the SD card.
To stop recording press RECORD (16) again. Stop recording after each session to save the file properly. As soon as you stop the recording it will play the latest recording for review.
While recording you can start, pause or change direction on the sweep as you wish.
To record EVPs or voice only press MODE (17) to 'Playback' mode then press record. This will begin recording from a built-in microphone. You cannot use the radio sweep in this mode.
To access recorded files you can do either:
Remove SD card from the memory slot (4) and insert it into a computer using any micro SD card reader.
Plug SBox directly into a computer via the USB data port (8) using the provided USB cable (normal size USB on both ends).
PLAYBACK
To play audio files from the SD card press MODE (17) to 'Playback'.
Press FORWARD (15) or BACK (11) to select a file. Sbox will play the audio file. Each file is indicated by a number in sequence.
Press SCAN (13) again to pause playback.
Press FILE (12) to loop play the current audio file. Press FILE again to play continue through playing all files.
FILE MANAGEMENT
To transfer or view the files on the SBox SD card plug the USB data cable (BLACK) into a computer. The SBox display will show 'PC' and a drive should show active on your computer momentarily.
To delete files, we suggest plugging the SBox into your computer or inserting the SD card into your computer. Though you can manage the files on the SBox, it's so much easier to do on the computer. If your computer doesn't have an SD slot you can get a USB card reader adapter that the SD card goes into.
To delete recorded files on the SBox directly press the MODE (17) button to get into 'Playback' mode. Press FORWARD (15) or BACK (11) until you get to the desired file. Each file is numbered sequentially. Make sure to listen to the file to note which one you want to delete to ensure you don't delete something you want to keep. To delete the file you're listing to press 'X' (14). This will delete the file PERMANENTLY. So, be sure you've got the right file.
UPDATING YOUR FIRMWARE VERSION
IMPORTANT
:
If you have 1.3 - 1.7, you have all the newest features. No updates are needed. All these versions have the latest features. The only difference is a bit of code organization (we like organized code)
If you have 1.2 or earlier, you can contact us for an update file.
NOTE:
We have temporarily stopped providing files publicly for download only because a number of folks were installing the wrong one or not following the steps exactly which can make the SBox unrecoverable.
HOW to find what version you have:
Turn on the SBox.
Immediately press the FILE button (12) located on the front, bottom-left most button with a file folder icon. The display will show the version number (example: V1.6). If this button does not work, the version is 1.2 or lower. NOTE: This must be done in the first few seconds of turning on the device. Once it goes into 'scanning' mode this function will no longer work.
Steps for updating your SBox:
Download the provided file on a desktop computer or laptop. Once downloaded, you should find the file in your default downloads folder or desktop. The file is called 'jl_690x.bfu'.
Insert a Micro SD card into the SBox (max 32GB).
Turn SBox on.
Plug the SBox into your computer via the black USB cable (male/male). Display will show 'PC' when it is connected.
A new drive will popup on your computer.
Copy the downloaded SBox firmware file to the SBox SD card.
Unplug the USB from the SBox.
Eject the SD card from SBox and put it right back in.
SBox will update on its own and reboot itself. The screen may show a few weird dashes while updating. This may take a minute or two. Once you hear 'SBox' again, it is now updated.
Plug the USB cable back into the SBox and REMOVE the firmware update file from the SD card. The is IMPORTANT to keep it from updating every time you access the SD card.
Remove the USB cable and go investigating with your updated SBox!
BLUETOOTH SETUP
SBox can be used as a wireless speaker for a smart device like a phone or tablet. To use SBox as a speaker you must first initiate a bluetooth connection between the devices.


Turn SBox on.
Press MODE (17) until you hear 'Bluetooth'.
Turn on the bluetooth enabled device you wish to use as the audio source (ie phone, tablet, watch, etc.).
Make sure bluetooth is turned ON on your device and searching for bluetooth devices. Going about this is different on every device. So, you'll have to see the manual for your own device on how to do this.
SBox will be discoverable and show up as 'BT_SDK_0'. Connect to that. Once connected you will here a chime.
Play something from your audio source and you will hear it through the SBox speaker. Make sure to turn the volume up. The distance bluetooth will work varies and is dependent on the source device signal strength.
93 Reviews
Well made, appears to be easy to use.

I've tried it and can say that you get a lot of clear and clear answers to the questions. It has helped me a lot so far.

When they say loud yes they mean it. It takes a second to get used to it you have switched over from SB7. Size of a camera. The camera pouch fits perfectly if you need to take charging cord with you. Depending on where you are AM setting works best if you're getting way to much radio. The flashlight built in can be used as part of your investigation because one simple press and it's on with no pressure. Very fast shipping. Thanks ghost stop for basically making an all in one tool.

My friend said that his house was built on top of another house that had been taken down, and that house had had a murder take place there and we were able to communicate slightly. Very helpful with what we were able to find.

I used this and I heard voices and they responded correctly, I was in a room and I heard "Get out of my room!", would recommend.

I didn't realize how compact this thing would really be and that's a good thing! Really enjoy all the features and think this is a great ghost box, my second I've ever had.

Haven't had chance to try this out on location yet but seen alot of videos about it had a little play about with it and it seems to be a massive upgrade on the other boxs on the market the record option is a great idea

The best little spiritbox out there. These people buying up the sb7 and sb11 are making a tragic mistake. For half the price you can get an sbox with four sweep speeds, the ability to record straight to mini SD and not to mention its time and again more powerful than the mainstays Sb7's and 11's. SBOX covers the entire FM/AM dial in a linear sweep. An insanely powerful radio that even spirits have complemented during my ITC sessions. The best I've used and that includes several high end "boutique" boxes that couldn't match SBOX's dread power. Get one, dude!

LOVE THIS SPIRIT BOX!!! here is the best EVP I got from it !! https://youtu.be/RlFOuR2WZIQ

a huge upgrade from the sb7 or sb11. I love how you can record, or use as evp. It works great. I plan to use as well for picnics as a radio so I wont use up cell phone battery. but as a ghost box, the best out there.

Thank you for my sbox! I love it! I got it today. Wed. Feb the 3rd. It came when you said it would and I got it on time. It works perfectly! Now we can ghost hunting the right way! We will be back to get more! I rate this beyond a 10!

Best Spirit Box Ever Made Hands down.

I own both the SBox and the SB7. Hands down the S box has so many great features. SBox is my go to spirit box every time. You guys thought of everything. Awesome design. I could go on and on about all the great features the S box has. I never go on a investigation without it and never will. Keep up the Great work.

Spirit Box, compact AND loud! LOVE IT

The Ghost Stop Spirit has really enhanced my paranormal teams investigations. It is so slim and compact it fits right in my back pocket, also has a strap that I can loop around my wrist, belt loop or hang it somewhere to go hands free. The speaker is astounding. At full volume you can still hear it clearly from another room. The pause feature is priceless! No more guessing games, it allows the word to be finished. The ability to record itself is super helpful and requires less equipment. Definitly a great purchase!

It's compact, but don't call it little. It gets super loud and as a seasoned veteran ghost hunter, I love using tech in this field. I can safely say, this company has got a new customer

This is the only one you need!

I knew there were angels and spirit guides around me guiding me but this is the one item that gaved me the proof I needed! Instant Yes and no to my questions! The unit is loud enough so you don't need amplified speaker. My best purchase ever!!!

I love this thing it's so much easier to use than my old one it's loud so I don't even need my speaker, my other one if I didn't have my speaker you couldn't hear it and I always had to lug around a long ass aux cord with it cause that's all we had this is so much easier an more convenient. It even speaks! An says the mode you're using lol.

Works exactly as intended

I recently decided to try a spirit box, as I finally got around to moving up with technology, and thought "why not". Personally, I find the FM band radio to be a bit TOO strong in that respect, as I can pick up sounds of broadcasts that could be interpreted as false positives... but, it does what it's intended to do. I like the AM band scan a bit better, as there's more white noise from that, and less opportunity for pareidolia to kick in by hearing a fast snippet of someone speaking. But, amazingly, after taking some time, and patiently setting up a communication setting, I received a clear-as-day response to my asking of my name as "Edward" in my deceased mother's Australian accent. Noting the general area that the AM scan was in, I went to a regular radio, and tried to find a working AM channel in that range, and nothing within 100 khz of the point where the communication occurred... so definitely an exciting response! That alone is worth the price of the product to me!

Great product and worth the money

I ordered mine on a Thursday morning and got it the Monday right after so first of all, they have great shipping. The packaging was very well done too so there was no damage. The product itself is very sleek and nice looking. Its very loud but has adjustable volume so that's nice. The flashlight is bright and I like that we can record and transfer anything that we catch. Also, it makes a great radio!

Have had the S BOX for over a year now and it still works great. It is the ultimate in convenience. Just slide it in your pocket and go. It is the most used tool of my equipment because of this.

It's very small so easy to take with you on investigations. Has a build in recorder which only records the box and leaves out other noises which is great so you can hear any words coming through much better.You can also use it to record evp's! And the static isn't as loud as some other boxes! Turned it on and already got great responses. I own several ghostboxes but this is definitely my favorite, it has everything you need. Great job Ghoststop!!!

This is the first public review I have ever written. This product is great! Easy to use. Caught some awesome evidence. A must have for anyone at any level of experience.

Took this to Waverly Hills Sanitorium and it worked like a charm! I am definitely glad I purchased this ghost box!

SBox and customer service

The SBox works for me and I am very pleased. I plug it into the computer and I can review the sessions very nicely. What I really find impressive is the customer service. I have contacted GHOSTSTOP with some questions at times, and someone will respond very quickly and will give you straight answers. This, to me, is a valuable asset as part of the purchase. If I could rate six stars, I would.

Awesome customer service!

Just got into ghost hunting an decided to buy from Ghost Stop. Recieved my box last night and am already getting ready for first hunt. These guys are awesome! Prompt and professional. I messed up on my shipping info and emailed them and they were right on it! Also purchased a K2 meter also. Will be buying again soon! Highly recommend you use these guys for your equipment needs!

I am always searching for the best equipment to do my paranormal investigations with. my first experience for using this was in my own home. Our use the recorder part on one of my spirit dolls and got amazing results. It is a must-have item now for me. Thank you thank you thank you !!! First City Paranormal

So I took my son to Trans Atlantic Lunatic Asylum for his birthday. We had so many spirits trying to communicate with us at times it was hard to keep up. I definitely recommend this product. Thanks Ghost Stop for making my sons 14th birthday amazing.

Very easy to use, we were able to start it right out of the box. Smaller than I expected, but in a good way. This is like having three devices in one. Going out with another paranormal team this weekend, and since this is the newest ghost box on the market, I am sure I will be the belle of the paranormal ball, lol!

This is a must have for any investigator! It's well made and you definitely do not need an external speaker for this one! Multi-speed sweep is great to have. The built-in flashlight is nice and bright. I like being able to record our sessions when we want to (we keep a card in ours). If you're looking to purchase, this is definitely the one you want.

Excellent, well made scanner/recorder with great additional features. Overall very pleased.

This came early and well packaged. I was surprised at the build quality. It is solid and well built. The speaker is crystal clear and being able to use it as the speaker for some of my other equipment is a huge plus. I can pull sd cards from my recorders and use the sbox to clearly hear and evp's. Only thing I wish they had done was make the flashlight red so not to affect the night vision on my cameras. other than that great piece of equipment.

This is wonderful product! It arrived undamaged and within 2 days after confirming my order with the staff. The product is a little bigger than the SB-7 spirit-box and has wonderful features that other models do not offer. The speaker is loud and clear and make the auditory responses understandable. The white noise doesnt over ride which is a great thing as well. Even the Class C responses can be heard clearly. I liked the built in recorder and flashlight and bluetooth feature as these will come in handy in the future and cuts down on equipment carried. MY clients really enjoy the SB sessions and I cant wait to let them sit in on the sessions with this product! My investigators will enjoy it as well! Thanks Ghoststop!

Sbox, The BEST SPIRIT BOX ON THE MARKET

I absolutely LOVE my Sbox! Besides it being my favorite colors, The sound is AWESOME! I was not even on it for a minute, when I got a FULL SENTENCE, A man's voice said " Won't you help me"...I am so excited about this product, I was always changing batteries in my other spirit box, and voice recorder. Now with my Sbox, I don't have to worry about buying and changing batteries! Thank you GHOSTSTOP for the MOST EXCELLENT CUSTOMER SERVICE, AND FAST DELIVERY! Also I love my keychain and flashlight pen, I love them all so much! I totally recommend the Sbox and GHOSTSTOP for the best products and Customer Service!!!

Awesome right out of the box

Just received our newest piece today. Out of the box my first impression was on the size. Smaller than expected but relieved. A lot of equipment is heavy and bulky but this is just a little bigger than the SB-7. I love evrything about it and upon going through the controls our co-founder Suzanne asked where you turn it on and off we actually got a response through it "it's on the top"!!! We conduct many public investigations throughout the year and introducing new pieces of equipment is a must to keep everyone engaged. I will definitely be getting another one very soon and will be sending everyone here so they can possibly get their own equipment for our events. Thank you GhostStop!!!

This scanner has a lot of features and is worth the money spent! Super excited to have it for my ghost hunting adventures!

This box is amazing I asked multiple questions and every answer I got back was extremely clear! It's well worth the money!! Plus there's so many options you have on it and now I wont have to carry so much in my hands while I'm ghost hunting..

The Most Versatile Ghost Hunting Tool on the Marke

Combine an SB-7 Spirit Box with a digital recorder, and cut the cost by more than half, and you get the all new SBox. It's a two-in-one ghost hunter's dream, and the best single piece of equipment you can buy if you don't want to break the bank. It records and plays clear audio recordings, with a loud speaker, live playback, and all while being small enough to fit right in your pocket! The SBox has proven to us to be the the best possible piece of equipment you can get for its price. It's the same price we paid for the SB-7 when we first bought it.

So many options on something no bigger than a cell

Amazing product! Much smaller than I imagined it would be, considering everything that it can do and has. Not much bigger than a cell phone with a case. In some instances, maybe the same or smaller. This ISN'T YOUR TYPICAL am/fm sweep scanner/ghost box! Its much more than that. MANY different options, as well as saving right to a SD card for easy playblack later. Can also listen plugging in a headset/earbuds OR has an extremely loud adjustable volume control. Can sweep in reverse and in different speeds. Very long telescopic antenna for picking up stations for sweeping, or use to jam out to your favorite radio station. Also, a very awesome feature is LED flashlight at bottom of device. Can use it to navigate through a dark house, or set down device and use flashlight so you're not in complete darkness while sweeping channels (Or having to bring and use another external flashlight). Too many options to mention all of them. If I could give this device 6 stars, I honestly would. For everything that it does, options, and price point, it's worth much more than its selling for. Was bought as a gift and as soon as I saw the small, sleek packaging, I already knew at that point I had made the right choice. You should do the same.

This is a must for ghost hunters!

Very small and volume is awesome.

This is a great box.

Great little box everything working great. Well made too. Found out you can use it as radio too. Need a future update so you can record your questions and the radio so you can hear your questions and the ghost. 👻

I bought the SBOX and also had some small "give away's" with it. THANKS GhostStop !!! Battery life , small LED , recording , fast scanning ...is excellent menno

A must for your paranormal investigations. Battery life is excellent. Slim design fits nicely in a pocket.

Great price for a handheld Ghost Box with so many options. I like the fact that I can download firmware so I can customize it to my liking. Great job Ghoststop!

An incredible piece of technology.

We use this on all our investigations. Thank you GhostStop for making excellent ghost hunting gear!

This Ghost Box has it all.

No more using a recorder because it is built in along with a flashlight. If you want the Ghost Box with the most hit up my man Shawn at GhostStop and get ya one!