EMF Meter with Sound

The NEWEST EMF meter for ghost hunting.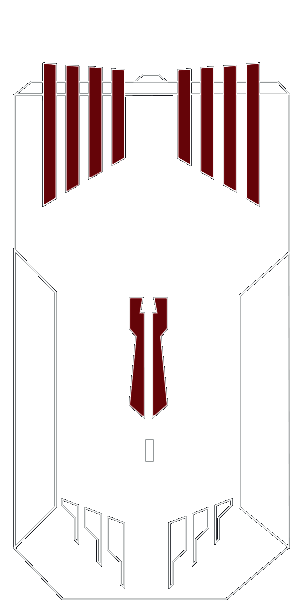 Meet the Rook.

The stronghold of paranormal exploration.
The new Rook EMF Meter with sound, by GhostStop, detects small changes in electromagnetic energy and alerts with lights and sound. This detector is specifically designed for ghost hunting with an emphasis on detecting energy changes and proximity so you can be alerted to a presence and track down the source easily. The Rook is fortified to reduce outside interference and false readings. The Rook is built from our experience as paranormal investigators with features we need for quality evidence and source tracking.
"The EMF meter built especially for ghost hunting."
Features
NEW Improved enclosure design

with tougher material, gripping matte finish, metal tripod mount, easy-access battery compartment and same useful functionality (starting 5/14)

FREE Rook Case

for a limited time!

EMF sensor with lights visible all around the unit

Sound alert

that varies with proximity of the EMF detected
Highly sensitive EMF detects even small changes
Quality detection

fortified from most interference

Detects NATURAL magnetic and man-made EMF
Ergonomically built for comfortable carrying with grip texture
All red lighting used to preserve night vision
Lighted on/off power switch and power indicator for finding it in the dark
Balanced to sit upright on its own for viewing in 360 degrees
Tripod mountable for flexibility in various applications
An EMF meter is a popular, easy-to-use tool to detect spikes in electromagnetic energy. Theories within the field of paranormal research suggest that these fluctuations may indicate a presence of a paranormal nature. Once all sources have been ruled out, changes on this meter may signify activity or communication from the beyond or the unknown. Spikes and fluctuations, on the Rook, are indicated by the dual lighted panel on the top with an audible buzzer to indicate proximity/strength.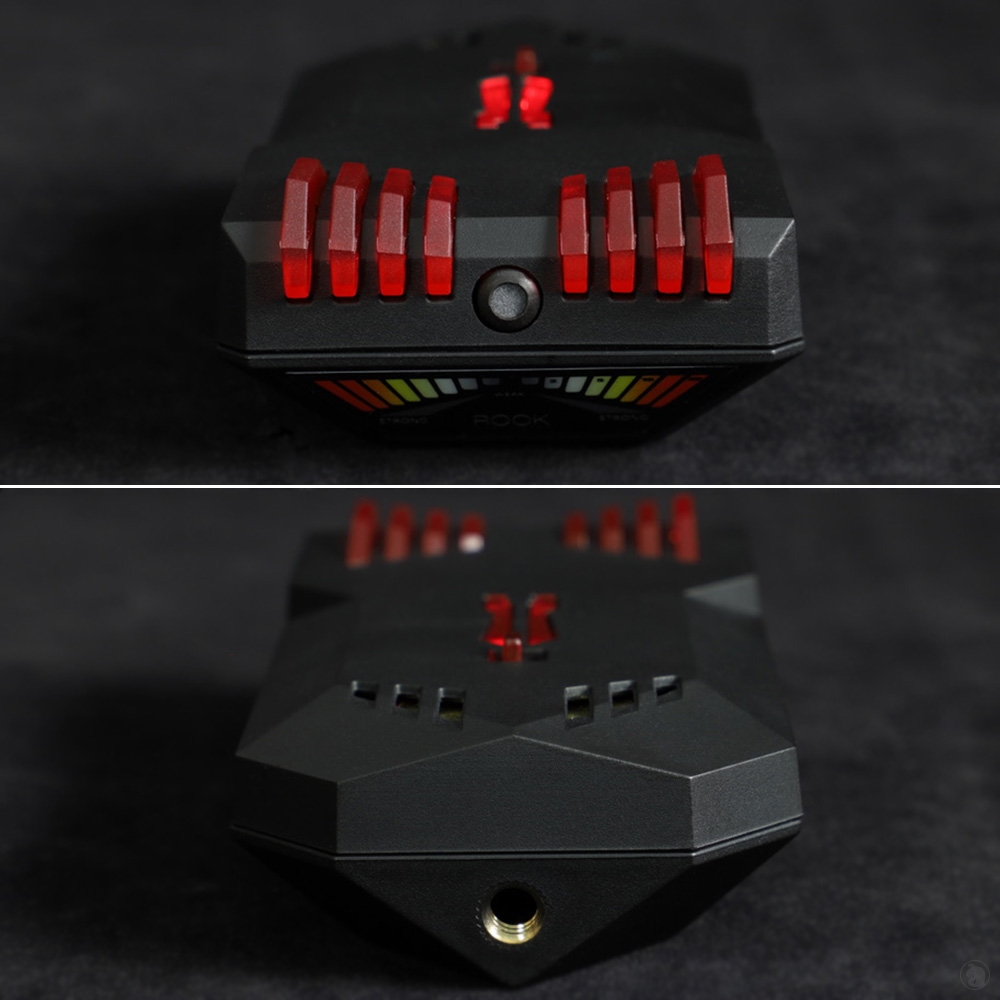 How is the Rook different?
When compared to other energy meters the Rook towers above in many respects. The Rook has been built, specifically, for paranormal investigations from years of experience knowing what we wanted in an easy-to-use, go-to sensor.
Sound and lights.
The Rook includes a sound alert which gets louder and faster as an audible indicator of EMF strength and proximity. You will hear a progressive change in tone as an indicator in addition to the light panel. The tone is made light enough to not interfere with potential EVPs but loud enough for indication as you scan the room.
Fortified from interference.
As you may know, many EMF meters are broadly affected by frequencies such as those produced by radios, walkie-talkies and cell phones. By ruling out these commonly-used frequencies, the Rook is NOT nearly as susceptible to these kinds of false readings, making it a stronghold of quality evidence. It is, however, sensitive to magnetic and electronic frequencies so you can easily track down sources of EMF leaks which can have adverse effects to those exposed. Note: while we have done our best to rule out as much interference as possible, as technology changes there may be some device models using frequencies not covered.
High sensitivity.
The Rook offers a high resolution, highly sensitive reading to alert you to much smaller changes in the environment with a sound alert to indicate proximity. The Rook allows you to see and hear even small fluctuations in energy change. The Rook's dual-light panel indicate energy change. These lights will pulse and get brighter to indicate fractional changes in strength.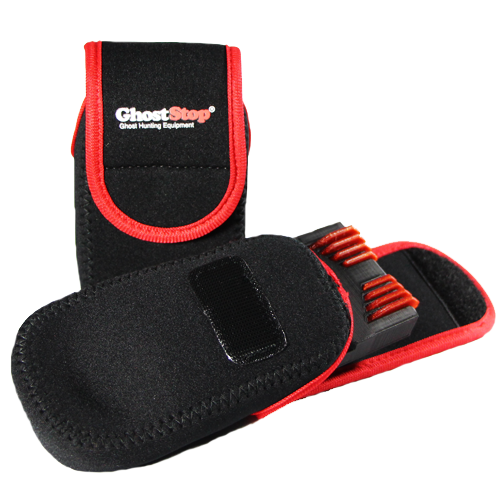 Long-lasting battery that's easy to swap.
The battery on the Rook lasts a long time and will, likely, get you through several investigations. At such time you do need to swap out the battery, changing it is a snap!
Red lighting to preserve night vision.
The Rook utilizes only red lighting. This is purposed to help investigators preserve their night vision. In short, the human eye takes quite some time to adjust into dark environments and can have a harder time seeing properly when certain color lights are present. Different colors have various effects on the human eye from green (having the longest recovery time) to red which has little to no affect.

MADE IN THE USA
from domestic and imported material.
This product is made right here at GhostStop.
*NOTE: Parts of the Rook are 3D printed right here at GhostStop. Each one is made with great care by hand. As such, each one may have unique elements in the texture that could appear to be small defects. These unique elements do not affect the function of the product. Though we do our best to keep them as uniform as possible, each one will be unique in some small way since they are each printed and hand-built for quality. Thanks for your understanding in that.
All designed and built right here at GhostStop in the USA
Built ergonomically for comfortable carrying
EMF detection with 2 on-board panels of 4 LEDs to indicate EMF strength
Piezo speaker gets louder to indicate EMF strength
Powered by one 9-volt battery (not included)
Battery life: over 50 hours on one battery
Size: 2.3" x 4.5" x 1.2"
Single-axis EMF detection
EMF Range: high resolution variable range from 0 to ~20mg+ with many increments in between for a good indication of change
Frequency range: approximately ~5Hz - ~1MHz
Lit power indicator
Lit on/off power switch
Tripod mount on bottom of unit
DIRECTIONS
To turn the Rook EMF Meter on, simply slide the front switch left. You will see the logo in the middle light up red to indicate it is powered up. While detecting EMF, the 8 bars at the top will light up from the middle outward. The inside lights indicate a low EMF signature while more bars indicate a higher spike. Because the Rook is highly sensitive to small changes in energy, the lights may flicker indicating minor changes in EMF - something many other EMF meters are not capable of.

As you detect higher energy a light audible alert will be heard. The sound is intended to be loud enough to alert you but light enough to not be intrusive on EVP sessions.

The Rook EMF Meter is a single-axis energy sensor that detects EMF in a single direction. This helps to determine which direction the EMF is flowing. This means that you will get different readings depending on what direction and angle you are pointing the device.

To change the battery, open the battery door on the back and ensure you are using a fresh 9-volt battery with the +/- seated property.

To test the EMF, bring the Rook Meter toward a desk fan or fluorescent light. These will generally show a high EMF.

BATTERY NOTICE: We highly suggest to not use Rayovac batteries. We have found that some Rayovac 9volt batteries interfere with the readings on the Rook. It's not dangerous but it will cause the readings to seems constantly higher than normal. This is not a problem with the Rook but with the lack of proper shielding on this particular model battery.
34 Reviews
Haven't had a chance to use mine in a hunt yet. However, it truly does a great job at picking up things you expect it to pick up (EMF) and things you don't (Your phone).

I just got this in the mail and already tested it out in my haunted home and the spirits weren't happy ? it hit the plate. I am so very glad I added this to my paranormal arsenal thank you Ghost Stop.

Great for isolating the source of EMF

It's great and the case is handy. Thanks!

This is a must have for any investigator. Easy to use and carry.

Very easy to use would recommend

I ordered two of these because it made more sense financially to them coming over the border into Canada. I haven't had the chance to use it in the field yet but have tested it around the house, hence the 4* rating. It's smaller than what I thought, love the feel of it, very palm friendly as I have arthritis and most equipment hurts after holding for a while. I like the very visual lights. The sound was a bit crackly but I understand why after reading the information - always read the info! Will write a follow up review after it's been field tested. Very happy so far though.

I love this EMF reader. It's perfect for yes/no answers. We've had great results. I like that it can be attached to a tripod for easy viewing and the sound doesn't disrupt evp sessions.

I'm in love with my new Rook EMF. I did a few electronic plug tests and it alarms and sounds great! A trip to the cemetery was really cool as it kept spiking with no explanation!

Rook EMF Meter and Carrying Case

What A Cool Combo....My first EMF Meter I have purchased..... We love taking Ghost Tours where ever we visit.....We have been testing it out in normal settings.... Grocery Stores, Newer Restaurants, Newer Stores.....But we are going to New Orleans soon s and we our gonna give my ROOK a REAL WORKOUT!!!!! It is a very cool and accurate device. It and it's case look great too. Thank You for your great Customer Service and Thank Gus The Ghost and his Pals for his prompt Packing & Shipping

Perfect all round device

Hello, I am new at ghost hunting and never used one of these before. My husband got me this early for a Christmas gift along with some other things from you guys, and I have to say that it's an Awesome tool. We had went to a Cemetery and it was going off like crazy. I would see no reason why it would do that in that type of area. It works just as it says it does. I can't wait to get of your great products. Thanks for making awesome paranormal gear.

Great instrument. Sound is not loud enough for me, but I am kind of hard of hearing.

This is my first emf meter but it definitely works just don't put it to close to your phone while hunting.

Works as directed. Super sensitive.

Took this out to a couple of investigations and love it! It's super cool looking and got my team members to plan on getting it as well.

I forgot that I had bought the model with sound, so I was at first wishing that it would make noise when it did otherwise appear to work, and then, suddenly, it started to, when the EMF lit up all of the lights. Lol... it works! I also bought the EVP voice recorder wrist watch, and, while I haven't gotten to take it to use it (or the EMF reader -- yet) at the event we're planning, I gotta say, I am really digging the battery life on that product. Super friendly and professional sales team. They called me to confirm that my credit card was mine, because I went by a different name on the mailing address.

At first, when I bought this, I wasn't too sure about it but, during a trip to Buffalo, NY to investigate the Buffalo Naval Shipyard with team-United Paranormal Project, we had amazing results with this device. we were using a Ghost Meter, K2 Meter, Mel-Meter and the Rook and every time the Rook would spike, the K2 would spike also. we took the Ghost Meter and Mel-Meter away and separated the Rook and K2 keeping a considerable distance between the two and still had the same results.

This is hands down one of the best EMF devices on the market to date!!! My wife since using this refuses to use anything else. All future orders will be coming from this website. The service is fast, friendly, and 100% pure professional.

First I like the compact design of this. It takes up a lot less room in a go bag then other EMF gadgets out there. Second and most important is that it seems to work well even with other gear and even cell phones running. Very rarely have i had it peg out and buzz so it tends to make me feel like i need to follow up when it does.

More accurate then a K2 meter

The Rook is awesome and using this device can really debunk the k2meter. It's more accurate than the k2 meter the more emf that's around the louder the sound is. Believe me every investigator should invest in this device you can't never go wrong with it.

I love my Rook EMF meter. I bought mine when they first came out and it had never let me down. I highly recommend it to everyone.

Great device, sound could be a little louder.

This thing works great. I tested it on outlets. I just wish the sound was a but louder. It's a prefect size for the palm of your hand. I can't wait to get it in the field.

I highly recommend taking the Rook along for paranormal investigations. It works like a charm. I've taken it on several ghost hunts to test it out. During the last ghost hunt I went on I couldn't believe how much activity it detected in the room I was staying in. I'm a skeptic first, so I try to debunk activity before I rush to believe the activity is spirit related. I actually recorded an evp of a spirit telling me to "look over here" while I was using the Rook. The Rook is a must have for anyone!! Thanks Ghost Stop!! - Location last used - Room 510, Eldridge Hotel, Lawrence, Kansas 10/14/2017

What fantastic addition to my paranormal kit, great for doing baselines, and I really like the sound, as it isn't too loud but it attracts your attention, I'll never use a k2 metre again. Definitely a must have tool for investigations

Hello Scott here from Spirit Veil Southwest . I added the ROOK to our paranormal toolbox and so far glad I did . From the first time using it I was able to establish a yes OR no q&a session .It backed up voice /evp , and Temp drops as further evidence .I was going to get a K2 with light and sound yet this got better reviews and I see why . It is light weight , easy to use and very easy to see and read .The noise draws your attention too .I suggest you do baseline readings with it prior to setting up experiments .Make sure your in an electrical / emf dead zone , then work the area with questions and see what you get .Other than my tri-field meter the rook is a top pick for sure .

This meter is finding EVERYTHING ! There's no hiding from it ! Very very sensitive and easy to hold .. Love the look of it also.. Can't wait to use it on our next Investigation in the next few days .. You kept Investigators in mind when you created the Rook.. Thanks again ! :)

I have now used it on a few investigations. I have used it as an energy meter and an EMF meter. I also have used it as a static tool to use with a static cam while investigating another area of the location. Works very well and the design both looks awesome and also will fit in your vest top pocket. Dark Side Paranormal has gotten all of our equipment from the Ghost Stop and will continue to do so. They never disappoint and are always there to help if any issues arise. We will continue our support and endorsement and look forward to the next big thing coming from Ghost Stop!!!!

Designed by Investigstors, for Investigaters

Rook (still not use to the name) EMF meter is a step above the rest. When compared to the K-2 and Ghost Meter, the Rook shows off its ability to filter out the false readings. I found it very useful as a wearable EMF meter that I attach to my equipment vest and able to walk around and find EMF spikes even when I'm recording without interference. When using as a communication tool, I found it easier for the spirts to communicate and easier for me to determine if the responses were paranormal. It's well designed battery door allows for easy change which is important in the dark. Replacing all my K-2 meters with the Rook. Well made and designed with the Paranormal Investigator in mind. Must have for everyone.

I highly recommend this piece of equipment. We have replaced our K-2 with this because the results seem to be more accurate with every use. Great Job and please keep the products coming.

I have used the ROOK. I compared it with the MEL and K Meter. The sensitivity is amazing. The alarm is great, it is loud enough to alert you, but not to step on your EMF session. The unit's texture is very comfortable, yet slip proof. ROOK rocks! Thanks Ghoststop!

Big improvement. Good call!

Love how it filters out cell phones and walkies and the like. Sat it next to a K2 and you can see the difference. Good call Ghost Stop!!!

rook energy sensor review

The rook energy sensor is an amazing piece of equipment and I would highly recommend this new device, the folks at ghost stop did an amazing job creating the rook

I have tested this meter a few times and I found that it is easy to use and read. Also the sound indicator for the EMF strength is useful that you do not have to keep an eye on it the whole investigation. The design is also a plus being a very unique look for an EMF meter plus neat to look at. I would recommend this product!

The Rook is an easy to use and easy to read device. It allows you to pin-point where the source of EMF is coming from and allows the user to be more efficient while on a location. Its also a great tool to use help show the client something or to use at events or demonstrations. I recommend this device for every investigator.