Posted by GhostStop on Oct 28th 2022
Now Airing!
GhostStop Featured on GHOST BROTHERS
Tune in today for a new Ghost Brothers: Lights Out, an episode fit for the big screen. Dalen, Marcus and Juwan investigate the beautiful and dramatically haunted Tampa Theatre near the GhostStop shop in Florida.
The boys call in Shawn Porter, GhostStop founder and gear designer, who brings in some NEW prototype gear to help with the case.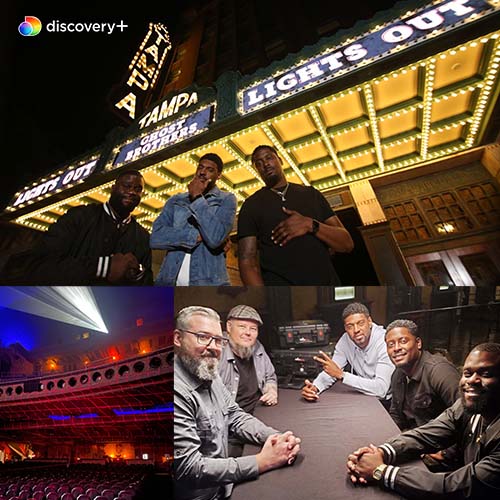 "When you're in Tampa and got a special need to communicate with ghosts there's only one man you need to call - the one, the only Shawn Porter." - Dalen
This episode airs on Discovery+ starting today. Tune in now on Travel Channel and Discovery+ for some of the best episodes of your favorite paranormal shows.
Watch Ghostober now on Discovery+ and Travel Channel
Stay tuned all October long and get a peek at the newest GhostStop gear in action. Catch new episodes of Ghost Hunters, Ghost Adventures, Ghost Brothers, Jack Osbourne's Haunted Homecoming and many, many more on Travel Channel and streaming on Discovery+.