Learner Ghost Hunting Kit
SAVE CASH With our Discount Kits
The Learner Kit features a great mix of items for EMF and EVP documentation for those learning about ghost hunting and a book packed full of information on techniques for conducting an investigation and how to use the various equipment.
This kit includes the following items:
Ghost K2 EMF Meter


This easy-to-use EMF meter detects disturbances in electromagnet fields and alerts you with its distinctive light gauge. It's a great tool for both communication and baseline readings on an investigation. (more info)

EVP Wrist Recorder

New Model!


This 'handy' audio recorder puts high quality audio and EVP recording right on your wrist. Just hit record and go investigating. You can record all night long without holding or even thinking about your recorder. Having audio mounted on your wrist greatly reduces any fumbling around with the recorder which can sometimes cause false evidence. (more info)

Book: How To Hunt Ghosts


This book teaches the novice ghost hunter the basics of investigating the paranormal. This unique guide breaks down the theories, explains the tools of the trade, and even offers forms to facilitate your investigation. (more info)

Gear Case


GhostStop keeps your gear safe! This case features a deep base to store your precious gear with greater storage capacity. The handle is offset to provide better balance and a comfortable grip. It also features a slide open/shut lockable latches with a bead-line seal fit between base and lid. It's made with tough yet lightweight ABS plastic to keep your gear safe and secure. (more info)

Flashlight


Compact GhostStop flashlight for investigating and general safety. Twist end allows for use with the 'flashlight experiment'.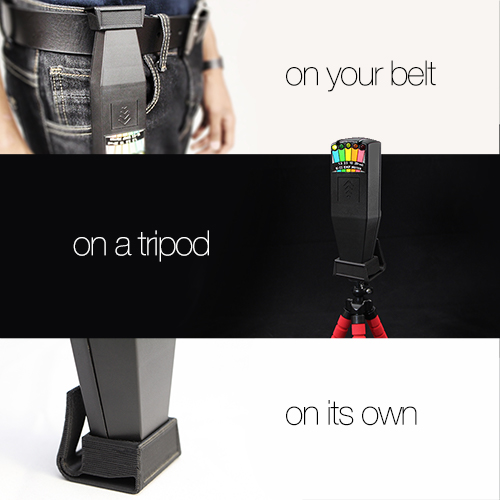 NEW

K2 Stand Clip (add-on accessory)

Our new K2 accessory allows the K2 to stand up properly, hook to a belt or attach to a tripod. To add this to your K2 meter order just check the box above the 'Add to Cart' button.

more info




* See item links for specs and details of each item and actual model may vary from what is shown in the photo based on availability.

Directions for the items in this kit can be found on the item's page:

K2 EMF Meter

1 Review
Shipped to my house sooner then it said and came in great condition, also great for people wanted to learn the trade