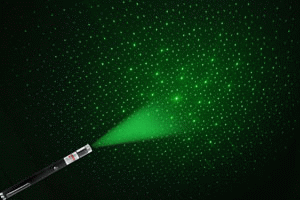 Laser Grid Pen
Seen on Ghost Hunters, Ghost Hunters International & More
This high powered laser emits a grid of green dots useful for detecting shadows or general visual disturbances during an investigation. Set it in front of a running camera to catch potential evidence. You can adjust the size and shape of the stars by turning the adjustable lens. Detach the lens and it will function as a high powered laser pointer.
Optional On/Off Slide Clamp

Now you can keep the laser button down with this sliding on/off clamp. Just slide it on over the momentary switch to keep the laser button down for extended use. Made of non-slip rubber it is safe and gentle on the equipment but rugged enough to protect the unit.
SOLD SEPERATELY: Add this to your laser by selecting it from the 'Accessories' list above.
Dimension: 14 x 160mm
Wavelength: 532nm
Power supply: 2 AAA Batteries (Not Included)
On/Off Slide Clamp Sold Separately (add it to your cart via the 'Accessory' list above)
To maintain the life of this laser, do not use for more than 10 minutes at a time then allow 10 minutes to cool before use again. For extended use we highly suggest our GS1 Laser Grid system.
38 Reviews
A fantastic and cheap tool to use for setting up grids.

The Laser Grid Scope is perfect for our team's laser needs. We have 2 that we have mounted to tripods with HD cameras that are specifically designed to highlight the color green. This gives us a tactical edge in laser placement to capture anything that breaks the laser beams. This is a great affordable product. However, if you have extended investigations bring extra batteries for it. Even though the battery life is decent, they will weaken after prolonged use.

Works great. Love the fact it has different light grids.

I am what I would consider a beginner investigator. I think this is a great, effective and inexpensive tool to start with while building your equipment stock pile. I have used on one investigation so far and am very happy with the product.

The Lazer grid scope is an amazing addition to your ghost hunting equipment, great price and great quality. The Lazer grid scope has different designs and takes two triple A batteries will be buying another one.

Good quality item, item works well and has a variety of grids to choose from.

When the batteries are fresh, it's bright and covers a large area. If you get this, definitely get the little rubber band too or you'll have to hold the button down to keep it on. Not sure if I got a defective one or if the spirits at Trans Allegheny kept draining the batteries, but in the course of an 8hr investigation, I had to change the batteries 3 times throughout the night after starting with a new set. I guess I'll find out if it's the laser itself or the spirits during my next investigation. Overall, I love this laser.

laser grid scope functionality

great over all good variety of patterns, good area coverage. my only complaint would be it needs an on /off button that doesn't need to be held down

Very satisfied with my purchase

I just received this item I got it for my birthday and I'm really exited to use it.

This item is great! The customer service is top of the line!

Just received the laser. Looking forward to using it on my investigations. Love the tri-pod

just got this in for us.... looks great... cant wait to use this on our investigations

I received this as a Christmas gift a few years back. Good battery life and puts out a huge pattern. I have used it on ghost hunts, but my best results were achieved during a night time bigfoot investigation at an active location. Shined the pattern into the woods and created different patterns for about 5 minutes...I turned it off and immediately was astounded to hear a huge, nearby tree knock, that I like to think was Bigfoot applause for a beautiful laser light show. The on off switch is now getting touchy so I will be ordering another soon, and I'd recommend the clamp.

My son ordered this for me as a surprise gift, and am truly impressed with the brightness and how easy it is to use! Cannot wait to use this on my next ghost hunt! Thanks, GhostStop and my awesome son for a great product!!

Good light, many options. Looking forward to using this on my next investigation.

Received my light and tripod yesterday...very impressed with the quality!

Smaller than I imagined but no big deal

It is a hand held light works better with a tripod so you don't have to continually hold the button. But I love the light I think it's awesome. It works as expected and has several different light patterns.

I've tried a few other products similar to this one. I've had issues with those not working. However this laser grid works great, puts out a lot of light for being smaller than others I've tried. I also got the clamp with it and recommend getting that as well.

We got our first laser grid pen from GhostStop and prefer this one to others from other stores. We have three laser pens and our GS laser is the only one that has not come apart during use. For the low price we paid here we actually expected it to be a cheap and flimsy unit but it has in fact held up better than our other more expensive lasers. Buy your laser pens from GhostStop, you won't regret it.

Love that you can set the spacing on the laser dots and it covers a great deal of area.

Either order the little rubber ring clamp or the tripod kit or both when you get his. To keep the laser on you'll need to hold down the ON button or use the sliding clamp or the tripod. It's worth the extra money. The laser itself puts out a good design and can even be a makeshift flashlight. Works well in a room with dim light or no light. It isn't very expensive so this should be in every investigator's kit.

Great little laser. Works very well with the different available patterns, strong visibility without being over powering or distorted. Will even throw a decent pattern during the day if not a real bright room. Everything I hoped it would be. Recommend just going ahead and getting the kit. The little bi pod and holder are worth the extra couple bucks for the steady directional control and no movement you need in an investigation,especially if it is left alone with just a camera on it to review later.

this laser was everything i expected and more very pleased will be back to buy more stuff

Excellent product even during the day...powerful and gives you the option of different patterns. I purchased the entire kit which included a nice little tripod. Shipping was super, super quick and item nicely packaged. No serious investigator should be without this tool.

Ordered on the 9th November arrived in the UK on 13th but a delay this end with customs duty needing to be paid £25.25 picked it up today from the Parcelforce depot. With being first time buying from outside the UK shawn was very helpfully and put my mind to ease. The laser grid is very powerful can be seen very well even during the day it came very well packaged. Will be buying from Ghoststop.com again Excellent webite.

Ghoststop was fast on getting my order to me and I love my new laser grid can't wait to use it!!It was on time and it was everything as describe! Thanks Guys I will be more then happy to order from you again.. N.A.P.S.

Just received the laser today. Perfect! Illumination is excellent, no over lighting, laser patterns show perfectly without distorting the rest of the room. Wonderful service and product.

Pretty simple, I call first and Ghost Stop answered all of my questions about the grid. I bought it and it got here the next day as promised. Customer service is excellent and The product quality is more than I expected.

Love the laser grid. Made the trip to Orlando a few months ago and bought it. Shawn was very helpful and knowledgable. Keep up the good work.

This thing is awesome, just like the TV show. Lights up the whole room very well. I love the ability to set the patterns to however I want. And the button holder is a must. I couldn't possibly sit and hold the thing the whole time lol. It literally didn't take long to start seeing movement with this thing on. I love it!!

Sean was a GREAT help and items arrived in a timely manner. ordered full spectrum camcorder, full spectrum light, mounting bracket, laser and tripod, EMF/Temp gauge, carrying case,it's all under the tree and my wife is sure to be exstatic! Once we've had a chance to use these items I'll be back to give you an update!

...this should have definitely come with an on/off switch. If it wasn't for that, it would have 5 stars! I've already had some very interesting results from this laser. It's a must have!

Great product, will be back for more,. debrashea@aghostpage.com

This is my first of many purchases from GhostStop. The customer service was great and this laser ROCKS. It really does light up a whole room! Various grids can be created, as well as the basic green point which goes on for MILES. Will be a great addition to our team's gear. Thanks, GhostStop!!

Great light!!!! Only thing is I wish it had an on/off switch instead of the momentary switch that you have to hold to keep it turned on.

I love this laser grid. It's bright as all get out and will fill an entire room. It even shows up good on night vision cams. Definately recommend!

Just received the product and it works like described.