K2 Meter EMF with Sound
New Model with Audio Alert!

This K2 Deluxe EMF meter with on/off switch and audio buzzer alerts you to changes in EM frequencies with both the traditional LED light graph and sound. This added feature will help you quickly be alerted to potential activity without staring at the meter all night. Additionally, this buzzer is a great addition so that all audio-records in the vicinity will 'hear' and document when EMF spikes occur even when video cameras are not present.

This NEW model has the same great, easy to use and quick function of the past model with a great new look in black. This model also has the toggle on/off button, so you no longer have to hold the button down to keep it on like past models.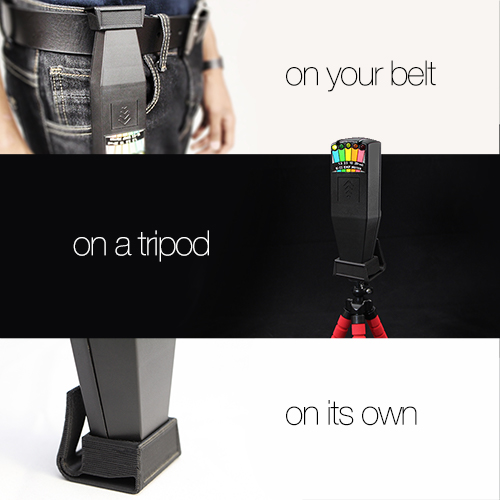 NEW K2 Stand Clip
(add-on accessory)

Our new K2 accessory allows the K2 to stand up properly, hook to a belt or attach to a tripod. To add this to your K2 meter order just check the box above the 'Add to Cart' button.

more info



We are an official distributor of the KII Meter.
Push button on/off switch
Light audio buzzer to alert you to changes in EMF (sound is always activated when the K2 is on) - loud enough to be recognized but made intentionally light to not interfere with potential audio/EVP evidence
Easy to read multi-segment LED display
Detects the ELF range (50 to 1,000Hz) & VLF range (1,000 to 20,000Hz)
Five level milliGauss ranges 50 & 60 Hz operation
Requires 9-volt battery (may or may not be included)
Single axis accuracy of ±5% at 50-60Hz
Instantaneous response to EMF fluctuations & spikes
1) Turn the K2 Meter on by pressing the button on the front of the device.
2) Holding the device in your hand, point it toward the EMF source. The LED will indicate the range of the EMF at that level.
3) Moving the device from side to side or rotating it may change the reading. The highest reading is the most accurate.
4) Move closer or further away to the EMF source to determine the "Normal" zone, as indicated by the Green LED.

The sound is a low volume buzzer that increases in volume with a rise in EMF. It can be very quiet so it's good to listen very closely.
22 Reviews
Haven't gotten to use it enough yet

I've used it once so far and can't wait to use it more on investigations I go on. I love how fast y'all ship! I needed several things for a trip and they all came in right before I was leaving! Y'all are awesome.

Fast shipping, took less than a week! Works great for both spirits and even household appliances, does exactly what it needs to do.

I am very new to all of this, and just from all of the info I researched on ghost hunting, and obviously watching shows, etc., I was super nervous at first. I originally started with interest in how this world works when I lost my Mom. I've had, what I believe are many many signs from her but I could never be certain. During trying to figure out if all of that was possibly in my head or not, I thought it may be possible that there was activity in our house, that was not from my Mom. Long and short, I clearly had almost every single sign of having a spirit in our house, another long story, so, back to where I said I was nervous, I used the K2 Deluxe, to help me along. I am so happy I made this purchase! It seems there is activity as I suspected, so far its positive and possibly a playful spirit, I am hoping. I have yet to have contact from my Mom, other than the little signs, actually not little, there are so many ways I believe she is trying to contact me, but I am one of those people that I have to physically see it, to believe it. So far, this instrument has me completely convinced, I highly recommend this, higher than five stars is a mandatory here! ⭐⭐⭐⭐⭐

I recently bought this and was a little worried about how loud the sound would be but let me tell ya, it's the perfect volume. It's not super loud or is it super soft. I'm excited to take this to Ohio State Reformatory next week!

Works great. I received exactly what I ordered.

Super fast shipping and this is my go to device over the Gauss meter. Received a day early. The spirits love it. I got freaking grabbed and it lit up like crazy wherever I gave them permission to touch me if they want to make themselves known. This is legit. Definitely ordering from again in the future

Interesting twist on an old standby. Like the audible component.

Buying from Ghost Stop is always easy. Products are genuine and work great. I love having sound on the K2, that way you can look around the room, and still know the device picks something up.

It definitely works for what it's intended for and have caught some stuff that freaked me right out! Even ruled it out as anything else interfering

Fast shipping and delivery, ordered 2, one for me and one for my wife. We both love them and a great addition to our tools. Will definitely order other tools from Ghost Stop. Highly recommend these people to anyone looking for equipment.

A must have for any investigator! The subtle sound is a nice touch as sometimes it is difficult to stay focused on the meter alone while snooping around. I have tested this meter versus other *cough* "ghost meters" (from other stores) and the difference is day and night! Do not think about this purchase JUST BUY IT! You will be glad you did!

Love the fact that this K2 has sound. Makes monitoring it easier. You can place it in one spot and know when it's picking up activity.

One of the best K2 meters I have ever found. Really picks up the activity.

The K2 is a foundational part of any proper ghost hunting operation. It should be the first piece of equipment in one's kit. I love mine; it's good quality and reliable. Love doing business at GhostStop.com because all their equipment is high quality, fairly priced, and I've never had a problem with any of it. I encourage you to shop here!

K2 Meter detected the Spirits in my home

I was curious if this device could detect the Spirits that I can sense here. All the lights on this device lit up! The Spirits also turned on the Ghost Stop flashlight! I will definitely be back. I am one happy customer. Thank you.

This was a great addition to our paranormal equipment. You guys are awesome and this is one of the most accurate pieces that ALL teams should have. Great job with this guys. We are definitely getting our equipment from you in the future!

I just got this meter and tested it out on an investigation and it was nice to not have to focus on the lights to see it I got a k2 hit. The sound would go off when I did get a hit which allowed me to focus on my cameras then just staring at the meter the entire investigation. I would highly recommend this meter, even over the standard K2.

Its awesome. The lights are very bright. I was very excited when it arrived. Thank you Ghost Stop.

K2 Deluxe With Sound Alert

The K2 Deluxe With Sound Alert is awesome.It work for me the first night and I would say if you don't have one get it.the only thing I didn't like was the ups service it was slow.

I recently used the K2B during our investigation at a plantation village, and I was very impressed with its performance. The K2B (in its simplicity) is a remarkable tool which can detect field disturbances caused by a spirit. We used this device to communicate, and each time we asked a question the K2B responded by lighting up to 20 milligauss. It is important to note that the homes in the plantation village had no electricity (no electrical wiring, no electrical outlets, etc.)

I received my K-2 within a few days of purchase which is important with me..I used it for the first time during a Paranormal Research Society investigation here in San Antonio.Works beautifully makes noise like geiger counter and I love it! I'm glad I purchased it..Thank You Ghoststop! SAGH

Excellent! Just like a Geiger counter sound. Intend on actually hanging it on my neck while I use my camcorders. Note: The sound is audible within a small area, useful for private investigations within public buildings without drawing attention. A really great device! You just can't record enough. Brian