Flux 2 Paranormal Response Device
Ask questions. Get answers from the beyond.
This ghost hunting device provides clear responses you can see and hear during an investigation. Just set it down, ask simple questions and await a response. You can choose to ask a question with a Yes/No answer or any close-ended question of your choice. Responses will be clear as either Red or Green with a tone that indicates an answer to your question.


Clear responses with color changing lights for quick reference

NEW

Light and sound indicators to help determine distance

NEW

Zone selection to adjust sensitivity area
Sound alerts with scaling tones for clear audible indicators
Multiple environmental sensors for easy interaction
Rechargeable long-life battery
BLIZZARD Limited Edition
For a limited time, we are making a few of this product in a white matte that looks super cool. All functions are the same.
See our Blizzard Collection
of other limited edition products.
Ask away. You control the conversation.
We've put the control in your hands. Direct the conversation to what fits the investigation best. The answers can be any of your choosing by simply asking your own close-ended questions. You can ask the entity to move one side for one answer and the other for another answer. You can even ask them to change the temperature. Choose your own path.
Example questions and responses:
"Is there anyone here with us?"
Yes: Green light with high audio tone
No: Red light with low audio tone
"Are you male or female? Red for male. Green for female."
Female: Green light with high audio tone
Male: Red light with low audio tone
"Do you like this object or that object?" (place a trigger object each side)
Right object: Green light with high audio tone
Left object: Red light with low audio tone
Example close-ended responses:
Yes / No

Good / Bad

Male / Female
One / Many
Light / Dark
Left / Right
You choose...
NEW Zone selection lets you adjust to the room.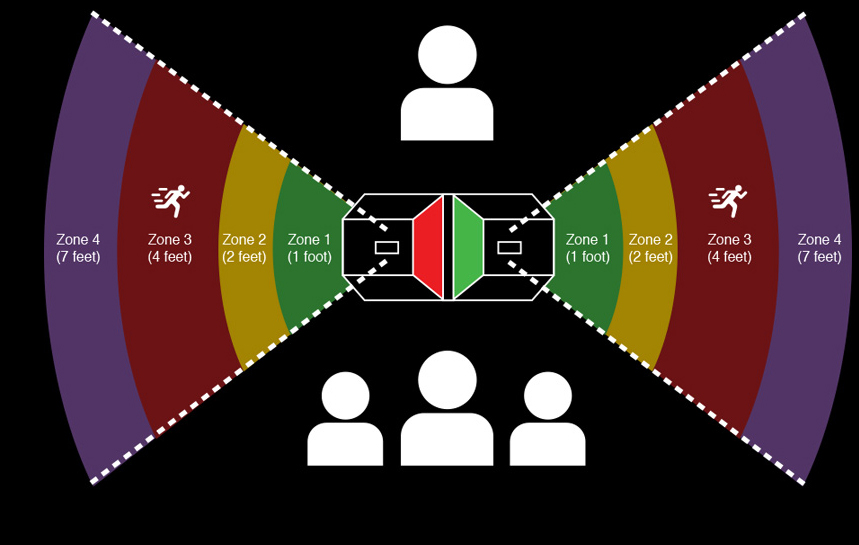 The Flux 2 now lets you set the area around the device you wish to investigate. New sensor technology provides the ability to determine distance. With that, we built in an adjustment knob to set the Zone or 'bubble of influence'. This is helpful in cases where you wish to be around the Flux to communicate or set it to a larger Zone if you wish to leave it in a larger room on its own. Zone 1 is helpful for use on a table with investigators around attempting to communicate while Zone 4 is best for larger rooms. When you turn the Flux 2 on, just turn the knob to set the sensitivity Zone. The first 10 seconds will allow time to set the Zone and step away. Only movement within the Zone area will alert once set.
Zone selections:
Zone 1 (Green) = up to 1 foot distance
Zone 2 (Yellow) = up to 2 feet
Zone 3 (Red) = up to 4 feet
Zone 4 (Purple) = up to 7 feet (max)
Multiple sensors detect changes in the environment.
The Flux 2 paranormal communication device utilizes multiple environmental sensors to determine a responses based on location of motion, distance and temperature changes. The Flux device includes two highly sensitive infrared laser motion and distance sensors. These sensors provide quick and precise measurements of movement and distance. This is most significant advancement over the original model. To measure temperature there is an ambient thermometer probe which reads the air temperature around the device.

This type of device can be used in many ways such as the question/answer examples above. However, we are most curious to see how you (our fellow investigators) will use it in the field and what you find works best. Maybe you could put trigger objects on each side to indicate which the entity prefers or be alerted if an object moves on its own. Let us know how you use it.





This product is made right here at GhostStop.

*NOTE: Parts of the Flux are 3D printed right here at GhostStop. Each one is made with great care by hand. As such, each one may have unique elements in the texture that could appear to be small defects. These unique elements do not affect the function of the product. Though we do our best to keep them as uniform as possible, each one will be unique in some small way since they are each printed and hand-built for quality. Thanks for your understanding in that.
Precise motion and distance detection on 2 sides
Zone adjustment to set area of influence
Temperature detection
Color-changing lights to for indication and responses
Sound alerts to indicate various responses
Rechargeable battery with USB charger
Battery life is 10+ hours on a single charge
Size: 4"w x 3"h x 2"d
DIRECTIONS FOR USE
NOTE: The first 10 SECONDS while both lights are flashing allows you to set the Zone.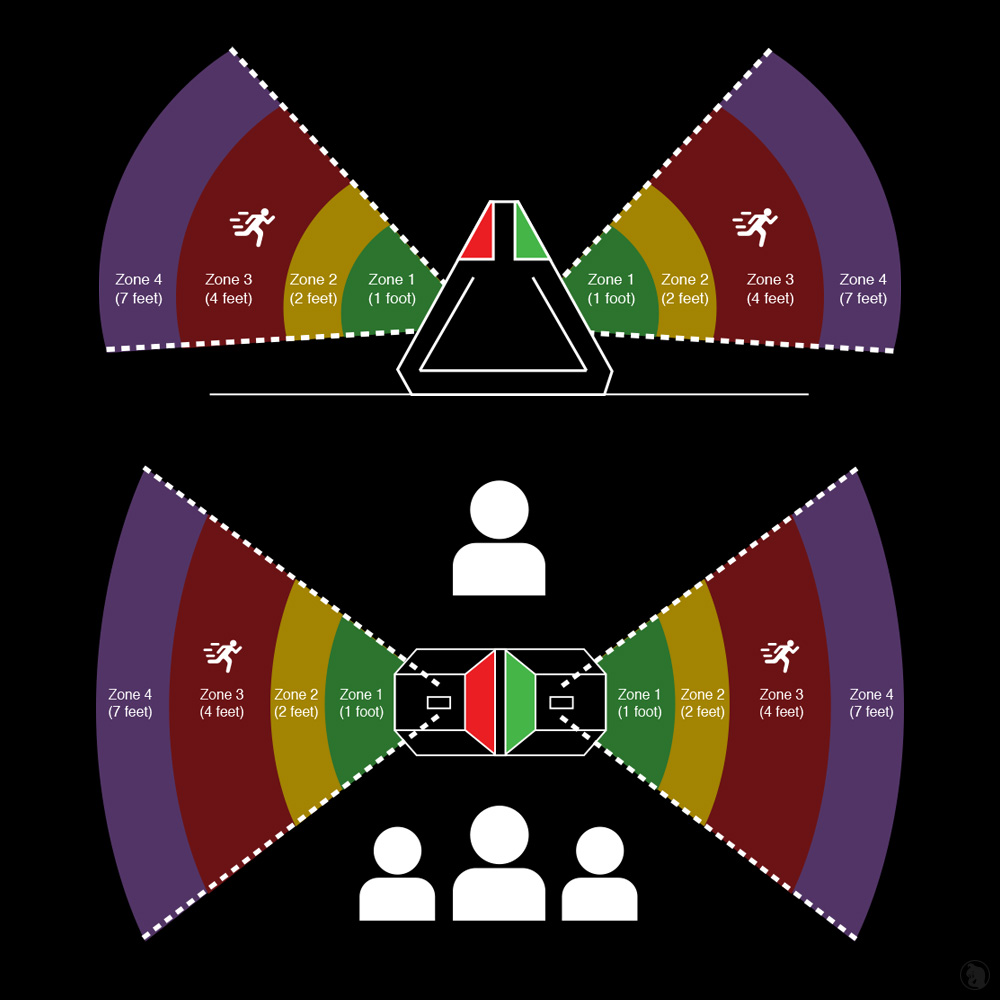 Turn the device ON by turning the red adjustment knob clockwise. Flux will begin flashing on both sides.

Set the ZONE by turning the red adjustment knob left or right. Both lights will flash a color to indicate the Zone.

Zone 1 (Green) = up to 1 foot distance
Zone 2 (Yellow) = up to 2 feet
Zone 3 (Red) = up to 4 feet
Zone 4 (Purple) = up to 7 feet (max)

After 10 SECONDS both lights will flash white and beep to indicate it is ready.

Set Flux down and step out of the Zone area to allow Flux to investigate and begin alerting.

You can reset the Zone at any time by turning the red adjustment knob again.
Setup Tips
Stay out of the Zone.

Motion and distance sensors on each side of the device alert to motion in the area. With that, you want to ensure you and your teammates remain out of the Zone or 'area of influence'. This is why we have included the ability to set the distance (or Zone) at which Flux interacts.

Set it on a solid surface. Naturally, with motion sensing being a key function of this device, movement will set it off. Make sure the surface is sturdy.
Responses
Blue pulsing lights = Flux is scanning for changes (no changes present)

Green with scaling short low tone = motion on the left side of the device

Red with scaling short high tone = motion on right side of the device

Green with long high tone = temperature drop

Red with long low tone = temperature rise

Response lights will remain on for 20 seconds to indicate that a response has recently taken place. This is in case you do not see the initial response. This will reset after 20 seconds unless it is interrupted again.
Directions for Charging
Using the USB cable provided, plug it into any USB or AC outlet (with the provided AC/USB adapter) to begin charging.

Red light near the USB port = Charging
Green light near the USB port = Fully Charged

A fully-charged battery will last over 10 hours.
Charging to will take about 1 hour
Flux device can be used while it's charging for unlimited use via wall outlet adapter or USB battery pack. A USB battery pack is handy so you can use the device and continue charging all while being completely mobile.
11 Reviews
Best bit of equipment I've got so far, the yes and no works really well and 100% advise anyone to get one

I love it bring it to every ghost hunt I go

I've used this device for over a year. It has notified me numerous times when spirit is present during paranormal investigations. I like the fact that it is directional, so when it goes off I know where the entity is in relation to the device and the direction the entity is moving…towards or away from the device. It's also a great tool for communicating with spirit. I've had phenomenal results with it during investigations throughout the US and also in my own haunted house. It has withstood traveling and a years worth of sessions. One of my go to paranormal investigating tools. Love it!

My team and I have brought it on to several investigations, but only had luck with it at two locations. Which gives validity to how they work. Have had great question and answer sessions with the flux, and even got the same answers when using a flux and dowsing rods together.

Haven't had the chance to try this out on location yet but seen it on tv and knew I needed one very good piece of kit

This device is perfect for streaming!

I have taken this device to four different investigations, one at Belle Grove Plantation, another at the crash site of TWA 514, and two separate locations in Gettysburg, PA. At all sites, this device surprised me, particularly at the TWA crash site. While I understand that outdoor investigations are tricky as so many factors can affect results, the Flux was untouched and operating without interference. We received a variety of responses to a variety of questions. As a streamer looking to stream future investigations, I fin the visual and audio aspects of the Flux a real asset. I look forward to future investigations with this device on the scene.

Seems to work just fine, was shipped fast without any issues, 5 star. Thanks!!

This device is pretty cool. I like that I can set the distance sensitivity and have an instrument that entities can use to interact. The only drawback I see is that when the sensors detect motion, the red or green lights take upwards of 30-40 seconds to reset afterwards, which limits the user on the number of questions he/she can ask within an allotted amount of time...especially if you're limited on time during an investigation. If it weren't for the delayed LED reset times, I would give this 5 stars instead of 4.

I just got this and I went straight to the cemetery as soon as I got there I turned it on and waited a few minutes. The first question I asked was would anybody here like to communicate and both lights went off so I asked okay for the Spirit who would like to communicate are you resting in peace and the green light went off. I have 4 family members buried there so I asked if the person communicating is a family member and the red light went off. Then I said I was leaving green means hi and red means bye and the red went off. I definitely like this product and will be using it on my show!

Great little device for Q&A sessions or motion...

This a great device for anyone that wants to do Q&A sessions or want to monitor for motion in two different directions at the same time. Since each side of the device activates independently it makes for easy one of two or 3 answer Q&A sessions. Yes activate the one side, No activate the other side, maybe activate both sides. The built in temperature sensors means we do not need to also have out an additional temperature monitor while using this. The built in battery lasts for hours and charges quickly for back to back investigations. The visual/audible notifications are great and are easily recorded on camera. We highly recommend this over the flashlight Q&A sessions.

Very good visual device !

On our Investigations and Tours We use both the Flux and Rem Pod. We usually get more visual and audible sounds and answers from the Flux. I like it much better than the Rem Pod because you don't have to use and constantly change batteries. The Flux is charged by a chord. It's very easy to Transport And Compact unlike the Rem Pod which I have broken an antenna once in transport. I recommend using the Flux .