EVP Band Wrist Recorder 3 Record audio on your wrist. Go hands-free for clear quality and easy documentation.

This 'handy' audio recorder puts high quality EVP capture right on your wrist with a full color display, live listening, built in speaker and more storage. Just put it on, hit record and go investigating. This unit will last through the night without having to even think about it. While strapped on your wrist you will greatly reduce false evidence from fumbling sounds leaving your hands free to work.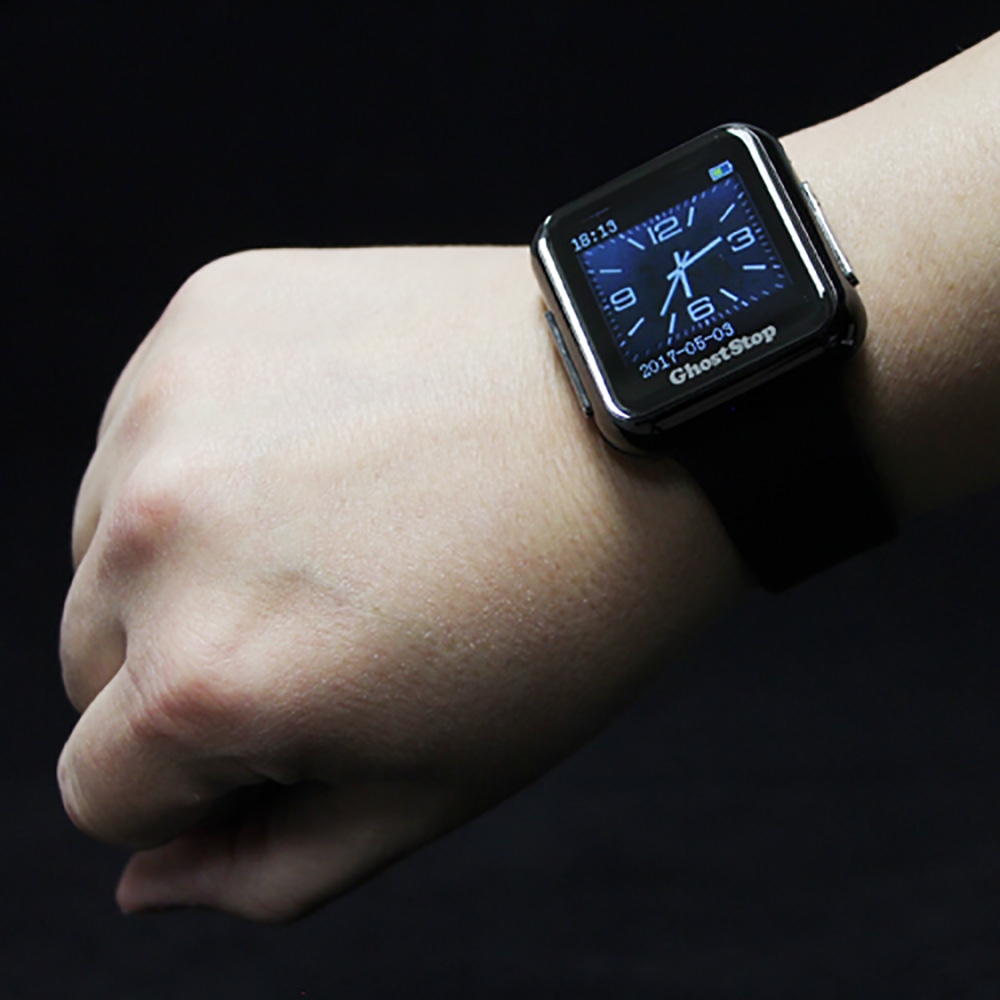 Quality you'd expect from a high-end unit that's smaller and wearable.


Crisp, high quality sound
Comfortably worn on your wrist with adjustable band

NEW

Full color screen menu

NEW

LIVE Listening of EVPs

NEW

Built-in speaker for review

NEW

Double storage space
Lighted display for view in the dark
8GB storage for recordings or file transfer
Rechargeable long-lasting battery
Wearable quality for your investigations.
Here at GhostStop, we have always suggested 'wearing' your EVP recorder whenever possible. This keeps the microphone free from fumbling sounds which are the root of much false evidence. In the past, that meant getting an armband or vest. We've taken this idea to combine audio documentation and EVP recording into a wearable product with a strategically placed, protected microphone.

It is comfortable to wear with the adjustable smooth wristband. With this you will increase audio evidence quality by eliminating the need to handle the recorder.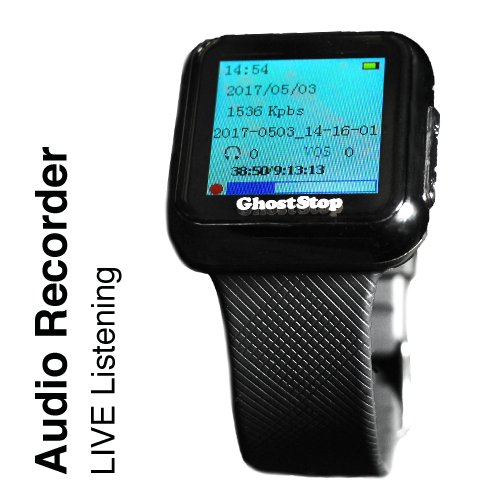 Color display that's easy to use.
The EVP Band 3 uses a new full color digital screen for simple menu navigation and status information including date and time tracking, battery life and file details.

LIVE listening of EVPs.
Now you can hear and respond to EVPs as they happen. Are you tired of hitting pause to playback a potential EVP? By doing so, you may be missing out on a gem. Now you can hear it live as it happens with no delay or missed evidence. Just plug in a set of headphones and you will hear everything... as it happens!
"Wear it. A secure recorder makes for quality recording without fumbling sounds."

Arm your whole team.
This device provides you with a way to document your entire team's activities during an investigation. We suggest EVERY member wear one. This way, upon review if you have a question about a potential vocal response you can check with each member's band to verify. Did one of your team members speak or is it an anomaly? Additionally, this also gives you the ability to potentially triangulate the location of an auditory response with multiple bands in the same room. The EVP Band is a great tool for documenting and evidence support.


"The best way to document your investigation - every minute of it."


Playback using headphones or built-in speaker.
For the sake of ease, the EVP Band 3 has a built in speaker for quick review. Just hit Play to listen to your file. You can also plug in a pair of headphones for private listening or an external speaker of your choice.

Record and transfer files easily.
This handy audio recorder also acts as a USB flash drive that utilizes integrated flash memory. This means you can use it to store and transfer just about any file you want. You can record your investigations for EVPs and document audio notes or use it as a quick way to transfer files via the USB between computers or to share files with teammates. Just plug this recorder right into a computer via USB cable, drag and drop your files and you'll be ready to review. No software installation is required.

Sample Audio: Want to hear the awsome quality of this recorder?
Click to listen (recorded directly on the EVP Band 3)



This product is made right here at GhostStop.
Easily record EVPs and document audio for investigations 8GB integrated flash memory for plenty hours of recording Band comfortably worn on your wrist with adjustable size or placed elsewhere like any recorder Very easy to use color digital display screen and navigation buttons Built-in USB for fast file transfers Also use as a thumb drive for transferring any type of file (for instance transferring videos from your DVR system or sharing files with teammates) Rechargeable battery lasts up to 23 hours depending on settings Display shows battery life, recording status, time/date info, navigation, file information, settings and more Includes 28 language choices Screen brightness adjustment Recording quality/bitrate adjustment
Storage: 8GB Power lasts 9-23 hours depending on quality settings (manual includes chart)
Storage allows for 6-285 hours of recording depending on quality settings (manual includes chart)
Range: 20Hz to 20KHz
Recording format: MP3
Recording rate: options from 32Kbps-1536kbps
Power Supply: Polymer battery, 3.7V 120mAh
Flexible Band Fit: Adjustable notches and stretch material up to about 10"
Weight: 33g Windows and Mac compatible
CONTENTS
Audio recorder with wristband
USB cable
Earbuds
Manual
DIRECTIONS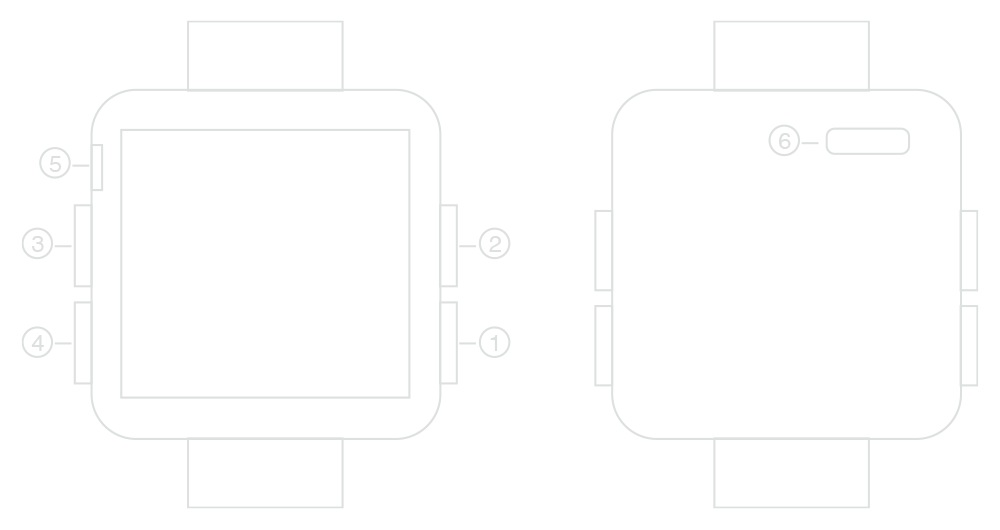 1: Power On/Off
2: Mode
3: Up
4: Down
5: Headphone Jack
6: Charging/Data Port
QUICK START GUIDE
Charge before use. (see charging instructions)
Turn device on using POWER button (1). Hold for 2 seconds.
Quick Recording: At the Main Menu Press and hold MODE (2) to begin a recording.
Turn device off using POWER button (1). Hold for 2 seconds.
MODES
Recording: Use this mode for recording investigations, interviews and EVP sessions.
Voice: Use this mode for playback of recordings.
Music: Play music stored on the device.
Set: A collection of various settings for the device.
RECORDING
On the Main Menu press UP or DOWN to choose 'Recordings' and press MODE (2) to enter into recording mode.
Press MODE (2) to start recording "Start Voice Recording".
While recording, press MODE (2) again to STOP and save the recording.
While recording, press POWER (1) to pause or resume a recording in session. You must hit resume before you can stop and save the file.
Before recording there are a few settings you can use for recordings only.

Recording Format: adjust the recording quality bitrate
AVR setting (Automatic Voice Recognition): Sets the sensitivity of AVR to begin recording only when it hears a voice (0-10). We HIGH SUGGEST keeping AVR OFF or '0' position so as to not miss potential evidence. While this features may be helpful for interviews and general voice notes, it is not recommended for EVP sessions because by the time the unit has a chance to begin recording, you may have missed an EVP.
Monitor settings: headphone volume adjustment (0-24)
PLAYBACK
On the Main Menu press UP or DOWN to choose 'Voice' and press MODE (2) to enter into playback mode.
Press UP or DOWN to highlight a desired recording and press MODE (2) to begin playing.
While playing press MODE (2) for additional options including:

Volume control
Delete file
Delete all
Repeat playback
Equalizer
CHARGING THE BATTERY
Connect the EVP Band to any USB outlet, port or computer using the included Micro USB cable to the CHARGING PORT (5). This is the same port used for charging.
Charging time is about 1-2 hours for a full charge. Remove the device after charging will help battery longevity.

TIP: use a wall outlet with a USB-to-AC adapter whenever possible for a faster charge. Charging through a computer or in a car may take longer as it does not supply as much power as a wall outlet.

Battery life depends on settings:

about 20 hours continuous recording at 32Kbps quality

about 15 hours continuous recording at 64Kbps quality

about 12 hours continuous recording at 1536Kbps quality
FILE TRANSFER
Connect the EVP Band to a computer using the included Micro USB cable to the CHARGING PORT (5). This is the same port used for charging. Once your computer recognizes the connection it works just like a removable disk where you can view the files and copy them to your computer for review, editing and sharing.
PLAY MUSIC
On the Main Menu press UP or DOWN to choose 'Music' and press MODE (2) to enter into music mode.
Press UP or DOWN to highlight a desired music file and press MODE (2) to begin playing.
SETTINGS
On the Main Menu press UP or DOWN to choose 'Settings' and press MODE (2) to enter into settings mode.
While in Settings mode, press UP or DOWN to highlight a desired setting and press MODE (2)

Power settings: power off timer adjustments
Display settings: change device brightness, backlight, screensaver 'clock'
Language: change device menu language
Disk space: displays device available storage
Format device
Password settings: set a password to device security. Default is no password and password '0000' means NO PASSWORD required.
Player info
Factory Settings
40 Reviews
It is comfortable, and works great. Has picked up a few things I missed.

Great item for capturing voices. Easy to use, plenty of instructions to help. Excellent sound quality. Highly recommended for investigations!

I've only had chance to use twice, it is sensitive, and has worked well.

This product is definitely worth the money. The quality is first rate and I loved the customer service experience that I had. This is definitely a great device to use for recording or to use as a smart watch. The best part is, you don't have to worry about Bluetooth randomly disconnecting on you where your watch would not work. I will definitely order from Ghoststop again. Awesome customer service.

I found the sound quality to be pretty good for something on the "cheaper" end of the EVP recording tools. Easy to download to my computer. I was drawn to the hands-free quality which made it easy to perform other tasks or steady yourself in precipitous walkway situations. My only gripe is that it's a minor pain the butt to learn to use. Not super intuitive. But you mostly just hit record and go, so I recommend it to people who don't want to spend a lot and still get nice quality sound.

I took it out for the first time in January. I was worried about the noise of my winter gear. While you can hear my jacket, you know it's a jacket. The EVPs that I captured were not hindered by the sound at all. I can't wait to take it back out next month.

I have used this watch on several investigations now and truly love it! I always have it running as I enter a location and have caught evp's instantly. You do have to be mindful of hand and arm movements, they can cause arm hair/skin rubbing sounds. Navigating it can be tricky but not difficult. Overall, a must have for investigating!

I enjoyed the watch a lot. the recording quality is good and the play back is clear and crisp. If your lefthanded - do not wear the watch on you right hand... My wrist kept hitting the power button and stopped the recording... Easy fix, I just wear it on my left wrist. Ghost stop has great customer service too, had an issue with the watch and one email later it was fixed.

This has helped a lot with ghost hunts already. I recommend getting it if you have the chance.

I got my package today. I'm happy with my ghost equipment. It's awesome thank you I'm happy

Love this hands free recorder. Great sound, recording's are nice and clear. Looks nice on the wrist. As well.

Loved it works great easy to use and excellent sounds quality

Just used it for the first time last night and it worked great! It's really easy to use and navigate. Everyone in my group has one now.

This thing is awesome! The audio is so clear. It picks up sounds from across the room. The battery lasts a long time too! So happy I got this. Great job Ghost Stop! Will be shopping with you again soon.

This is a great little device that allows me to record hands-free. You can even wear it as a regular watch. Highly recommend. Fast shipping and great communication from the staff.

I love this watch.

Recieved my boo bear and evp watch and i cant wait to test them out. The watch iv had a play with and it has crystal speakers. Very easy to use. I have the torch also, cant wait to use them all. I like the free gifts that came with it also. The box to carry everything together is good too.

Received it today, fast shipping!! This watch is comfortable to wear. I have very small wrists, so was at first worried it would not fit, but it did, very pleased! I did a sound test with my bird and his weird kissy sound he makes, played it back and it was crystal clear. Instructions that came with it were a tad confusing, at first I had a hard time getting the time and the date set, but got it figured out. Still a great product, highly recommend!! Going out tomorrow night to do a hunt!!

This product is worth the money. Battery life is great, and it's rechargeable. Excellent product!

best e.v.p. recorder....super clear!

I have used this recorder on several investigations now and every e.v.p. i've captured with it is crystal clear. The battery life is amazing and even with long sleeves on there is no rustling sounds. A must have for investigating with multiple equipment!

Mic quality is pretty good for the money. Great for people on a budget.

After recently purchasing this device, I would recommend it to all. I noticed how light weight it was. Light weight with heavy functionality. it is very user friendly. I was surprised at how easy it was to set up, and navigate through. The sound comes in crystal clear, and does not pick up any interference like pulse, or anything else. It also acts like a smart watch, easy for time stamping, and knowing the time at-a-glance when activity is happening. Excellent Product Ghost Stop. Fast shipping too.

This watch is amazingly sensitive. I tested it with family and co-workers and it picked up every whisper. GhostStop Customer service, both chat and phone, is top notch. I was assisted immediately and all questions/assistance was given with clear instruction and the most friendly manner I have encountered in years. Products were exactly as listed and arrived earlier than expected. I will buy all my equipment from GhostStop in the future. GREAT JOB GhostStop!!

I purchased the EVP watch a couple weeks ago. I must admit, i was first a bit skeptical about the item, to my surprize The sound quality is so clear and no matter how i moved my arm. i still received quality EVP recordings . Hats off to you once again Ghost Stop. You continue to put out amazing products. You are my GO TO when i need equipment etc. Because i know i eill receive quality merchandise and customer service👍

Handy little EVP recorder

I love this little recorder because it works great and it gives you more recording power without taking up space in your hands. The recording quality is really good and, once you get used to how it works, it's easy to manage. I love the real time listening, and this feature has helped me to pinpoint EVPs on my other recorders as well. I recommend this piece of equipment! Robbin MidFlorida Paranormal

This watch is a paranormal researchers dream come true, the audio picks up EVPs very clearly and for it being attatched to your wrist makes it vital for getting stuff on the move without dropping other just as important equipment. I have the entire team wearing one and we use the hand held recorders as static recorders.

Finally an honest seller. I purchased the wrist recorder after a lot of research and reviews. I am very happy with my purchase and this company. Trust me, they wont become a ghost after your purchase. Thanks guys.

I like GhostStop they have good quality stuff at a reasonable price would love to get more equipment from them to use on my investigations and then i can spread the word where I purchased my equipment so check it out!!

Great recorder picked up even the faintest did noises and there's no interference from wearing it on your wrist . Soon everyone will be wearing these instead of carrying a DVR around

I love this site! Great products and wonderful support from the site!

Very easy to use and the recordings are very clear. It even picked up an EVP that another recorder nearby didn't. The battery lasts all night and then some. Plus downloading via USB is a great feature as well.

Best equipment purchased for investigations . This was one of the very first pieces I ever purchased and it was well worth the money . Easy to use , replay all evidence and easy to set up. Great tool for newbies to experienced investigators . Awesome equipment and company to order from.

I love my recorder! It's so easy to use. It proved to be very sensitive in picking up voices that my other recorders did I not. I will be purchasing more for my team!

I was pleasantly surprised by the quality in such a small recorder. I thought maybe having it on my wrist would cause some problems but once I tried it I realized it's the best way to go for investigations. The clarity is surprisingly... well... CLEAR. And my hands are free while recording the entire investigation without worry of missing something. What a great idea!

I love mine. It's great.

Used it on several investigations, works great.

I bought one last year and was able to record over 45 minutes worth of very high quality EVPs during a spirit box session at (location removed for privacy). I highly recommend owning one!

This has already proved valuable for capturing EVP's that are around me as I move about. The sensitivity is outstanding. The only drawback is the same as with the previous model, that is, the display for outdoors daytime use (in direct sunlight). Luckily I have memorized the activation movements.

I just received mine 2 days ago and it's awesome! The playback feature is great and the speaker is very clear. Worth the money.

Got my wrist recorder today. Absolutely amazing! I love it. Quality of audio is better than others out there. So easy to use. I will be using it when we head to Asylum 49 in a few weeks. Amazing, you guys. Just amazing!