Full Spectrum & Infrared Dual Switching Light
Switch between night vision (infrared) or full spectrum all in one light. Just flip a switch for IR only and the other to turn on full spectrum.


Mode 1: Infrared (IR) only

Mode 2:

Full Spectrum

NEW Model

now with

RED

visible light for easier and greater visibility.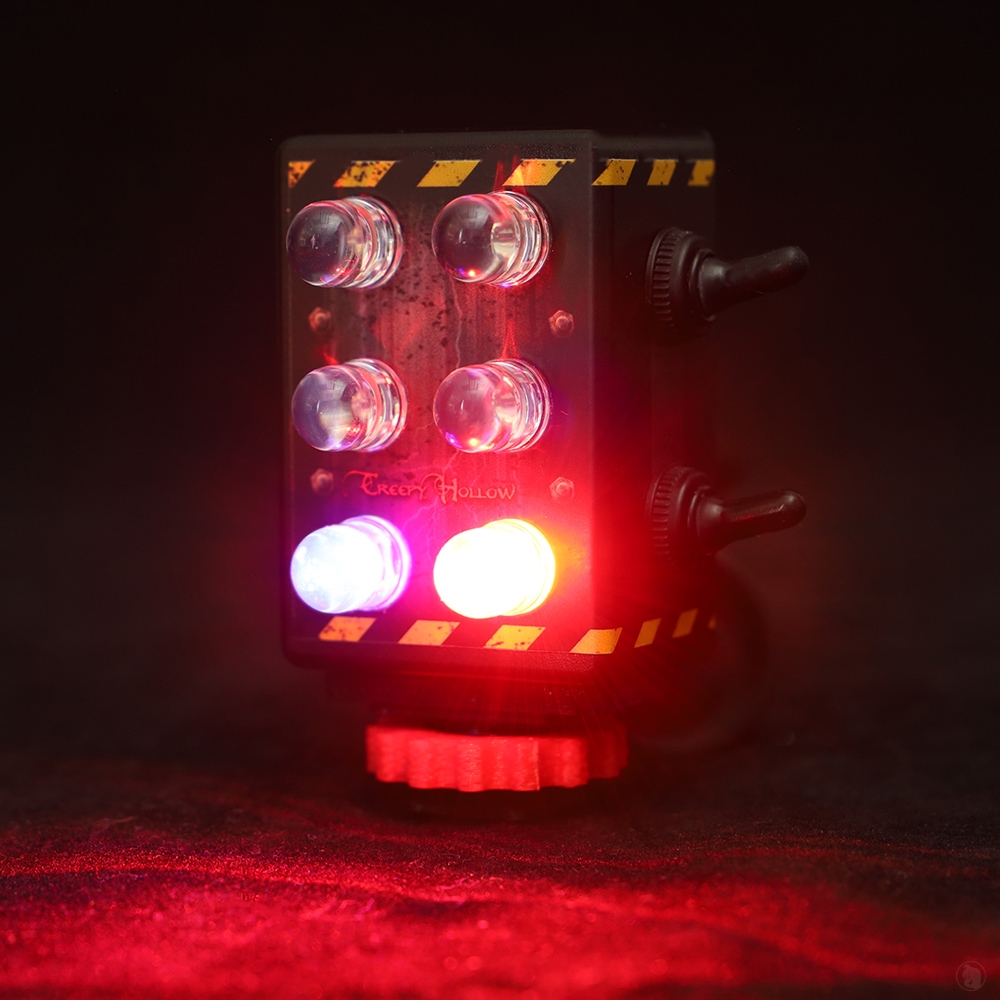 Sometimes you just want to use night vision. Other times you may want to take full advantage of full spectrum images. Now you can do both with one light. It utilizes a range of lighting to take full advantage of our full spectrum optics including infrared, ultraviolet and visible light. It attaches to any camcorder, camera or tripod or can be handheld. This light is the most compact light on the market with just 6 high power LED lights and packs a surprisingly powerful punch! In includes a dual purpose shoe mount with female tripod mount on the bottom for mounting.

Infrared mode uses the top 4 infrared LEDs. Flip the top-most toggle switch up for IR only. Full Spectrum mode utilizes all 6 LEDs including 4 infrared, 1 ultraviolet and 1 red for visible light. For Full Spectrum mode flip both switches in the up position. (note: for full spectrum mode to work, both switches must be on as the UV/red lights will not turn on by themselves).


Why the switch to red light?
Red light is easier on human eyes during low light investigations as it ensures our vision is preserved for low light. The red frequency does not force the rods and cones in our eyes to adjust from darkness nearly as much green. A good example is when you are outside in the sun then walk into a dark room. Your eyes need time for adjustment. To counter this effect, airplane cockpits use red lights so pilots can read their instruments and maps while maintaining night vision to see outside the aircraft. For this reason, we at GhostStop try to use red light whenever possible to aid investigators. After some thought, we decided to make this tweak with our full spectrum light as well. This adjustment also provides a camera or video camera with better visibility, distance and clarity in contrast.

NEW MODEL Notes: New model with RED visible light started shipping on 10/30/20. Any lights purchased prior to this date had a GREEN light for the visible spectrum.

This light utilizes the Creepy Hollow mounting system designed and manufactured right here at GhostStop. It was developed to allow for quickly and easily attaching camera accessories to either a hot shoe or tripod mount with a strong grip.





MADE IN THE USA from domestic and imported material.
This product is made right here at GhostStop.



We recommend the accessory bracket as seen to the right for easier portability and mounting of this light to your camcorder or camera.

**Note** Four of the LED lights on this unit are infrared only which emit no visible light. You will not see them light up with the naked eye. Though this light can be helpful for all cameras, it is most power when used in conjunction with a full spectrum camera. Distance varies by camera and settings.
Over 60 foot distance (depending on camera specs) Long lasting - over 6 hours on a single battery Hotshoe and Tripod mountable 6 triple high power LEDs (4 infrared, 1 ultraviolet and 1 visible red) Exposed rear battery compartment for quick and easy battery swaps
Requires 1x 9v battery (not included)
Weight: 2oz (no battery)
Size: h 3.25" x w 1.75" x d 2"
Directions
1. Plug a 9 volt battery into the back of the light using the lower clip to hold it in place
2. Turn the light on and shine in the same direction that the camera is facing.

NOTE: Do not use rechargeable or Lithium batteries with this device. These batteries have some built in voltage regulation which may cause flashlight effects dim light. This is not a malfunction of the light but a function of a draining battery trying to keep up with the light.


17 Reviews
Great Light Until The Battery Needs To Be Changed

I own two of these lights and they do a great job in conjunction with my full spectrum camera. The only issue is that my oldest light (bought them in early 2023 a month or two apart) needs the battery changed. Three of us have attempted multiple times and cannot remove the battery. With a number of investigations coming up, this makes me contemplate moving to a different light setup.

DUAL IR & FULL SPECTRUM LIGHT

Great little light for in doors the IR is great for small areas and does cause some what of a circle in the picture but works well. if you want a bright IR light i would get a Phasm Light. was able to see them in action on a investigation and would highly recommend a Phasm Light if doing outside investigations 2 for large areas. Ghost stop ships fast and very friendly.... A++++ all around.

Great IR & full spectrum Light

To be honest, not being quite as tech savvy just yet I didn't quite understand it at first but after working with it a little now I'm good to go.

A great IR lighting unit made by Ghost Stop. I have this on my Full Spectrum/Night vision cam. Really lights things up. Another great value !

Great IR full spectrum light

This is great for my full spectrum camrea. Amazing how far this little light allows you to see in complete darkness. Great buy.

a must have for full spectrum cameras

I just got this awesome light. It is powerfully bright with good range and lightweight. A must have for any full spectrum rig. thanks ghoststop! keep up the good work!

The full spectrum light we got from GhostStop is great. It never fails to work and doesn't fade out through the investigation like our other fs light we got from another store. GhostStops prices and shipping are reasonable and affordable. We always get out orders fairly fast. Thanks GS for standing by your products.

Love the light this little thing puts out. Very much worth getting

I have used this on several investigations. I like the fact that it runs on a 9-volt. I had been using a rechargeable light that only ran for 30 to 45 min. The lights are really bright and great for lighting up a whole room. I'll be getting one or two more for my other cameras.

I have had the chance to use this on several events now. Once during a test run at a ghost tour place here in Seattle, followed by 2 investigations. The 4 IR LED's are bright in smaller rooms, but adds distance for larger rooms. This lights works well with the IR Wide Angle

I will start off by saying that I am a professional videographer by trade so shooting good video is part of my nature as a paranormal investigator. I have used a plethora of IR lights, including PhatomLite IR Flood Pro, PhantomLite Flare among others. I recently purchased the CreepyHollow Full Spectrum light and I was blown away! The IR is more powerful than any of the other lights I've used. The full spectrum is amazing too! I really like the ability independently toggle between lighting modes, very convenient! Will be buying more! Keep up the great work!

Dual IR/Fullspectrum lights

WOW!!! best lights I have ever used. Makes the video so much clearer than any of the other lights I have. So glad I bought 2... I May be back for more...

This light makes any night vision camera a 100 times better. I highly recommend purchasing.

Full Spectrum & Infrared Dual Switching Light

I absolutely LOVE the full spectrum & Dual switch light, works fantastic, I highly recommend purchasing the full spectrum light. Thank you ghost shop. A+++

I received one of these for an xmas present from my wife this year along with a full spectrum camera(bought elsewhere). These lights are awesome. I will admit the do feel a bit cheap being made out of a plastic box and having a plastic mount but the really do the job. 1 light will literally flood the room with IR light or full spec. This light works so well that I came back and bought a 2nd one to go on my dual shoe mount for my cam. Now I have twice the power!

Dual IR & full spectrum creepy hollow

I just purchased the dual IR & full Spectrum light.First off I wanna say I had a Sima IR light and there is no comparison the Creepy Hollow blew it away!!!!The battery life is amazing especially compared to the 1 to 2 hour you get with the sima.The 4 IR lights alone on the dual get better distance and a wider range.The full spectrum really impressed me and it's great to have the option to switch on and off when needed. Ps I am using the Bell+Howell Dual IR full spectrum camera...GREAT PRODUCTS AND CUSTOMER SERVICE!!!

This little compact light packs a very power punch for it's size, and does an awesome job! It's only been tested in-house upon arrival, but out performs most other lights I have. The IR is bright & clear in the total darkness when used with my modified IR camera, and UV & visible light are bright on it's own. Combined, you can see a lot more than any other light out there. What I really love though is it's size! Who said bigger is better? ;)