Posted by Shawn Porter on Aug 10th 2023
by GhostStop owner, Shawn Porter
In my eyes, there is one special character who has made GhostStop stand out from the rest. As GhostStop's owner, you might think it's me. But I believe there is one even more important—the lovable and unforgettable mascot, Gus. And he is no ordinary character.
Gus the GhostStop Mascot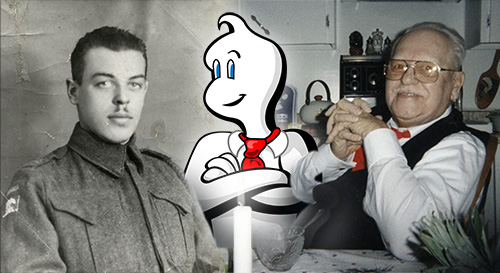 You may have noticed Gus here and there. Okay, everywhere. Gus is our ghostly mascot whom we hold near and dear to our hearts. And he is no ordinary spirit.
Gus' character was carefully crafted many years ago to mirror the remarkable life of my grandfather, Gaston, affectionately known as Gus to many. My Pepere, a french term grandfather as we called him affectionately, had lived a life that was nothing short of extraordinary. He served his country as a valiant soldier during World War II, enduring the trials and tribulations of being a prisoner of war. But even in the face of adversity, he never lost his spirit, his sense of humor, or his passion for creating and telling stories accented with belly-grasping laughter.
A Positive Light Amidst Darkness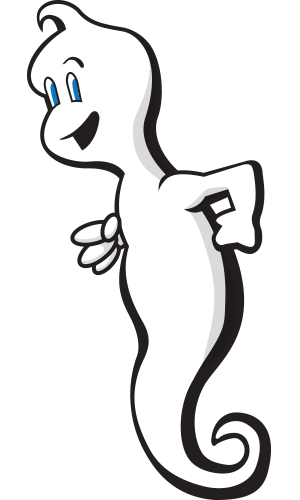 In a time when the paranormal field was primarily represented by dark visuals, I wanted our mascot to represent a smiling, positive driver for the field. Our mascot, Gus is presented as a white ghost with a perpetually smiling face, shimmering blue eyes that mirrors those of his real-life inspiration. Gus' wisps atop his head mimic that of Gaston's snow-white hair that seem to dance in the wind when not contained by a flat cap. Gus embodies a sense of wonder and whimsy.
His form is that of a carefree specter, forever floating with an air of boundless freedom, a visual representation of soaring up and over barriers as my grandfather often did. But it is his distinctive features that truly set him apart, each one a loving homage to Gaston. Gus' joyful smile echoes Gaston's gleeful grin, while his wispy hair captures the essence of the man's free-spirited nature. The round belly that radiates with laughter is a direct tribute to Gaston's ability to find joy in every moment. When he laughed, the whole room heard it!
A Symbol of Boundless Freedom
After the war and some time as a Prisoner of War, Gaston returned home forever wounded. Yet he looked forward embarking on a new chapter of his life. He retired as a dutiful customs officer while maintaining his trademark wit and charm. And his accomplishments didn't stop there. Gaston was a true Renaissance man—he was a maker of things, skillful fisherman, crafted intricate leather that seemed to come to life under his skilled hands. He had a handsome singing voice and carried himself about his day with a joyful whistle. His jokes would light up any room, and his stories transported listeners to far-off lands and whimsical adventures. Even a disability resulting from his time as a POW couldn't deter Gaston. He raised a loving family, and became a beloved and highly respected pillar of his community.
Perhaps the most poignant representation is the image of Gus floating gracefully through the air is a symbolic nod to Gaston's freedom from the bed and wheelchairs that confined him for so many years, a touching reminder of his triumphant manner of looking beyond the confines of those tethers. Just as Gaston had overcome his physical limitations with unwavering determination, Gus soars above all limitations, embodying the spirit of his real-life counterpart in every way imaginable.
A Creator and Respected Force
Gaston's unwavering commitment to ethics, truth-telling, and boundless passion for creating things became an inspiration to everyone who had the privilege of knowing him. As the years rolled on, Gaston's curiosity led him to a new realm of exploration—computer science. At the remarkable age of 80, he earned a certificate in computer science, proving that one's thirst for knowledge knows no age limits. His indomitable spirit shone brightly, illuminating the path for generations to come.
Gus, the mascot of GhostStop, is a tribute to Gaston's legacy. His jovial face graces our storefront, our website, and every corner where GhostStop is represented. The story of Gaston's remarkable life, his unbreakable spirit, and his passion for making things serves as a guiding light for our mission every day. Visitors to GhostStop are always under his dutiful watch, whether they know it or not.
The Spirit of Exploration
GhostStop isn't just about ghost hunting tools and equipment; it is a place where the spirit of exploration, creativity, and camaraderie flourish—a place where people can embrace curiosity, just as my grandfather had done throughout his life.
As the proud owner of GhostStop, I feel a profound sense of gratitude for the legacy my grandfather left behind. He understood and carried out the guiding principles of ethics, truth-telling, and the pursuit of passion. This is the driving force behind every endeavor at GhostStop. Just as Gaston had set out to pursue knowledge with no bounds, I set out to craft an environment where people can explore the unknown and discover the extraordinary in every ordinary day.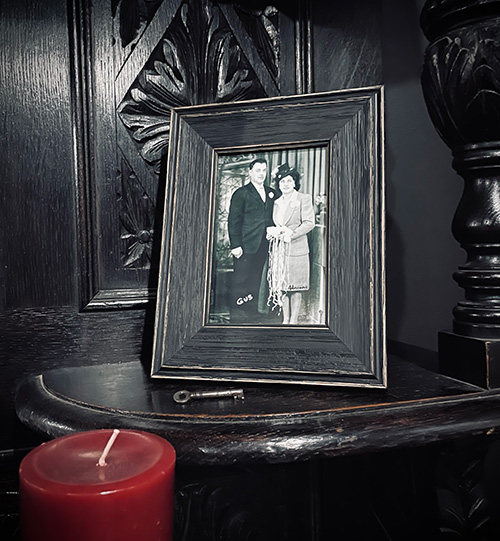 And so, the story of Gus, the GhostStop mascot, is a timeless reminder of the indomitable human spirit, the power of family, and the importance of holding onto one's values in the face of adversity. Whenever someone walks through the doors of GhostStop or browses our website, they will always be greeted not only by the tools of the trade but by the enduring legacy of a man who had lived life to the fullest, embracing every challenge with a smile and a joke, just as Gus would have done.
Come Say Hi to Gus and Gaston
Today, you will find Gus everywhere GhostStop is represented. Beyond that, you might also find a photo of Gaston and wife Adrienne gracing our shop. Come say hi, tell him a joke and see what laughs may come.