Posted by GhostStop on Dec 14th 2021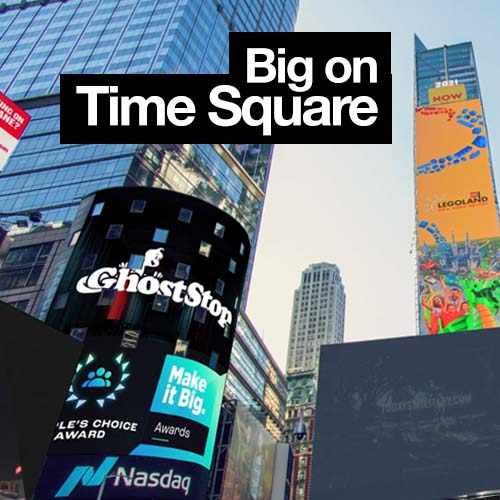 Back in October, we shared that GhostStop was nominated for a prominent small business award called the Make it Big Awards. This prominent award highlights online retailers that demonstrate exceptional innovation and achievement. Participants are evaluated by a panel of respected business leaders looking for strides in innovation, brand strength, creative use of technology and support of their community. Of five categories, one of those is People's Choice where judges nominate a few deserving organizations then leave it for public vote.
GhostStop was selected as one of a nine People's Choice nominations. Public voting went live October 20-24, 2021.
Then guess what happened?
We won!
We are proud and honored to announce that WE WON the Make it Big Awards in the People's Choice category!
GhostStop stood out among many worthy businesses whose work spans all industries selected by prominent global business leaders then ultimately chosen by public voting. We are honored to be the ones to help shine a light on the paranormal research industry amongst a mainstream spectrum of businesses and projects. "First, being selected by the board is an incredible honor. Beyond that, having the support of our community and all of those who voted for us as the People's Choice makes it incredibly meaningful" says Shawn Porter, owner of GhostStop.
While the panel selection board's focus was on business strides and innovations, the goal of the People's Choice award was set on recognizing fan favorite ecommerce brands, as voted by the public. Beyond this, the judges note being impressed by GhostStop's approach to aid our healthcare community and first responders during the COVID-19 pandemic.
Judge Highlights: "GhostStop pivoted its business model to support communities impacted by COVID, creating and donating face shields and masks for first responders."
Time Square Billboard Spotlight
One of the prizes associated with this win is a billboard on the bustling Time Square in New York City. "As a billboard designer early in my career, a common goal is to one day have a board in Time Square. I am proud to say this has come to fruition in a wonderfully meaningful way for me, my business and our industry." Shawn notes with emotion.
We are proud to see our logo shining brightly for the world to see. More importantly, we feel it stands as a representation of how massively our field has evolved from the shadows.
Shawn humbly credits his team's passion and effort, "Each day I feel appreciation for the work my crew continues to achieve and their willingness to evolve - never standing on status quo as the solution and always looking ahead to that next step beyond."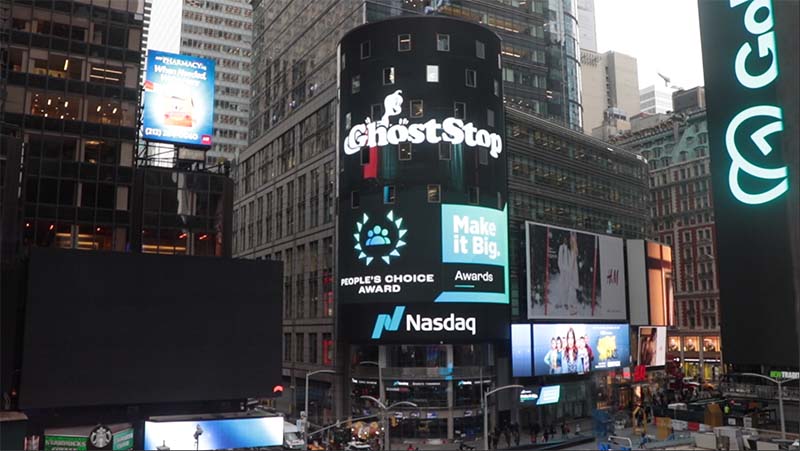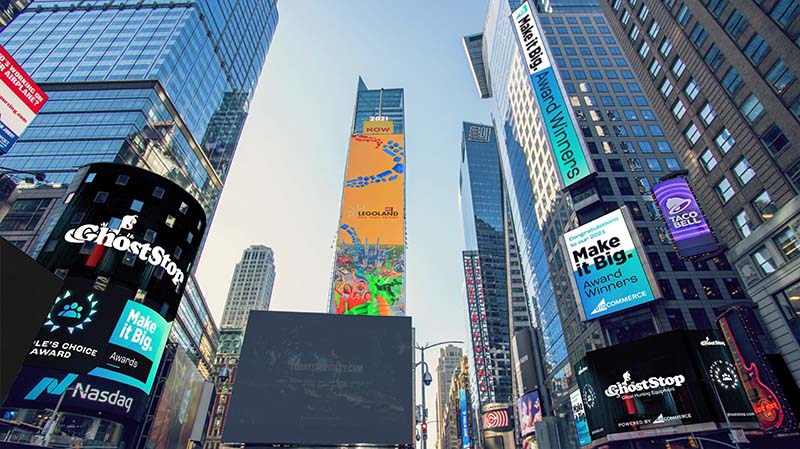 Of course, this would never have been possible without your support. We are driven by passion in what we do. That passion stems from your support and cheering us on for almost 15 years. Your votes helped us win and we see this win as one we share with you, our customers, supporters and friends - our para family.
We are we because of you.
We are GhostStop.
Learn more:
Make it Big Awards is a property of BigCommerce Pty. Ltd. Third-party creative, trademarks and service marks mentioned or seen in the photos and videos shown above are the property of their respective owners.