Laser Grid GS1

Map a room and see changes with laser precision.
Imagine being able to map out everything you wanted to know about the physical aspects of a ghost or any anomaly that passes in front of you. Well now you can! The GS1 Laser Grid system help to visualize anomalies as they occur in a room on an investigation. This can help in determining speed, dimensions and even help us make a 3D model of the entity. While dots used by other products are helpful in determining visual disturbances, a lined grid is considerably more helpful in measuring more precisely.
Updated Laser Design

(as of 9/19)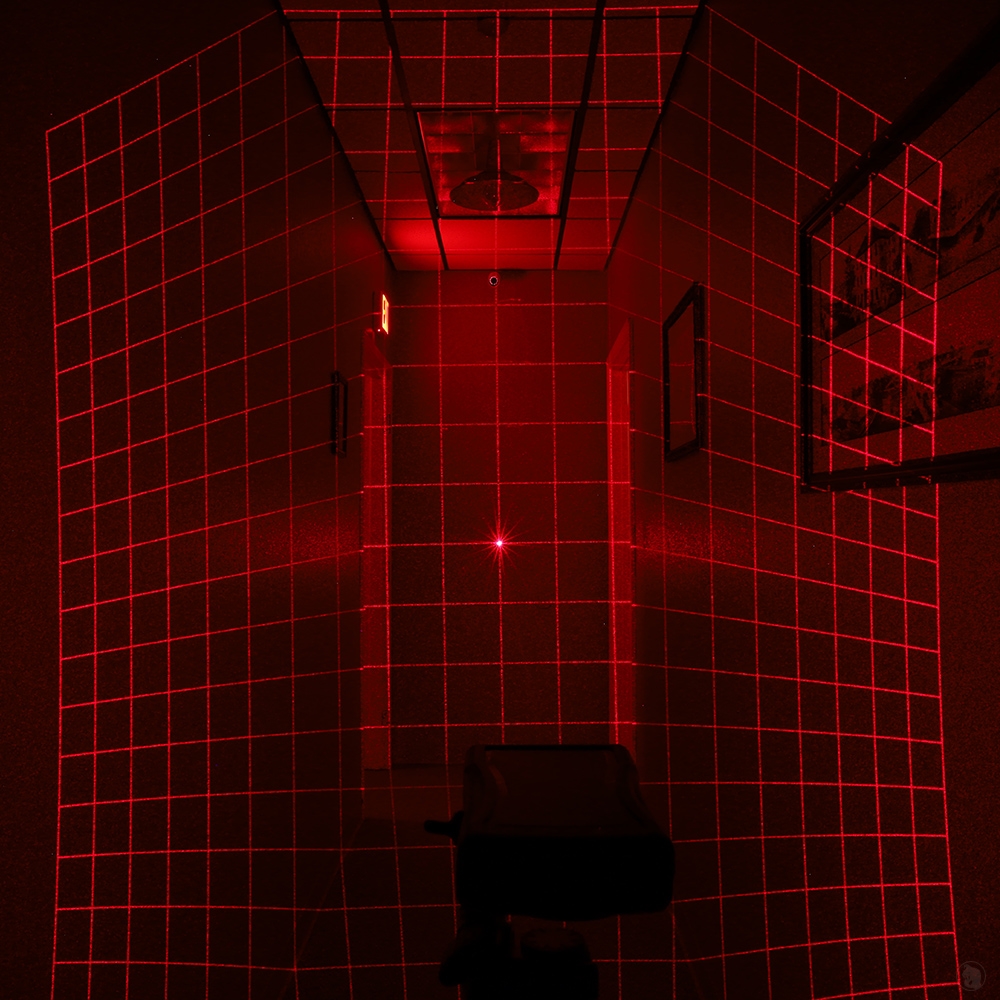 All new laser design for better overall look and performance
Increased brightness, sharpness and uniformity of the laser lines
Center point for alignment
Uniform grid lines form a 20x20 grid
Same compact size enclosure and batteries as original model
FREE Protective Boot (for a limited time)
Features
Easily identify motion and characteristics of a visual disturbances even in the dark
Helps visually determine dimensions, shape, speed and 3-dimensional mass of an object within the field
Tripod mount on bottom of unit for easy directional placement (tripod not included)
Red laser grid lines for optimal night vision preservation
Easy toggle On/Off switch, even in the dark

Just place the laser grid in an area projecting onto a solid surface. For best results, set it next to a video camera. Any anomaly with significant enough mass that passes in front of the laser will cause a visual disturbance in the pattern. With enough mass, the anomaly will reflect back a different pattern, bowing the lines along the surface of the anomaly. This reflected surface pattern will allow you to map out the anomaly in 3 dimensions - something never before done in the paranormal field. This unit includes an on/off toggle switch and a tripod mount for setting on any standard tripod.




MADE IN THE USA from domestic and imported material.
This product is made right here at GhostStop.

PATENT PENDING. This product is intended for research purposes only.



International Orders
Sorry, we are unable to ship this item outside of the United States at this time.
Dimensions: 3.24" x 4.5" x 1" Power Supply: 2 AA Batteries (not included) Battery Life: Runs with optimal brightness for 3-4 hours but is still visible for over 6 hours on 2 AA Batteries Adjust the spread however you want by setting your own distance from the subject with a 1'/1.5' ratio. This means roughly 1' distance from the subject results in ~1.5' grid width, 5' distance results in ~7.5' grid width and 10' distance results in ~15' grid width. See product label for WARNINGS. This product is intended for research purposes only as a projector in a large area indoors and is not intended to be used as a pointing device. This is not a toy. Do not stare at the laser beam. Avoid eye exposure. Never aim lasers into the air or at aircraft. Class III laser product.
10 Reviews
I bought this to supplement the pen laser. Love how it wraps around a room and corners. As usual, ghost stop knocks it out of the park. Customer service is great. Bob is a huge resource of information and products ship so quickly. Thank you.

One of the best lasers out there. Have not used it officially on a ghost hunt yet. but I tried it out and it does exactly what the description says. My cats walked in front of the grid and it was blocked out immediately, the given area.

The GS1 Laser Grid will have expanded functionality with practical field use, beyond the establishment of a visible baseline for detecting movement and determination of shape. This unit is rugged, provides a consistently strong grid pattern for comparison & contrast and is reasonably priced from GhostStop.

This is a great device for helping to identify the size/mass of possible entities. I highly recommend. Fast shipping and great communication.

Love THIS piece! Love the ease of mounting! Love the lightweight of it! Love the simplicity of it all! Love having this in my arsenal as well as looking forward to adding more of these with some 360 laser grids!!!

my gs1, headphones. zoom recorder

I placed my first order with ghost stop and was pleased with how fast the items got to me. They were safely packaged with care, not a broken piece to be found. I have tried out the laser grid and headphones and they work awesome! I am very pleased with the customer service of Ghost Stop and already got a wish list going of gear I want to add to my kit.

I bought the laser grid gs1 over a year ago and have never had a problem! I use it for investigations and will recommend this product to anyone!

Love using this device indoors with our cameras.

we use this for our fun ghost hunts in our local park (outside in a forest) that we do as fundraisers and when we turn this on, people actually gasp! Cool effects! Laser Grid

Its great in doors. Covers most of an area,. wish there was a bigger one that runs on SC.