Laser Grid GS1

Map a room and see changes with laser precision.
Imagine being able to map out everything you wanted to know about the physical aspects of a ghost, or any anomaly that passes in front of you. Well now you can!
The GS1 Laser Grid system from GhostStop enables you to visualize anomalies as they occur in a room during a paranormal investigation. This empowers you to determine speed and dimensions, and it can even help you to make a 3D model of the entity.
The dots that are used by other products can be helpful in determining visual disturbances. However, a lined grid is considerably more advantageous in providing precise measurements.
A Laser Grid Projector with an Advanced Design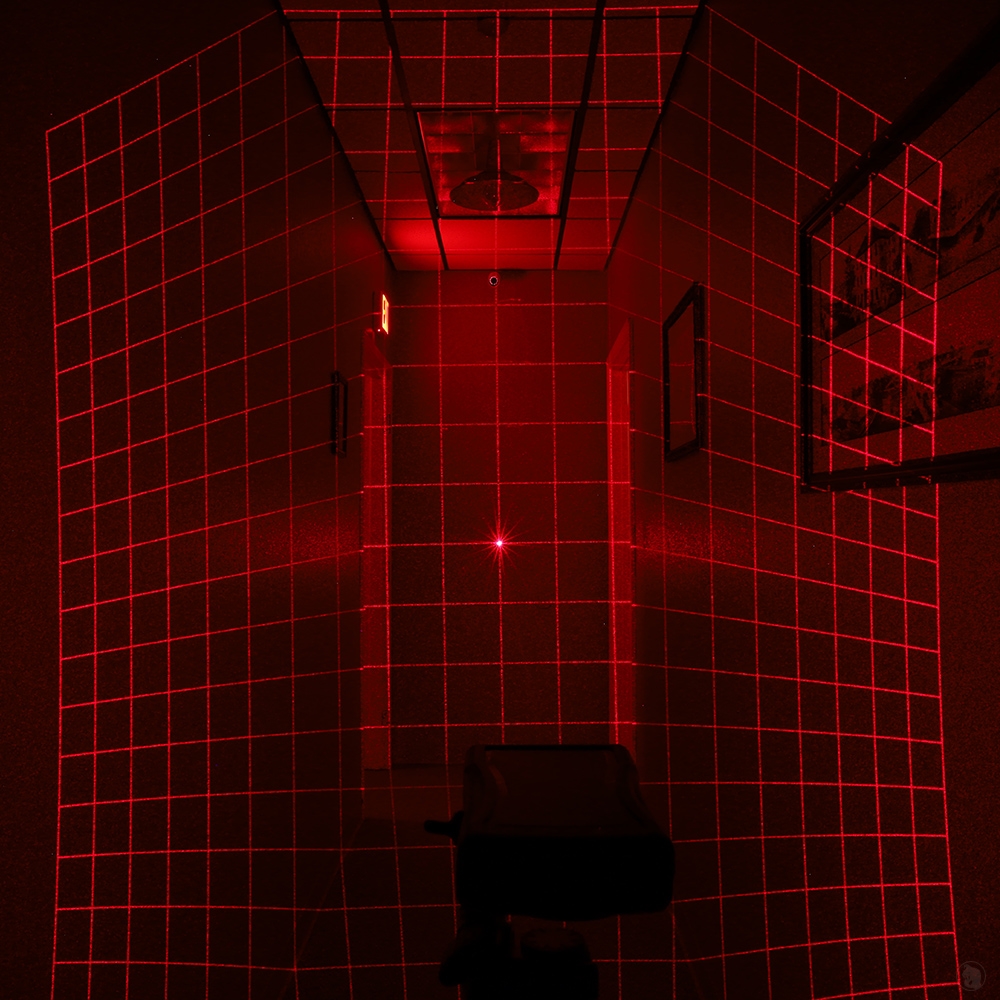 The advanced laser design boasts an improved aesthetic and optimized performance.
Uniform grid lines form a 20×20 grid:

The laser lines are brighter, sharper, and more uniform than other grid pattern projectors.
A brilliant central dot simplifies alignment.

With its familiar, compact enclosure and reliable batteries, this laser grid system is rugged, dependable, and enduring.
Includes a FREE Protective Boot while supplies last.
Benefits & Features of the GS1 Red Laser Grid System
Dimensions:

Length: 4.5 inches
Width: 3.24 inches
Depth: 1 inch

Power Supply: Two (2) AA Batteries

Please note that the batteries are not included.

Battery Life:

3 – 4 hours at optimal brightness
6+ hours of visibility
The GS1 empowers you to more easily visually identify motion and characteristics of an observable disturbance, even in the dark. You can often determine dimensions, shape, speed, and the 3-dimensional mass of an object within the field.
Even better, ghost hunters often need to free up their hands. An optional tripod offers easy directional placement of this ghost hunting equipment, enabling you to operate other ghost hunting tools.
The red color of the laser grid lines is designed to preserve your night vision, which paranormal investigators rely upon when white light is inappropriate or unavailable. Either way, this paranormal investigation tool is easy to operate — the oversized On/Off toggle makes it easy to find the power switch, even when you can't see.
How Does a Grid-Pattern Laser Projector Work?
Any anomaly can cause a visual disturbance in the pattern when it passes in front of the laser.
With significant mass, the anomaly reflects back a different pattern by bowing the lines along the surface of the anomaly.
This reflected surface pattern allows you to map out the anomaly in 3 dimensions — something never before done in the paranormal field.
Deploying Your Grid Pattern Projector
Just place the laser grid in any area, projecting the lines onto a solid surface. For best results, set it next to a ghost hunting video camera to ensure you capture any visual anomalies.
Adjust the spread however you want by setting your own distance from the subject with a ratio of 1 foot to 1½ feet (1':1.5'). This means that, roughly, there is:
1' distance from the subject = grid width of ~1.5′
5' distance from the subject = grid width of ~7.5′
10′ distance from the subject = grid width of ~15′
See Product Label for Warnings
This product is intended for research purposes only. It is not intended to be used as a pointing device, only as a projector in a large, indoor area.
Remember:
This is a Class III laser product, not a toy.
Do not stare at the laser beam.
Avoid eye exposure.
Never aim lasers into the air or at aircraft.
Locate Anomalies with a Laser Grid System from GhostStop
Locate, track, and capture visual anomalies with the GS1 Laser Grid Projector from GhostStop. For help finding the best ghost hunting equipment for your next paranormal investigation, reach out to our team today.

MADE IN THE USA from domestic and imported material.
This product is made right here at GhostStop.

PATENT PENDING. This product is intended for research purposes only.



International Orders
Sorry, we are unable to ship this item outside of the United States at this time.
Dimensions: 3.24" x 4.5" x 1" Power Supply: 2 AA Batteries (not included) Battery Life: Runs with optimal brightness for 3-4 hours but is still visible for over 6 hours on 2 AA Batteries Adjust the spread however you want by setting your own distance from the subject with a 1'/1.5' ratio. This means roughly 1' distance from the subject results in ~1.5' grid width, 5' distance results in ~7.5' grid width and 10' distance results in ~15' grid width. See product label for WARNINGS. This product is intended for research purposes only as a projector in a large area indoors and is not intended to be used as a pointing device. This is not a toy. Do not stare at the laser beam. Avoid eye exposure. Never aim lasers into the air or at aircraft. Class III laser product.
14 Reviews
The laser grid is brilliant and thorough in low light conditions and exceeded my expectations

good value for the price

A Great and Simple Laser Grid

I bought it last May but never used it until last week when I went on an investigation. The build quality is very good and solid. The laser is bright enough for the camera to see well. It's ideal for small rooms or hallways. Also, you can mount it on the tripod or the camera that has a hotshoe mount, so it's really great. I just wish it's rechargeable, instead of using the AA batteries, so I could keep it on all night.

Awesome piece of paranormal equipment, best deal and even better performance.

It will work great in our studio helping to align our stop motion and other videos. But would like a remote on and Off switch as it is mounted overhead.

I bought this to supplement the pen laser. Love how it wraps around a room and corners. As usual, ghost stop knocks it out of the park. Customer service is great. Bob is a huge resource of information and products ship so quickly. Thank you.

One of the best lasers out there. Have not used it officially on a ghost hunt yet. but I tried it out and it does exactly what the description says. My cats walked in front of the grid and it was blocked out immediately, the given area.

The GS1 Laser Grid will have expanded functionality with practical field use, beyond the establishment of a visible baseline for detecting movement and determination of shape. This unit is rugged, provides a consistently strong grid pattern for comparison & contrast and is reasonably priced from GhostStop.

This is a great device for helping to identify the size/mass of possible entities. I highly recommend. Fast shipping and great communication.

Love THIS piece! Love the ease of mounting! Love the lightweight of it! Love the simplicity of it all! Love having this in my arsenal as well as looking forward to adding more of these with some 360 laser grids!!!

my gs1, headphones. zoom recorder

I placed my first order with ghost stop and was pleased with how fast the items got to me. They were safely packaged with care, not a broken piece to be found. I have tried out the laser grid and headphones and they work awesome! I am very pleased with the customer service of Ghost Stop and already got a wish list going of gear I want to add to my kit.

I bought the laser grid gs1 over a year ago and have never had a problem! I use it for investigations and will recommend this product to anyone!

Love using this device indoors with our cameras.

we use this for our fun ghost hunts in our local park (outside in a forest) that we do as fundraisers and when we turn this on, people actually gasp! Cool effects! Laser Grid

Its great in doors. Covers most of an area,. wish there was a bigger one that runs on SC.