Laser Grid & Tripod Mount Package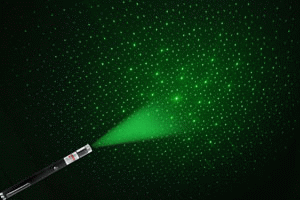 Package deal comes with:
Laser Grid
Laser mounting head with tripod mount
Flexible tripod
This laser emits a grid of green dots useful for detecting shadows or general visual disturbances during an investigation. Set it in front of a running camera to catch potential evidence.

You can adjust the size and shape of the stars by turning the adjustable lens. Detach the lens and it will function as a high powered laser pointer.

The mount head attaches to the top of the included tripod (or you can use your own). Just slide the laser into the mount head, turn to keep the laser on (without any additional clamps) and go! This comes with a mini, collapsible tripod with pan and tilt head for flexibility in pointing the laser in any direction you may need.
Laser Dimension: 14 x 160mm Tripod Dimensions: 2"x9.5" (fully extended) Wavelength: 532nm Power supply: 2 AAA Batteries (not included) NEW On/Off Slide Clamp Sold Separately (add it to your cart via the 'Accessory' list above)
19 Reviews
This is probably one of my husbands most favorite products! Not only is it a wonderful tool to add in your paranormal kit but it is also a fantastic way to turn your room into a galaxy filled with endless stars. It looks stunning when you do this! Even our adult daughter thinks it's beautiful!

Very awesome product! Me and my wife can't wait to use it on our next ghost exploration! Will be getting more equipment from ghost stop for sure!

Awesome works great! Can't wait to use on our next hunt.

This is perfect. The 3d printed mount that attaches to the mini tripod has a nice slot on it to hold the button down on the laser pen. Much nicer than others I have seen that are just a piece of PVC with a thread hit glued into it.

Laser Grid And Tripod Package

This item is fantastic. Had results on second night investigating. Saw something pass through the laser grid.

Great grid! Excellent coverage and battery lasts a long time.

So much fun to work with, the evidence you can collect with this is awesome

LASER GRID AND TRIPOD PACKAGE

Very cool, could be a little more sturdy but works as it should!

Laser Grid and Tripod PACKAGE

This is a must have if doing investigations on bridges or in rooms use it with a cam and catch what you miss when doing other investigations in the area. Works great its bright and comes with a great little tripod. Thanks GhostStop for your friendly service and advice and your fast shipping. Erik

A couple of weeks ago i ordered this and i love it. Time to order more stuff from this website

I have used this laser grid and tripod on multiple investigations now, and it has done quite well. I really like the fact that you can adjust the laser grid to allow it to cover more or less area depending on where you are using it. Definitely one of our go to pieces to use.

I purchased this prior to going on a ghost hunt and it was a great piece to have in my bag. Highly recommend it, especially for indoor investigations

This laser with the gorilla type tripod works really well. It slips into the ring when mounted so the light stays on when you need it to. Be wary of edges softening when it is time to change the batteries, and you'll be okay.

Laser Grid Mounting package

This product is amazing, another must have for investigation. Worth every dollar. Thank you ghost shop. A+++

I really like the laser grid and tripod, my only complaint is that the case has two slots where it appears the batteries go, but there were no batteries. I received this as a gift, so I can't complain too much lol. All in all, a great deal for the pair.

The laser itself is great. Nice and bright and lasts for hours on two "AAA" batteries. Be careful with the mini tripod though. On another note, Ghoststop's customer service is always outstanding!

This little thing is freaking cool, it is super bright even in daylight. Def worth getting the on off clamp and tripod. can't wait to find something with this

This was my first order with the folks at GhostStop and though my product was placed on back order it came exactly as Shawn said it would. The device is far more compact than I expected but that is actually a really good thing! I can't wait to try this out on a site visit!!! The customer service has ABSOLUTELY won me over and I can gladly recommend this company to the rest of my group and anyone else for that matter! Thanks Shawn!

Laser Grid Scope with tripod

This is the second laser grid for me. The first one I got was faulty. I sent Shawn and email and then talked to him on the phone. He was awesome!! He sent me a brand new scope that works wonderful and I can't wait to use it on a real investigation! Thank you so much Shawn. Ghost Stop has earned my business for life!!