K2 EMF Meter with On/Off Switch

This K2 meter is a popular, easy-to-use tool to detect spikes in electro magnetic energy. These spikes indicated by the multi-colors lights at the top of the meter may signify activity or communication from spirits from the other side.

This NEW model has the same great, easy to use and quick function of the past model with a great new look in black. This model also has the toggle on/off button, so you no longer have to hold the button down to keep it on like past models.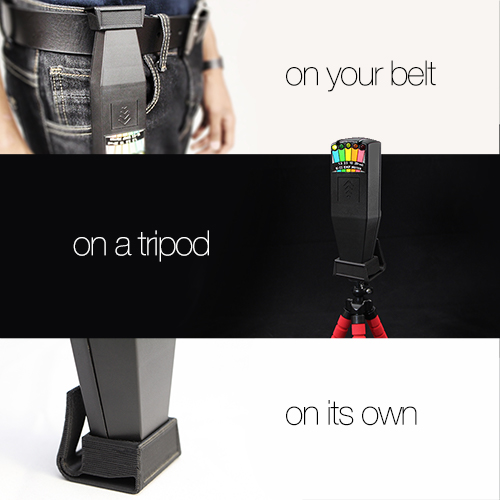 NEW K2 Stand Clip
(add-on accessory)

Our new K2 accessory allows the K2 to stand up properly, hook to a belt or attach to a tripod. To add this to your K2 meter order just check the box above the 'Add to Cart' button.

more info




Push Tab to Turn "On" Push Tab to Turn "Off" Easy to read Multi-Segment LED Display Detects the ELF range (50 to 1,000Hz) & VLF range (1,000 to 20,000Hz) Five level milliGauss ranges 50 & 60 Hz operation 9Vdc Operation Single Axis Accuracy of ±5% at 50-60Hz Instantaneous Response To EMF Fluctuations & Spikes
1) Turn the K2 Meter on by pressing the button on the front of the device.
2) Holding the device in your hand, point it toward the EMF source. The LED will indicate the range of the EMF at that level.
3) Moving the device from side to side or rotating it may change the reading. The highest reading is the most accurate.
4) Move closer or further away to the EMF source to determine the "Normal" zone, as indicated by the Green LED.
18 Reviews
A Must have in your ghost hunting kit or a few of them. Don't be fooled by the ones not made in the USA. The cheap ones that say k2 are junk (they are not real K2). Thanks Ghost Stop for your fast shipping and friendly service you have a customer for life. A++++ product and a must have..

Very nice can't wait too use this tonight on my investigation

Any investigator regardless of experience should be carrying one of these.

Can't do in an investigation without an EMF meter and GhostStop is the best place to get one.

A must have for any investigator

Great piece of equipment to have in any paranormal investigation. I have had it light up on command during an investigation.

had this about 7 years now still works like the day I got it never have had any problem with any product iv bought from here

Amazing piece of equipment, definitely a need for any paranormal lover! It's very unique and does everything you expect it to but better. Incredible buy. I love it!

Great unit for using to get baselines and checking for anomalies. A staple for any kit.