K2 EMF Meter with On/Off Switch

This K2 meter is a popular, easy-to-use tool to detect spikes in electro magnetic energy. These spikes indicated by the multi-colors lights at the top of the meter may signify activity or communication from spirits from the other side.

This NEW model has the same great, easy to use and quick function of the past model with a great new look in black. This model also has the toggle on/off button, so you no longer have to hold the button down to keep it on like past models.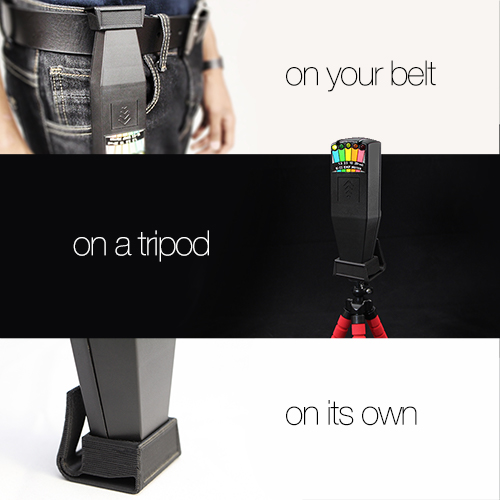 NEW K2 Stand Clip
(add-on accessory)

Our new K2 accessory allows the K2 to stand up properly, hook to a belt or attach to a tripod. To add this to your K2 meter order just check the box above the 'Add to Cart' button.

more info




Push Tab to Turn "On" Push Tab to Turn "Off" Easy to read Multi-Segment LED Display Detects the ELF range (50 to 1,000Hz) & VLF range (1,000 to 20,000Hz) Five level milliGauss ranges 50 & 60 Hz operation 9Vdc Operation Single Axis Accuracy of ±5% at 50-60Hz Instantaneous Response To EMF Fluctuations & Spikes
1) Turn the K2 Meter on by pressing the button on the front of the device.
2) Holding the device in your hand, point it toward the EMF source. The LED will indicate the range of the EMF at that level.
3) Moving the device from side to side or rotating it may change the reading. The highest reading is the most accurate.
4) Move closer or further away to the EMF source to determine the "Normal" zone, as indicated by the Green LED.
20 Reviews
This K-II EMF Meter is the good old classic! If you already have equipment that makes noises and sounds (like the Mel Meter and the Spirit Box), you might want this 'basic' version instead of the one with sound, so that the room is quieter. This K-II is the legit version. It feels sturdy and this is an essential addition to any paranormal investigation kit!

Had been looking for one of these for a while. Glad to finally have one and that it's helped.

A Must have in your ghost hunting kit or a few of them. Don't be fooled by the ones not made in the USA. The cheap ones that say k2 are junk (they are not real K2). Thanks Ghost Stop for your fast shipping and friendly service you have a customer for life. A++++ product and a must have..

Very nice can't wait too use this tonight on my investigation

Any investigator regardless of experience should be carrying one of these.

Can't do in an investigation without an EMF meter and GhostStop is the best place to get one.

A must have for any investigator

Great piece of equipment to have in any paranormal investigation. I have had it light up on command during an investigation.

had this about 7 years now still works like the day I got it never have had any problem with any product iv bought from here

Amazing piece of equipment, definitely a need for any paranormal lover! It's very unique and does everything you expect it to but better. Incredible buy. I love it!

Great unit for using to get baselines and checking for anomalies. A staple for any kit.

I bought one for my husband and myself and we love it. It works great and gives very accurate EMF readings!

This is a good K2 meter. Does its job and has never failed me in any investigation. Good buy for the money.

This is a nice little meter, don't expect exact readings with this but I have been able to communicate with the spirits in my home with this meter, the best way is to ask yes or no questions. If your new like me than this in my opinion should be one of the first things you get because of how stupidly simple it is. press the button and it's on, press the button and it's off, that's all there is to it and the battery is already installed when you order it :-)

WE BOUGHT THIS K2 METER BECAUSE OF THE GREAT REVIEWS, WE WERENT DISSAPOINTED. IT WORKED WONDERFUL. WE WENT GHOST HUNTING IN SCRANTON PA, AND GETTSBURG PA. WE GOT QUITE A NUMBER OF HITS. WOULD RECCOMEND THIS TO EVERYBODY, VERY EASY TO USE.... THANK YOU GHOST STOP!!!!

this thing works like a dream, plus it arrived at my door in like 3 days. THUMBS UP!!

I just recieved my k2 meter, this thing is awsome. i was testing it out around my home to et a fel for how the device works and i found that my microwave is putting out rediculous levels. now i am ready to go fine some ghost

This K2 is a Must Have Tool for the Job!

While trying to choose a proper EMF meter for my intended purpose, I came across the K2 in use on the latest "Paranormal/Ghost Hunting" (and increasingly more scientific) T.V. shows. It was clear to me that the advantage of having bright LED lights indicate an EMF spike while constantly monitoring in a dark environment would make the job much easier. My K2 arrived very quickly and I immediately unboxed the unit and tested the sensitivity around walls and home appliances (as suggested in the included literature) to get a "feel" for real world use. I was absolutely stunned at how quick and responsive my K2 is and feel that it is indeed the best choice I could have made. The unit will indicate an EMF spike almost instantly as I proved by powering up the microwave oven and and watching the K2 while pushing the power button on our cordless phone. I am simply elated with the quality and functionality of the K2! I CAN'T WAIT to use this in the field.

As seen on most Ghost Hunting shows. Great for locating high magnetic areas and getting Ghost interaction. Recommend

Ghost hunter enthusiast here and has helped debunk claims as I hoped so far. Also scanned my home and found a fan that emitted rediculous amounts of EMF. Love this product.