EDI+ Meter Data Logger

Environmental Detection Instrument + Graphing Data Logger

The EDI Meter is more than just an EMF meter. It's an all-in-one ghost hunting tool built for ghost hunting and paranormal investigators who want precision detection and data that can be thoroughly analyzed on a graph or spreadsheet log.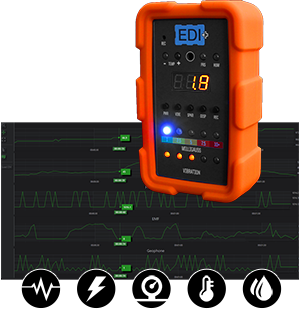 Just call me 'Eddy.'

The most feature-packed ghost hunting device just got better. The new EDI+ has additional sensors, alerts, display control and data logging that you can view on a timeline graph.


EMF meter with sound and dual readout

Data logger and graphing of ALL readings

Ambient temperature readout

Vibration sensor display

Pressure and humidity

Data Logging, Graphing and Marking
Seeing a reading spike during an investigation is helpful. But what if you could see every sampling of all environmental readings on one timeline? Now you can with the EDI+. This new features takes the readings of the EDI+ sensors and records them to an SD card which can be viewed later in a timeline graph or spreadsheet via an online app or downloadable Windows program. Now you can analyze all of the sensor data on a timeline including EMF, temperature, vibration, pressure and humidity.

Hit RECORD and go investigate.
With just one touch you can begin recording all of the environmental sensor data to an SD card. Just insert the SD card, hit record and go investigate.

Flag your timeline for special review.
During your investigation you can tell the EDI+ to mark a certain point in the data for special review. If something occurs during your investigation that you feel should be noted on the data, the EDI+ will flag the file for you to take note of later during review.

Review results on your computer.
The EDI+ data logger stores all investigation information on an SD card. Free online graphing application built just for the EDI+ which will graph the data over the investigation allowing you to analyze everything at any given time. Just insert the SD card into your computer via any SD card reader and load the data log into the online application. It's simple to use. The raw data can also be loaded in any data or spreadsheet application of your choice.

> LINK to the free online graphing app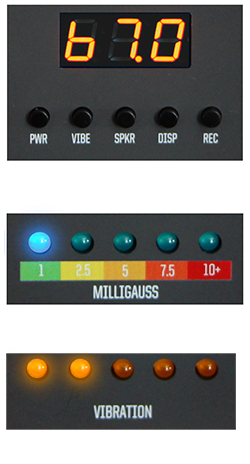 Multi-Use Display
The EDI+ utilizes a fast-response screen to display the exact readings from each sensor. With just a touch of a button you can switch the display to any one sensor readout. This way you can get an exact and quick readout of the EMF, thermometer, pressure or humidity.

EMF Meter with Sound
The EDI+ utilizes a highly sensitive Electromagnetic Field Sensor detecting even small changes in the electromagnetic field around the device. The display shows you an exact reading of the EMF strength in addition to a traditional lighted scale. You will also hear when spikes occur with an audible tone indicating EMF spikes. Theories within the ghost hunting field suggest that these spikes may signify activity or communication from spirits on the other side. Given that, the use of sensitive and reliable EMF detection during an investigation is important to document. The speaker can be turned on/off as you desire.

Ambient Thermometer
The EDI+ contains an ambient temperature sensor with a real-time digital display. In addition to the digital readout there are LED light indicators that light to alert you to spikes or drops in temperature. Blue when the temperature drops and orange/red when it gets warmer. The unit of measurement can be switched to display Fahrenheit or Celsius.
Vibration Sensor
The EDI contains a highly sensitive geophone for detecting vibration. A built-in accelerometer is programmed to pick up the slightest movement on the surface it is sitting on. Even a small touch on the table will set off the indicator panel. This features is very helpful on cases with reported footsteps, knocking and moving objects. Like a graph, the device will light up the amount of LEDs based on the intensity of the vibration or movement. This can be toggled on/off if the device is being used in a hand-held fashion.

Air Pressure
The EDI+ also detects changes in pressure. The readout will display the live readings.

Humidity
The EDI+ also detects humidity within the air around the unit. The readout will display the live readings.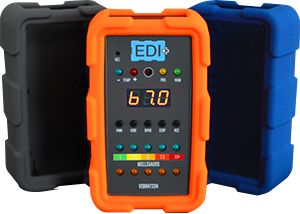 Built Tough!
The EDI is built strong from the inside out. With a hard shell case and protective, rugged rubber boot you can feel confident it will be well protected.



Theories within the ghost hunting field suggest that ghosts may have the ability to manipulate our environment. That may include energy changes, temperature, motion, pressure and more. As such, it is important for paranormal investigators to detect those changes with precision and review the results with accuracy and context. As such, 'Eddy' was born to ensure the integrity of that information and give investigators easy access to precise review of that data.




We are an official distributor of the EDI Meter by CenTex Paranormal. Your product comes with support and is protected by manufacturer warranty.




Size: 3.25"w x 5.6"h x 1.8"d (with boot)
Battery: 3 AA (batteries may or may not be included)
Audible alarm for EMF only
EMF
Low frequency detection down to 10 hz
Accurate milligaus readings from 0-11mg
Single axis
Indicator lights start dim response at approximately 1 milligauss and light sequentially at various strengths up to 11mg
Speaker responds at approximately 3 milligauss
VIBRATION SENSOR
3 Axis Accelerometer with high pass filtered output to measures changes in acceleration in the +- 2G range
Five indicator LEDs will set off in increasing intensity between 0.0244G - 0.122G.
TEMPERATURE
Accurate to +-1 C from 0-65 C with 0.1 C resolution.
Alarms LEDs sensitive to +-0.1 F change in < 0.5 seconds.
DATA LOGGER AND APPLICATION
All sensor data can be recorded to an SD card. Once per second the Min/Max values of each sensor is calculated and saved to a log file on the SD card.
Data Log Format: CSV
Application Requirements: PC with Windows. (Mac coming in the future or you can use other openly available applications for Mac)
CSV data is open-source and can be applied to any charting, database analysis or spreadsheet software of your choice
HUMIDITY
Accurate to +- 3 %RH in 20 - 80 %RH range with 0.1 %RH resolution.
alarm LEDs sensitive to +- 3 %RH change in < 0.5 seconds.
PRESSURE
Accurate to +-1.0 hPa in 300 - 1000 hPa range with 0.1 hPa resolution.
alarm LEDs sensitive to +- 0.15 hPa change in < 0.5 seconds.
Size: 3.25"w x 5.6"h x 1.8"d (with boot)
Battery: 3 AA (batteries may or may not be included)
CONTENTS:
EDI Meter
Protective rubber boot
Instructions
DIRECTIONS
To MARK the data file: Whenever you feel there is an important moment to note, hit the 'Vibe' and 'DISP' buttons together and the EDI+ will flag the data file.
BEFORE USING YOUR EDI+
INSERT BATTERIES (3 AA required) -

The EDI+ does not come with batteries.

Carefully remove rubber boot from device and turn to its back to expose battery compartment. Insert three AA batteries and replace lid and rubber boot. (New batteries will last over 72 hours of continuous use)

POWER ON - Press power (PWR

) button to turn on EDI+. LEDs and EMF noise will flash on. Display will default to °F reading. To

TURN OFF

Hold PWR button down for 3 seconds.

DISPLAY

- The display (

DISP

) button will cycle through what sensors you are currently displaying on the LED screen. When you press the DISP button the LED correlating to the sensor you are displaying will briefly light up. i.e. °F will light up "– Temp" LED, °C lights up "+Temp" LED, EMF lights up the full EMF LED array, Pressure will light up PRS LED, and Humidity lights up HUM LED. These LEDs are also used to alert you of any sudden changes in the environment. If the temperature, humidity, or barometric pressure changes suddenly the correlating LED will flash twice.

VIBRATION (

VIBE

) button when pressed will turn off the Vibration LEDs when device is being hand held or in any situation where the vibration LEDs are not desired. This

DOES NOT

affect vibration data when recording.

SPEAKER (

SPKR

) button toggles the EMF's audio response on and off.

RECORDING DATA TO SD CARD
The EDI+ records all data to SD card that can be uploaded into our proprietary graphing software that can be downloaded from our site mentioned above. Most SD card types and speeds are compatible. (EXFAT & FAT32 compatible).
To begin recording:
Insert a standard size SD card into the SD slot on top of EDI+ with the SD card facing up. This can be done while device is on or off.

Press Record (

REC

) to begin recording. The LED screen will display the file name and recordings will start from 1.0, and count up. (i.e. 1.0,2.0,3.0,4.0)

To

MARK

a spot in the data at any time while recording press DISP & VIBE at the same time and your data will be marked on the timeline.

To END the recording at any time just press REC again and it will display the file number again and save the .CSV file onto the SD card. DO NOT remove SD card from device during recording as that can damage file and render the recording useless.

EDI+ GRAPHING PROGRAM

> LINK to the free online graphing app


First, you'll want to copy the .CSV file from the SD card in your EDI to your computer. Once that is complete go to the online application and click 'Choose File' to upload a .CSV file.
12 Reviews
I have shopped around and found this web site to be cheaper on price. Goods are of high quality and get the job done. Defo has everything all in one devices best device to have for any ghost hunter. Don't let it fly by and say I wish I had got one get one now before you become a ghost lol

This is by far the best store for paranormal investigators who are serious about conducting the right locations, with the right equipment! They have a great crew, that are not only professional, but also have years of experience in all things in the paranormal field! I've purchased quite a few things from this company, namely, the EDI machine and our ghost team absolutely loves it! If you're serious about getting what will give you very detailed and professional readings wherever your location may be, I highly suggest the EDI unit, not to mention all the other great products they create and sale! I couldn't recommend a company more than Ghoststop! ECPS thanks them for being so kind and fast on delivery! An excellent choice for the pro or the beginner! Thank you guys and we'll be back for more great products!

I have recently bought this EDI+ meter, and its great! It allows you to have less equipment and it works just as advertised! I would say this is a great addition to anyones arsenal of equiptment!

EDI+ is Absolutely amazing tool to own and to work with

I am so happy that I bought EDI+. It is absolutely an amazing little machine to work with. It's easy to use. It's easy to log info on to your PC . Just turn it on and hit record and it data logs temperature, humidity, barometric pressure changes, EMF and vibration. What I also like about this is that the people who have created this machine is paranormal investigators themselves, and they have created a tool for you me to use, and to have the same opportunity to measure as they them self would like to use and have to work with. So if you need a very good lead a quick equipment tool, this is one of them and I can't recommend it enough

I am grateful for a device that performs so many functions rolled into one. It makes setting up so much easier. The program that creates a sine wave graph of the environmental changes is super. I note on my voice recorder when I have turned on the EDI so I can tie the audio recording to the chart and data file.

Founder of GMPI. David M Tucker

To this day probably the best paranormal tool on the market! just turn it on and hit record and it data logs temperature, humidity, barometric pressure changes, EMF and vibration. Just bought two more to add to our arsenal. We now have 3. Can't say enough about EDI+!

Absolutely love this device. Have multiple ones. Love being able to check the differences in Humidity, Air Pressure, EMF, and vibration at the time activity is occurring.

I love this meter. Its made by paranormal researchers just for paranormal research. The data logging is such a great thing to have. Now you know exactly what is going on in the environment at any given time the meter is running. Being able to compare all the values on a time chart is fantastic. Its easy to use. I only wish the EMF meter was 3 axis and measured higher than 11mG. Also, maybe an easy way to print the data chart. I recommend the EDI+!

Best working device of its kind

The EDI is super easy to operate to say the least. I agree a built in EVP mic. that also runs the waveform on the windows data logging program would be a nice added feature. I love a system that enables you to see a visual graph of all data at once. So far I really like this better than other devices I have used by far. I would highly recommend this to anyone serious about conducting research.

I received my EDI+ a couple of days ago. It is nice and easy to use. The programing to track changes was easy to use, and download. While trying it out, was amazed as to how it can keep track of the changes around the unit. I think these EDI+ will fit in nicely to any paranormal investigators kit. Would be nice though to have a digital voice/sound recorder built in. Then can see if any changes occur, while getting results during an EVP session.

Great meter for any paranormal investigation

We had the benefit of receiving one of the first EDI+ preorders. After using the earlier EDI meter for a few months, this model is a major improvement. We had the opportunity to test out the latest version of the PC graphing software (10/8/16) and were blown away. We took the EDI+ out on our first trial investigation last week and it helped us spot a change in barometric pressure during an EVP session. The only critique I would give is to say that the 'MARK' feature could perhaps have been added as a separate button at the top of the unit. As of now, you can mark or time stamp a recording by pressing two of the buttons (VIBE and DISP) on the face of the unit simultaneously, which is not so easy to do in the dark. That shouldn't sway anyone's opinion on buying the EDI+ though. It is very durable, easy to read in the dark, and a great meter to be used at any paranormal investigation.

So Far so Good but No Mac Software

Just received the unit this afternoon and have been playing around with it in a somewhat controlled environment. Running the unit through its paces with monitoring temperature , gauging its accuracy along with vibrations, EMF against other devices and so far its pretty accurate. The software is good but NOT FOR MAC!!! It must be Windows based . Hopefully, down the road there will be a Mac program for "Eddy". GhostLand Society uses PC Laptops in the field but have Mac in the office so it'll be a bit of additional work on our part for going over everything back at our office. Any ways... a great device and looking forward to actual field use. All of our experiments so far have shown this device holds up to its claims