Infrared Wide-Angle Flood Light
Zero spotlight effect. Awesome night vision.
Our newest Creepy Hollow IR light innovation is here. This infrared, night vision illuminator provides smooth, balanced light in a wide area for superior quality video and photos with NO SPOTLIGHT effect that most lights are known for. The flexibility of this light allows you to get a great image no matter the situation from small to large rooms.


Why use wide-angle IR?
Good evidence is a result of using the right tool for the job. Some situations might require a spot light offering long distance in a narrow space like a hallway. See our IR spot light here. Other times it is best suited to use a flood light with a wide field of view in order to light a small room or open space. This is where a wide-angle IR light comes in very handy.


How does it compare?


Standard Light (Spot)

Long Hallways

Narrow Rooms

Outside

See our Spot Light
Wide-Angle Light (Flood)
Best for Wide Coverage



Large Wide Rooms

Small Rooms

Indoors


Small yet powerful - even in large rooms.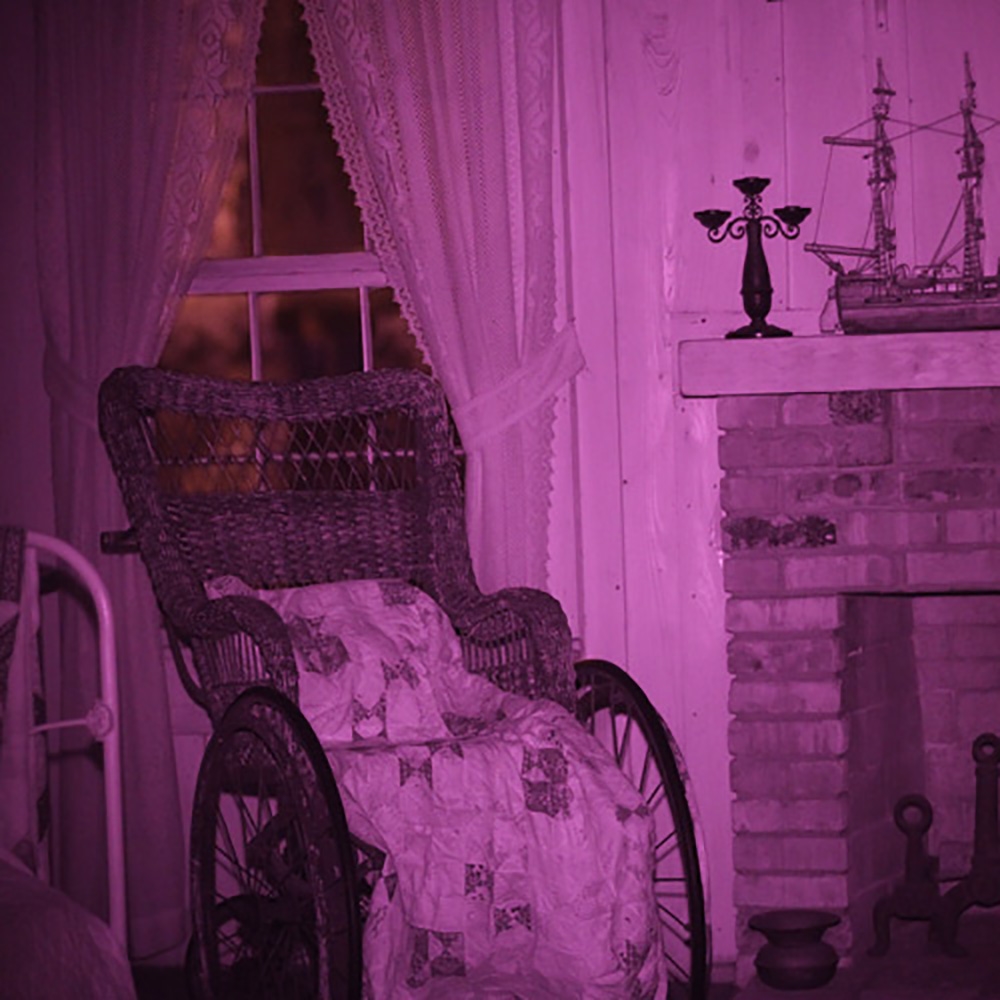 Though one of the most compact on the market, this light utilizes just 4 high power LED lights and packs a surprisingly powerful punch! Why only 4? Because more LEDs does not equate to more light and, with our process, we're able to project just the right amount of light needed.

It includes a dual purpose shoe mount with female tripod mount on the bottom for mounting. It uses one 9v battery with an exposed compartment for easy swaps in the dark. But, because it lasts for over 10 hours on one battery, swapping batteries mid-investigation may be a thing of the past.

This light utilizes the Creepy Hollow mounting system designed and manufactured right here at GhostStop. It was developed to allow for quickly and easily attaching camera accessories to either a hot shoe or tripod mount with a strong grip.






MADE IN THE USA from domestic and imported material.
This product is made right here at GhostStop.



We recommend an accessory bracket for easier portability and mounting of this light to your camcorder or camera.

**Note** The LED lights on this unit are infrared only. Since there is no visible light emitted from the unit you will not see them light up with the naked eye. You must have an infrared sensitive camera, camcorder or DVR cameras in order to take advantage of this light system. Distance varies by camera and settings.
Over 50 foot distance (depending on camera specs) Long lasting - over 10 hours on a single battery Flexible hotshoe or tripod mount 4 triple high power infrared LEDs Exposed rear battery compartment for quick and easy battery swaps
850nm infrared light wide viewing angle Requires 1x 9v battery (not included) Weight: 2oz (no battery) Size: 3"W x 2.25"H x 2.25"D
Directions
1. Plug a 9 volt battery into the back of the light using the lower clip to hold it in place
2. Turn the light on and shine in the same direction that the camera is facing.

NOTE: Do not use rechargeable or Lithium batteries with this device. These batteries have some built in voltage regulation which may cause flashlight effects dim light. This is not a malfunction of the light but a function of a draining battery trying to keep up with the light.


6 Reviews
Creepy Hollow Wide Angle IR Light

This light is absolutely amazing, especially for indoor investigations. It lights rooms evenly, with no 'spotlight' effect of the regular IR light. This has quickly become my go-to IR light. A must-have item if you use a night vision camcorder. And, as always, outstanding service and speedy delivery from GhostStop.

Great Light but 1 Problem!

The light works incredible! The problem is it's very difficult to get the 9V Battery out to replace it once you have one in. Still haven't been able to get the battery out after like 30 minutes.

I have a collection of IR and full spec lights. I recently purchased Ghost Stops wide angle IR light and I'm very happy with it. This light gives you a much greater light distribution over a larger area. I strongly recommend purchasing this light.

I have a small IR light I use with my video camera and when I got a full spectrum camera for Christmas, I decided I needed another light. I went for this wide angle to make sure I've got the room covered and I tell you what...it lights the room up! I've played with it at home and will be using it on an investigation soon. I can't wait! If you want to light up a room, go with the wide angle!

So this light alone is by far AMAZING and AWESOME. I used this several times and this by itself alone is fantastic. When paired with the Dual mode IR/Full Spectrum light, the results are great. If you want to go complete black out, both IR abilities complement each other well. Highly recommended

creepy hollow wide angle ir light

I have different creepy hollow lights and all are amazing and well made, I've used the new wide angle ir light and I'm blown away, the quality is spot on and the ability to cover large rooms or even take still photos with ease all In a compact light, definitely 100 percent satisfied with my wide angle ir light as well as everything from ghost stop, thanks gs, keep up the good work